Kris Jenner Tears Up After Packing Caitlyn Jenner's Old Clothes
"It's just crazy that he's gone."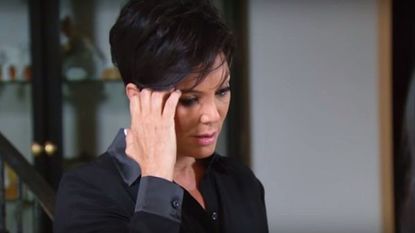 (Image credit: Marie Claire)
Marie Claire Newsletter
Celebrity news, beauty, fashion advice, and fascinating features, delivered straight to your inbox!
Thank you for signing up to Marie Claire. You will receive a verification email shortly.
There was a problem. Please refresh the page and try again.
Update, 9/28: In a sneak peek of E!'s Keeping Up with the Kardashians, Kris Jenner has to tackle a pile of clothes that her ex, Caitlyn Jenner, had gotten rid of. (Thankfully, Kim is there to help.)

"I wanted to give you these things," Kim tells Kris as she shows up with the clothing. "Caitlyn let me take this."
The clothes—which Kris indicates were items worn during significant milestones or events during their life together—have quite the effect on Kris.
"I think going through something like this is difficult because the whole thing is something I've never dealt with before and I realize that I still have a long way to go before I can process all of this and understand it," Kris says in a confessional. "And seeing these clothes and realizing that Bruce has thrown them out makes it real."
"It's just crazy that he's gone," she cries to Kim.

http://www.eonline.com/videos/embed/240694
Update, 9/25: Even though we, the public, have known Caitlyn for what seems like a long time now, we sometimes forget that it's all a transition—for the entire family. While Kris Jenner recently admitted she doesn't call Caitlyn by her new name (not yet, anyway), the newest Keeping Up with the Kardashians clip shows a nervous Kendall Jenner talking to her sister Khloé about putting off meeting Caitlyn for the first time.
"It's like when you officially meet her, it's like he's gone," she says. "I think that's what I'm holding on to. That's why I've taken so long to meet her."
The episode airs on E! this Sunday.
Update, 9/10: Kris Jenner and Caitlyn Jenner are pro-confrontation—especially when it comes to their family. Instead of being passive aggressive or bottling up their feelings, the two have pretty healthy—albeit, sometimes heated—exchanges to talk things over.
The newest exchange? A discussion on why Caitlyn wasn't invited to Kylie's high school graduation.
"One of the reasons I wanted to talk to you was because I don't want your feelings to be hurt like the other day when I heard that you weren't happy about not being included in Kylie [Jenner]'s graduation," Kris explains.
"It wasn't me making that decision. It was you making that decision. I was so disappointed in everybody," Caitlyn says. "For 15 years of my life I carpooled kids every day…some days I would spend 3 or 4 hours in the car. [It's] a slap in the face when you don't even get invited to their graduation."
Update, 8/17: This might be the realest moment of I Am Cait to date. In the newest clip for the reality show, Caitlyn talks with her ex Kris Jenner, and Kris gets real with her and how she's feeling.
"You're sensitive and amazing to all these new people in your life, you're just not so sensitive and amazing to the family that you left behind," she tells Caitlyn.
"I try to do everything I can to be nice, reach out, you have to see it from my perspective," Caitlyn responds. "Be an ally when it comes to dealing with the kids."
Kris then gets teary, telling Caitlyn, ""When you feel like you gave your whole life to somebody and the sum of it all was you were a distraction."
"Don't go there," Caitlyn says. "I was defending myself. It was a distraction from the sense of who I was, that doesn't mean I didn't love you or the kids."
Update, 8/10: Wearing a swimsuit out in public for many women is terrifying and anxiety-inducing. And Caitlyn Jenner is no different. In the newest episode of I Am Cait, the star takes on another new experience of womanhood—trying on bathing suits.
After deciding to forgo a one-piece, black suit that would show a little too much cleavage for her liking ("I love my daughter to death, Kimberly, but this is kind of one that Kimberly would wear, do you know what I'm saying?"), she chooses a white one-piece before heading out to meet her guests in the hot tub.
"I am about as nervous as I could possibly be right now," she says. But soon, she's met with high-fives and cheers from her friends. Watch the clip below:
Update, 8/7: Take last Thanksgiving when your grandma and 20,384 other relatives asked you if you were seeing anyone, and multiply that by a bunch of documentary cameras, and you get what it must have been like to be Caitlyn Jenner in this clip from Sunday's episode of I Am Cait.
It's Caitlyn's confidante Candis Cayne who opens the floodgates, prompting another friend to point out that Caitlyn has said in the past she's only attracted to women. "I've only been with women," Caitlyn responds with a total deer-in-the-headlights look on her face. "I have bigger things than an orgasm to worry about. I have bigger things to worry about than an orgasm."
The group won't drop it, though, so a clearly panicking Caitlyn gives them what they want: "I don't know. I've never been with a guy." Then the whole group is polled about their preferences, which is a nice way for me to segue into one trans woman's explanation of gender vs. sexuality
Update, 7/31: In the newest I Am Cait preview, Caitlyn practices her "best feminine voice" and comments on how the seemingly small thing was a big deal to her growing up.
"Like if you call down to room service, OK?" she says to Kim Kardashian and friend Malika. "I'd be sitting there in my little room, all by my lonesome, and I'd think OK! I'm going to try to get my best feminine voice and call down so they say, 'Yes, ma'am.' I could never do it."
At the request of Kim, Caitlyn pretends to order room service.
"You sound no different!" Kim laughs.
"I didn't think so!" Jenner says in agreement.
"Women cannot relate to the whole voice thing," Caitlyn explains. "They don't see it as being that important when it is that important, not only for you to speak and order and do all that kind of stuff, but very important for your soul that you're feeling good about that."
Watch the clip:
Update, 7/24: Kylie Jenner finally gets to meet Caitlyn, in the newest clip for I Am Cait—and the interaction is adorable.
"I do want to meet her," Kylie admits to the cameras. "It will be a little bit uncomfortable in the beginning, but I think we're both ready."
When she sees Caitlyn for the first time, Kylie compliments her on how pretty she is and they embrace while both talking with Caitlyn's mother Esther, who happens to be getting ready.
Watch the sweet clip below:
Update, 7/23: The newest I am Cait clip has arrived, and it's an emotional one. In the clip we see Caitlyn Jenner filming herself in bed with no makeup, struggling to get a good night's sleep as a million thoughts run through her head.
"I feel bad that these [people]—especially young people—are going through such a difficult time in their life. We don't want people dying over this. We don't want people murdered over this stuff. What a responsibility I have towards this community. Am I going to do everything right? Am I going to say the right things? Do I project the right image? My mind's just spinning with thoughts. I just hope I get it right. I hope I get it right."
Update, 7/15: Ahead of her appearance tonight to receive the Arthur Ashe Courage Award for sports excellence at the ESPY Awards, we're getting a double dose of Caitlyn Jenner this morning.
First, there's another new trailer for I Am Cait, in which Jenner discovers why girls need sports bras, has a heart-to-heart with her mother Esther, usurps Kim as the family's "authority on hair and makeup," and generally appears to be well-loved and supported by those around her.
Then there's a second promo image from the photo shoot for her docu-series. This time, she wears the same flowy pink Michael Costello gown as she does in previous teasers paired with simple drop earrings. Head over to Us Weekly to see the gorgeous portrait.
Update, 7/9: The first promotional image for I Am Cait is here, and it is unquestionably beautiful.
In a sneak peek of the photo shoot for her documentary series, Caitlyn Jenner stands statuesque in a navy gown with a lace back. She's got on some distracting jewels and her glam, as her daughters would call it, is on-point, but what you really see is her confidence. Anybody else getting hints of John Singer Sargent?
Update, 7/7: In the third teaser for I Am Cait, the docu-series's star and now-columnist opens up about family and immersing herself in the transgender community.
We see her mom Esther say "My first feeling was, 'I lost my son.' Then I thought, 'You know what? I'm gaining.'" We see her hugging Kylie. We see her advise a group of transgender youths to "hang out with people who love and respect you." And we see an emotional Caitlyn say she wants her children "to be proud of their daddy."
I don't think I'll have any tears left by the time the premiere rolls around July 26, but, ha, no, I lied.
Update, 6/26: A second sneak peek of I Am Cait has premiered, and once again, they didn't skimp on the emotional impact.
"We're going to talk about everything," Caitlyn says while footage of her rearranging her closet plays. "We're going to do a lot of fun things for the first time. We're going to go shopping for the first time. Maybe even some boy stuff, like ride a motorcycle—because girls do that too!"
She continues explaining why she decided to tell her story. "People don't understand looking into the mirror and nothing seems right, putting on clothes you just really don't identify with. This is about getting to be who you really are."
Original post, 6/3: Caitlyn Jenner has been 65 years in the making, but it was just a few days ago that she introduced herself to the world. Now, through her new eight-part E! documentary series, we'll get to know her a little better.
In this 60-second spot for I Am Cait, Jenner applies her makeup while discussing how she only recently become aware of the expectations society has of women. "You go through all this stuff," she says as she sits at her vanity. "And you start learning about all the pressure women are under all the time about their appearance."
But the most poignant bit has to be when Caitlyn and some friends drive a golf cart off her property. As she declares "Put it this way: I'm the new normal," you see her pride, her triumph, and, most of all, the brave woman she has become.
Watch the trailer here.
Celebrity news, beauty, fashion advice, and fascinating features, delivered straight to your inbox!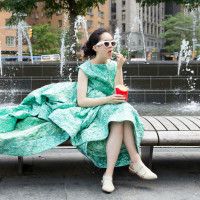 Chelsea Peng is a writer and editor who was formerly the assistant editor at MarieClaire.com. She's also worked for The Strategist and Refinery29, and is a graduate of Northwestern University. On her tombstone, she would like a GIF of herself that's better than the one that already exists on the Internet and a free fro-yo machine. Besides frozen dairy products, she's into pirates, carbs, Balzac, and snacking so hard she has to go lie down.