Ariana Grande: "I'm Not Big Sean's Ex, I'm Not Niall's New Possible Girl. I'm Ariana Grande."
The star fires back at the idea that she needs to constantly be linked to a man.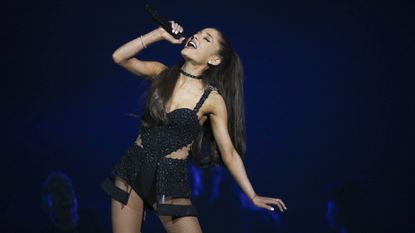 (Image credit: Getty Images)
Ariana Grande has one word for you: Enough!
The pop sensation couldn't help but get a little feisty when asked for the umpteenth time about the rumored man in her life during an interview with The Sun. "A girl can be friends with someone with a d*ck and not hop on it," she told the paper after being asked about a romance with One Direction's Niall Horan. "I'm tired of needing to be linked to a guy, I'm not Big Sean's ex, I'm not Niall's new possible girl. I'm Ariana Grande."
To little surprise, her quotes quickly became a hot topic of Internet conversation, prompting the 21-year-old to take to her own Instagram account to offer clarification—and further explanation.
"What I meant when I said what I said about not being Sean's ex is that I am tired of living in a world where women are mostly referred to as a man's past, present, or future PROPERTY / POSSESSION," begins Grande in a letter posted on Sunday afternoon. "I… do not. belong. to anyone. but myself. and neither do you."
In the lengthy note, Grande blasts double standards and "ever present" misogyny while stressing that value should be placed on an individual, and not on whom that individual may or may not be sleeping with.
"I'm saying this after literally 8 years of feeling like I constantly had to have a boy by my side," she writes, before shutting it down with a quote from feminism icon Gloria Steinem.