'Another Period' Stars Natasha Leggero and Riki Lindhome Are Rewriting History—by Being Trainwrecks
And we cannot look away.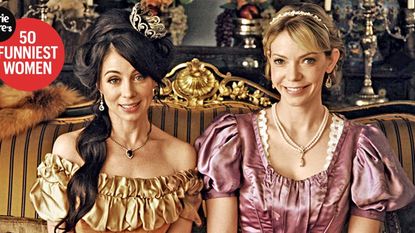 (Image credit: Courtesy Comedy Central)
There's a lot of screaming, boozing, and generally terrible behavior in the new historical drama Another Period. (Okay—it's not a drama; it's on Comedy Central.) Here, a history lesson from creators (and stars, playing high society disasters the Bellacourt sisters) Natasha Leggero and Riki Lindhome.
Marie Claire: Introduce us to the Bellacourts!
Riki Lindhome: They're like the Kardashians in Downton Abbey. Like a reality show shot in the gilded age.
Natasha Leggero: At this time in history, the wealthiest people were living like rappers—and there was no income tax! So there was this golden age of living it up in this insane way. Like an episode of Cribs every day.
MC: Helen Keller guest stars in the show's first episode—any other real-life historical figures we can expect to see?
RL: Mark Twain, Gandhi, Thomas Edison, Freud, and Charlie Chaplin...
NL: The problem with the women from history is you don't find out about a lot of them, especially these society women. They believed, at the turn of the century, that if a woman read at a college level, she could shrink her ovaries.
RL: Hence the lack of famous women in the show.
MC: So this is sort of an ode to those women.
RL: Yeah—women who had their own lives and own goals and aspirations and families and had their own things going on instead of being just a plus-one of history.
NL: Riki and I went to Newport, Rhode Island where the show takes place, and we went on tours of houses. You learn about all the different families and the eccentric family members. Even though they're not famous in history, they did exist and they were famous in society.
MC: Any stories that made you laugh?
RL: Paget Brewtser plays our mother and we named her character after a woman from Newport named Dodo who moved mansions because she thought the humidity was affecting her hairstyle.
MC: Think the Bellacourt sisters would watch Keeping Up With the Kardashians?
RL: They'd be rivals.
A version of this article appears in the August 2015 issue of Marie Claire on newsstands July 21.
As deputy editor, Jen oversees Cosmopolitan's daily digital editorial operations, editing and writing features, essays, news, and other content, in addition to editing the magazine's cover stories, astrology pages, and more. Previously, Jen was a senior editor at Marie Claire. Before that, she worked at GQ.