5 Very Busy Minutes with an Even Busier Nasim Pedrad
And how she'd do Kim Kardashian differently today.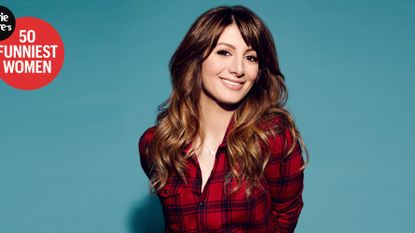 (Image credit: Archives)
Nasim Pedrad has been asked that question before: So what's it like to be a woman in comedy? "Today, I'd imagine it's a lot like being a male comedian, except you get that question a lot," she says.
Not that she actually has time to answer: Before she starts working on her deal with Fox to develop and write a show (which she'll star in, too) Pedrad will appear in Ryan Murphy's latest, Scream Queens (a horror-comedy series set on a college campus premiering this fall on Fox), surrounded by good female vibes—Emma Roberts, Lea Michele, Abigail Breslin, Ariana Grande, to name just a few. Oh, and did we mention original scream queen herself Jamie Lee Curtis?
If you've ever laughed during a scary slasher flick, you know that the two genres perfectly overlap: "I feel like comedy and horror are cousins to each other," Pedrad says, "They both rely so much on timing."
On set, Pedrad's working on her detective skills: "We still don't know who the killer is, we're finding things out as we get the scripts." Which means there's a chance that Pedrad will be the last girl standing, or better even, the killer.
It's a good thing she's had practice playing egomaniacs on Saturday Night Live: "Someone recently asked me [how] I would do Kim Kardashian differently now. I laughed—like, 'Has that much really changed?' I wouldn't suddenly give her a Norwegian accent! Maybe she'd wear more of Kanye's Adidas line."
A version of this article appears in the August 2015 issue of Marie Claire on newsstands July 21.
Marie Claire email subscribers get intel on fashion and beauty trends, hot-off-the-press celebrity news, and more. Sign up here.
As deputy editor, Jen oversees Cosmopolitan's daily digital editorial operations, editing and writing features, essays, news, and other content, in addition to editing the magazine's cover stories, astrology pages, and more. Previously, Jen was a senior editor at Marie Claire. Before that, she worked at GQ.