Salma Hayek Pinault Is Up for Space Exploration, Especially If It Gets Her Out of Exercising
The actress and producer of this month's animated film Kahlil Gibran's The Prophet on still getting stage fright, being choosy about her makeup, and *not* watching what she eats.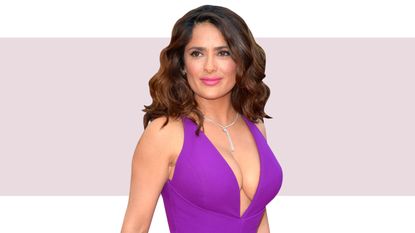 (Image credit: Getty)
1. Would always: Look after my family.Would never: Put one of my dogs on the streets.
2. Picky about: Makeup. Not so picky about: Food.
3. I feel for: Everybody. No sympathy: Whiners.
4. Glad it's ahead of me: Seeing my daughter [Valentina] grow up. Glad it's behind me: Looking for the right man.
5. Early for: Graduating from high school (at age 15). Late for: Exercising.
6. Would pay good money for: Education for my daughter. Wouldn't take even if free: Pet snake.
7. Fear conquered: The dark. Not quite there yet: Stage fright.
8. Farthest vacation: Seychelles. Nearest: Country house outside of Paris (I live in London and Paris.)
9. Would try once: Going to space. No, thanks: Bungee jumping.
10. Career highlight: Academy Award Best Actress nomination for Frida. Low point: No work after Frida nomination.
11. Lie about: My weight. Honest about: My age.
12. Too much in my life: Responsibilities. Not enough: Free time.
13. Subject I won't shut up about lately: My movie Kahlil Gibran's The Prophet. Subject I avoid: Politics.
14. Will always remember: The first time Valentina said "Mummy." Would rather forget: 1985 earthquake in Mexico City.
15. Better than I expected: Marriage. Worse than I expected: Vision problems after age 40.
16. Perfect day begins with: A kiss from my husband. And ends with: A good TV show.
This article appears in the August issue of Marie Claire, on newsstands now.
Celebrity news, beauty, fashion advice, and fascinating features, delivered straight to your inbox!