Kate Bosworth Goes Full Psychopath in New Movie 'Amnesiac'
The star on her gory new role, sexism in Hollywood, and turning 30.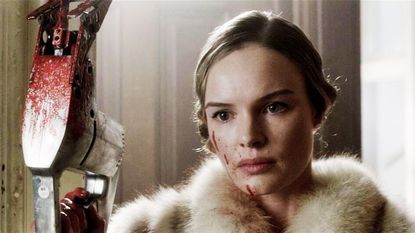 (Image credit: Amnesiac)
Kate Bosworth is no stranger to the big screen, with five new movies out this year alone...but she's a little less familiar with "psycho killer" territory. At least, until now.
Directed by real-life husband Michael Polish, Bosworth stars in new psychological thriller Amnesiac, out now, as a mysteriously creepy woman who takes care of Wes Bentley's character after he survives a car crash and loses his memory. The trailer alone will give you chills.
Here, the star opens up to Marie Claire about turning 30, sexism in Hollywood, and what it's like to inhabit evil.
Marie Claire: You play a psychopath in Amnesiac. How did you prepare for the role?
Kate Bosworth: Obviously there was the flashy element of playing this psychotic woman, this language spinner who spews facts, but I wanted to create something more interesting, more multi-layered for the audience and for myself. So in that sense, we [husband and director Michael Polish and I] had to find authenticity with her. What was the seed of humanity? What does she really want? Well, she wants family. She wants to be loved, and even though it's deeply psychotic and the choices are extreme ones that should never be taken, it was important to really understand her choices so it was believable. She really felt that the only way she could create a family for herself was to create this bubble, this world of timelessness going back to a time when the nuclear family was its strongest.
MC: What's it like to work with your husband on this movie and the other films you've made together?
KB: It's fantastic because he knows what I can deliver, and I know what he'll deliver, so there's a comfort and a confidence to our team. Michael has directed and produced a lot of his own movies so, technically, he's one of the most educated directors I've ever worked with. Every shot, every angle, everything is planned long before he steps on set — there's very little chaos on his set, and it's quite relaxed. It also allows you to be more creative because you're not feeling constrained by other elements. There's not enough time in this life to work together. We just enjoy it so much.
MC: Your character is driven by this fairly traditional desire to get pregnant and have a family, yet she's also the one who's in control—often violent control—of all the men in the movie. What do you make of this juxtaposition? Do you consider her a feminist character?
KB: I thought a lot about what her deepest vulnerabilities are, as I would with any character I'm playing, and in this one it's the desire to find her version of love, stability, and family. You know, I don't know if the character is a feminist one, because it's difficult to talk about someone who is so clearly psychotic!
MC: The discussion about Hollywood sexism has gotten increasingly serious in recent months. Do you think the heightened attention is making a difference for women in the industry?
KB: I do. I think it's something that hasn't been talked about properly. I'm certainly a feminist in the sense that I feel both genders should be treated equally. One of the greatest attractions to this role is that there are very few of them out there, where women get to play the villain in a multilayered, interesting, intriguing, intelligent way. I mean, can you think of the last one? There is also the empowerment of self-generating material: Everyone from my friend Lake Bell who's directing and creating such great material to Lena Dunham, it seems like we're not going to wait around for it. There's a desire to create it.
MC: In a recent interview, you discussed sharing your life with women. Do you think female friendship is vital?
KB: It's why I love Girls so much. Lena so unabashedly throws it out there, like, this is what it's like, and I think it hits a very real bond for a lot of women. I have such great women in my life from my mom to my grandmother to my really good girlfriends who I can share my life with, and it continues to grow. My step-daughter Jasper is 17 now, and I can't believe it. Now that I'm in my 30s—everyone says this—I feel more calm. Now when I see Jasper, and she's just starting to get the wind in her sails…I know it's going to feel choppy for a bit, but that the smooth sailing is just over the horizon. It's hard to really know yourself through the trials and tribulations. I've been friends with Helena Christensen for over 10 years, and she's just a little older than me. I remember her being on the other side when I was turning 30 and her saying don't worry, you've just got to walk through fire and you'll get through it.
MC: What's the biggest difference between your 20s and 30s? What's been the most rewarding part of reaching where you are now?
KB: Clarity is the biggest difference. Part of the reason you hear that people feel more clear and calm in their 30s is that there are so many bumps and bruises and ups and downs in your late teens and 20s that allow you to assess what feels good, what doesn't feel good, the relationships you're willing to have, and the relationships you're not willing to have. All these things provide important clarity for the rest of your life. I'd say the most rewarding part is being able to pay it forward. Someone a little older than me helped guide me through it, and now I feel I'm just at the point where I can help guide younger women, like my step-daughter, through as well. You're not supposed to know it all. A lot of us who are driven and motivated and smart and sensitive, a lot of us feel this weight of having to have it all figured out, and that's not the case. The truth is, you're supposed to be experiencing the "not having figured it out" so you can learn and grow. That's the beauty of life.
Celebrity news, beauty, fashion advice, and fascinating features, delivered straight to your inbox!
I'm the features editorial assistant at Marie Claire. Before working at MC, I spent time in the production department at The New Republic and writing about politics for Bustle. When I'm not writing, you can find me museum-hopping, practicing mediocre yoga, and stalking pugs on Instagram.