The Church of Scientology Has Decided to Weigh in About the Suicide of Jim Carrey's Girlfriend
Apparently Cathriona White became involved with Scientology through friends of Beck, a report says.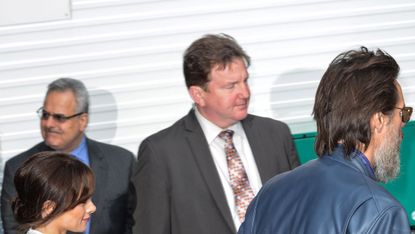 (Image credit: Getty Images)
Marie Claire Newsletter
Celebrity news, beauty, fashion advice, and fascinating features, delivered straight to your inbox!
Thank you for signing up to Marie Claire. You will receive a verification email shortly.
There was a problem. Please refresh the page and try again.
The Church of Scientology is firing back after a report by noted Scientology journalist Tony Ortega said that Cathriona White, the on-again off-again girlfriend of Jim Carrey who died of an apparent suicide this week, was studying Scientology—and insinuated that the two events might be related.
"Saying that somebody was studying Scientology in the past and connecting that to a suicide is like saying a person who had previously studied the Bible committed suicide. It is sad and reprehensible that a paid anti-Scientologist like Tony Ortega is exploiting this terrible tragedy involving a young woman: it's a sign of outright bigotry."
The spokesperson who issued the statement to E! did not, however, confirm or deny that White was in fact studying Scientology.
In a post on his website, The Underground Bunker, Ortega said that two of White's friends told him the 30-year-old Irish native "was a Scientologist who took classes at the Hollywood Celebrity Centre." She became involved with Scientology, he added, roughly four or five years ago through members of musician Beck's circle of friends. They reportedly encouraged her to move to the U.S. from Ireland to study Scientology.
And—this is where the cause-and-effect implication comes in—while White's friends were concerned that she might not be strong enough to rekindle her relationship with Carrey earlier this year, the Church assured them that she could handle it. According to Ortega, they said she'd be fine because "she had just finished the Purif [a purification ritual] and was doing her objectives."
In an interview withUS Weekly, Ortega did a bit of back-peddling and wouldn't link White's death to her alleged involvement with Scientology. "If someone is depressed, they're depressed," he said. "Not all of Cathriona's friend's knew she was involved with the church, only a few close friends."
White was found dead in an L.A. residence on Monday night. Although a cause of death has yet to be determined, an L.A. county official told People magazine that suicide is likely the cause. She reportedly left a note and was found with bottles of pills.
Her family issued an emotional statement in the wake of her death, saying: "Cathriona was a shining light in our lives who was loved deeply by her entire family. We will miss her terribly and at this difficult time we ask to be left in private to mourn our loss."
Carrey, who had rekindled his 2012 relationship with White in May of this year before breaking up again, also spoke out about the loss. "She was a truly kind and delicate Irish flower, too sensitive for this soil, to whom loving and being loved was all that sparkled," he said in a statement.
Interestingly, Carrey had previously ridiculed Scientology, according to Ortega.
Celebrity news, beauty, fashion advice, and fascinating features, delivered straight to your inbox!