Everyone Thinks Gigi Hadid Cut Her Hair, but Really It's Magic
And we've figured out how it works.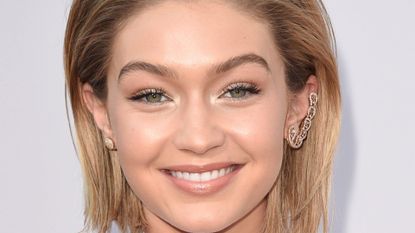 (Image credit: Getty Images)
There are fake celebrity lobs (opens in new tab) and then there's this. This, friends, is a Grade A Certified Black-Diamond-Level Fake Celebrity Lob. Allow me to explain.
Gigi Hadid stepped onto the 2015 American Music Awards red carpet (opens in new tab) and dropped jaws not just because of her strategically cut-out dress (opens in new tab), but because the long-haired model—she of the recent Victoria's Secret waves (opens in new tab)—had chopped off her famous locks.
Or *had* she. The star told Giuliana Rancic during E!'s red carpet broadcast that "you can check back tomorrow to see if I have short hair...there's tricks of the trade." Which confused the hell out of internet editors such as myself, who were frantically zooming in on red carpet shots going "but wait, that's the end of her hair, right there. I see the end. So how could this be one of those fold-hair-under situations (opens in new tab)? And there's no lace at the hairline, so how could it be a wig? WHAT DOES SHE MEAN THIS ISN'T A HAIRCUT?"
A glass of wine later, it came to me. Here, look:
See the hair in front of her ears, how it's being pulled straight back over and *behind* her ears? And then how the hair that's falling down, with the visible ends, is different hair? That ear area is the secret—that's where you can see that the majority of her long hair is being pulled back and hidden at the base of her neck (maybe in pincurls? Something very low-profile? There might be a partial wig back there too, for volume and more short hair in the mix). Then the layer on top of it all, covering everything, has been trimmed to chin length.
SEE? MAGIC. Just wait 'til tomorrow, when she's got long hair again—and, of course, a chin-length top layer. JUST WAIT. I'll be here with the wine.
Update: I was right! Per Hadid's hair stylist Bryce Scarlett, what you see in the front and on top is her actual hair, styled with Matrix StyleLink products (opens in new tab). Her longer strands have been pulled back behind her ears and hidden under a half wig. "It was Gigi's idea!" he says.
Follow Marie Claire on Instagram (opens in new tab) for the latest celeb news, pretty pics, funny stuff, and an insider POV.
As the editor of Cosmopolitan, Jess oversees the editorial for all of Cosmo's efforts across print, digital, video, and emerging platforms. Previously she served as the digital director of Marie Claire, where she tripled the readership, and she's held print and hybrid posts at Glamour and Teen Vogue. In 2013 she launched an interactive e-commerce platform for a fashion-tech startup, and in a former life she was a ballet dancer and NYU film student. She lives in Manhattan with her scruffy dog George.