What It Feels Like to Walk Your First Victoria's Secret Show, According to Kendall Jenner and Gigi Hadid
Reporting live from backstage.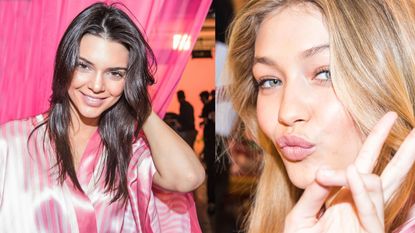 (Image credit: Kathryn Wirsing)
To a certain set, the Victoria's Secret fashion show is the biggest event of the year—it's like the model's answer to the Super Bowl, but the sport is being girly and having fun. And, of course, stripping down to your skivvies in front of 10 million people watching you prance around in towering heels on TV.
This particularly daunting task has become a rite of passage for models on the verge of "super" status, which is why it was no surprise that Kendall Jenner and Gigi Hadid were cast as newbies this year. It's actually pretty fitting, considering the 20-year-old friends were born the same year the VS fashion show launched. And now, on its 20th anniversary, they're ready to take the catwalk by storm.
"I'm so excited," Jenner told me backstage before the show. "I'm nervous, but I'm excited. I get major anxiety, but I'll just sit there and be like 'Chill out Kendall. It'll be fine.'"
You probably assume, like I do, that the real nerves start when you step out onto the runway and pray that you, like many before you, don't fall flat on your face. But the pros say the scary stuff happens earlier. "I'm most nervous about just standing in line—the waiting is what makes me most anxious," Hadid said from the makeup chair, her hair being pulled and tugged and blow-dried into those notorious angel waves. "I think it's good to have a few things on your mind so you don't think about anything else. I mostly try to make points for myself in my head, like: shoulders back, head high, long strides. You just think about those three things and then you don't have to think about the millions of people watching you."
It's a miracle any of the models can get into a zen mindset backstage considering the state of chaos—hair and makeup and nail artists running around between rows of girls getting ready while they field reporters' questions and pose for photos left and right, all while trying to stay still so the eyeliner doesn't get smudged. (Case in point, here are Hadid and Jenner taking time from the madness to say hi to our Snapchat followers:)
But it all lends to the air of excitement, to the seemingly genuine idea that these women are friends having fun, enjoying their (pink, sparkly) spotlight. "This is kind of everything I've ever dreamed of," Jenner says. "You feel like such a girl."
And to the friendship point, there's no PR scheme here. "I'm here with so many of my friends and people who are like big sisters to me," Hadid says. From the next row of hair and makeup chairs, Behati Prinsloo chimes in: "I think it surprises people that all the girls are actually really close friends and we love being here together. Sometimes people think it's catty, but we get along so well. People would be shocked by how close we all are."
So what about the much-buzzed-about clothes—or lack thereof—that they'll be putting on parade tonight? "One of my looks is sexier and more sensual, and the other's in pink and it's more fun," Hadid says. "I really like them both."
For her part, Jenner plays it cool. "My favorite thing I'm wearing today is my robe," she jokes. "No I have some really amazing looks. But I'm legitimately excited to be wearing this robe."
For more sneak peeks from behind the scenes of the VS fashion show, check our Snapchat:
Marie Claire email subscribers get intel on fashion and beauty trends, hot-off-the-press celebrity news, and more. Sign up here.
As the editor of Cosmopolitan, Jess oversees the editorial for all of Cosmo's efforts across print, digital, video, and emerging platforms. Previously she served as the digital director of Marie Claire, where she tripled the readership, and she's held print and hybrid posts at Glamour and Teen Vogue. In 2013 she launched an interactive e-commerce platform for a fashion-tech startup, and in a former life she was a ballet dancer and NYU film student. She lives in Manhattan with her scruffy dog George.