Our Favorite Badass (and Newest Cover Star) Chloë Grace Moretz Takes Her Biggest Step Yet: Turning 19
She's already more accomplished than most actresses ever get—but now, our February cover girl is doubling down.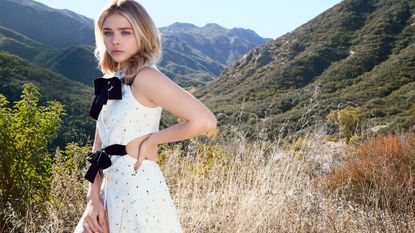 (Image credit: Tesh)
With more than 30 movies under her belt, Chloë Grace Moretz is more successful than any 18-year-old could ever dream. (Please take a moment now to remember what you were like at 18—that hair, oof.) Now, she's kicking major butt in this month's sci-fi thriller The 5th Wave—nine months of jujitsu training with Jackie Chan's stunt crew? No problem—while also finding time to drive cross-country from South Carolina to California. (Not to mention that she's recently been cast in the buzzy new remake of The Little Mermaid, NBD.) We're tired just thinking about it.
Here, a few highlights from her interview:
On filming Carrie and obsessively reading and believing criticisms on social media: "I felt fat; I felt not pretty. I felt like I didn't really know who I was. I was so confused; I was scared. I had bad acne. I felt incredibly insecure."
On getting older: "I'm so free now. I don't know what happened, but when I turned 17, this huge weight was lifted off my shoulders. I'm so open; I have a good time; I don't worry about what people say about me. I know who I am, who I want to be, what I want to portray myself as, what I want people to think of me."
Featured Music: YesYou–"Half of It" (ft. James O'Brien); Courtesy Audiopaxx
Read the full interview and see all the photos in the February issue of Marie Claire, on newsstands next week.
Celebrity news, beauty, fashion advice, and fascinating features, delivered straight to your inbox!