Gwen Stefani Would Be a Makeup Artist If She Wasn't a Singer, Made Her First Dollar at a Dairy Queen
And 15 other things you never knew about the star.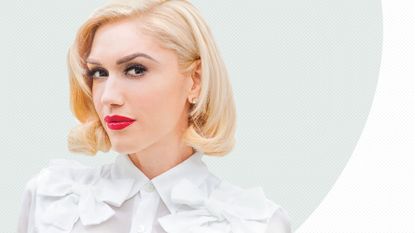 (Image credit: Emily Berl/Contour/Getty Images; Design by Betsy Farrell)
The platinum-haired, red-lipped renegade rocker; Revlon global brand ambassador; and judge on The Voice loves her some Dylan and Brenda and sleep—definitely.
1. If I weren't a singer/songwriter, I'd be: A makeup artist.
2. Best career advice I've gotten: [Music producer] Jimmy Iovine would say, "Be open."
3. The qualities that got me where I am today: I've always done things I'm passionate about. My heart drives me.
4. Moment I felt I'd made it: I'm always trying to make it—in so many different ways, this is a journey.
5. Most agonizing career decision I've ever made: To face my fears of writing with other talented writers.
6. Kind of work I'd do for free: Everything that I do now.
7. Favorite perk of the job: Emotional release.
8. How I made my first dollar: Working at Dairy Queen.
9. Last thing I binge-watched: Beverly Hills 90210.
10. Book that left a lasting impression on me: Jesus Calling, by Sarah Young.
11. Song that always makes me cry: My "Used to Love You."
12. First album I bought: Shaun Cassidy.
15. My perfect day would begin: Sleeping in late.
16. My perfect day would end: Go to bed early.
17. Superhero power I'd want to have: Endless energy.
This article appears in the April issue of Marie Claire, on newsstands March 21.