10 Things You Should Know About '13 Reasons Why' Star Katherine Langford
Meet the new face you're seeing all over your Netflix.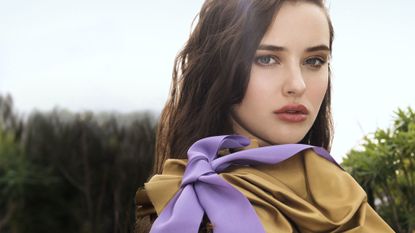 (Image credit: Lindsey Byrnes)
Marie Claire Newsletter
Celebrity news, beauty, fashion advice, and fascinating features, delivered straight to your inbox!
Thank you for signing up to Marie Claire. You will receive a verification email shortly.
There was a problem. Please refresh the page and try again.
Katherine Langford is nursing a broken heart (or two, or three...) on Netflix's new hit YA drama 13 Reasons Why. But off-screen, she spends her downtime gleefully geeking out over history and sci-fi. Here's everything you need to know about the breakout star.
Age: 20
Lives in: Perth, Australia
You know her from: Actually, you don't—this is her first major role!
What she does in her free time: "I'm a big historical-fiction fan. Anything written in the French Revolution, that kind of era, is so poignant. I got into history when I was 11 years old, and it all started with the Titanic. I'd read books in the library about it. Of course I've seen the movie, too—I don't think I've ever cried that much."
Back to the future: "If I could time-travel, I would either go to the '70s and watch the first Star Wars film the day it opened, or to 1880s London, during the Jack the Ripper era, and experience the true grossness of that time."
Bon voyage: "I love Star Trek: Voyager! I'm rewatching the series right now. Favorite character: Captain Kathryn Janeway (played by Kate Mulgrew). My dad is a really keen fisherman, and when we got a boat, we named it Voyager and got T-shirts made with the Voyager logo. Whenever we go out, we wear those. OK—I sound like a total nerd!"
Know-it-all: "I love sci-fi and period pieces—it's fantasy. I can let myself dream a little bit. But also, I just really love science. I love knowing about how the world works."
Deep breath: "My fantasy sci-fi superpower: a third lung. The Klingon anatomy has a third lung. It would be supercool being able to run and literally never get tired. It's like Lady Gaga's Super Bowl performance—that kind of endurance!"
Gaga for Gaga: "I am a massive Little Monster. She's my queen. Christian Navarro, who plays Tony on 13 Reasons Why, had a karaoke birthday party and I did "Born This Way." I was so into it that halfway through, I stood up on the table. The song immediately cut off, and I was told to get down! I love a good rock-out."
Follow her: @KatherineLangford
This article appears in the May issue of Marie Claire, on newsstands April 18.
Celebrity news, beauty, fashion advice, and fascinating features, delivered straight to your inbox!
Molly Fitzpatrick is a writer from New Jersey who lives in Queens.