Amber Tamblyn Takes on Sexism and James Woods in Her 'New York Times' Op-Ed
"I have been afraid of speaking out or asking things of men in positions of power for years."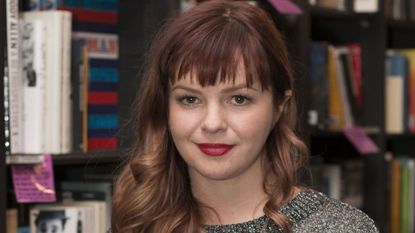 (Image credit: Getty Images)
Amber Tamblyn refuses to be silent. Following her revelation that the actor James Woods allegedly hit on her when she was just 16, Tamblyn has written a searing essay for The New York Times, exploring sexism in the entertainment industry. Instead of being hindered by Woods' rebuttal, in which he insisted that the allegations were false, Tamblyn is using her platform to expose a wider problem. Women routinely aren't believed, and that needs to change.
Tamblyn recalls when she was working in television, and a crew member's behavior started making her feel uncomfortable. Tamblyn writes that she went to speak to the show's producer about the issue: "My hands were freezing and I balled my wardrobe skirt up around my fists as I spoke. It was all caught in my throat—my embarrassment that it had gotten to this point. The producer listened." But his reaction wasn't helpful. As Tamblyn recalls, "He said, 'Well, there are two sides to every story.'"
Instead of believing Tamblyn's account, and listening to her genuine concerns, the unnamed producer made her feel as if her worries weren't justified.
Rather than just focusing on incidents in her own life, Tamblyn endeavors to shine a light on all women. As she writes:
"Every day, women across the country consider the risks. That is our day job and our night shift. We have a diploma in risk consideration. Consider that skirt. Consider that dark alley. Consider questioning your boss. Consider what your daughter will think of you. Consider what your mother will think of what your daughter will think of you. Consider how it will be twisted and used against you in a court of law. Consider whether you did, perhaps, really ask for it. Consider your weight. Consider dieting. Consider agelessness. Consider silence."
As the poet, director, and actor highlights, women are regularly made to feel discomfort, are disbelieved, and are forced to live up to impossible standards. Following Woods's insinuation that she lied about their encounter, Tamblyn isn't prepared to stand by, stay silent, or coddle blame.
And, most importantly, Tamblyn uses her sense of humor to ask, "What would I get out of accusing this person of such an action, almost 20 years after the fact?.. Why would I choose the guy from Scary Movie 2 to help my stature when I'm already married to the other guy from Scary Movie 2?"
Tamblyn has nothing to gain in this situation, apart from the knowledge that she's supported women all over the world, in taking a stand against those that refuse to take our safety, and our needs, seriously. And for that, we're thankful.
Read Amber Tamblyn's full article: I'm Done With Not Being Believed.
Follow Marie Claire on Facebook for the latest celeb news, beauty tips, fascinating reads, livestream video, and more.
Amy Mackelden is a freelance writer, editor, and disability activist. Her bylines include Harper's BAZAAR, Nicki Swift, Cosmopolitan, Marie Claire, ELLE, The Independent, Bustle, Healthline, and HelloGiggles. She co-edited The Emma Press Anthology of Illness, and previously spent all of her money on Kylie Cosmetics.