Adam Levine: "I Dip In and Out of Caring About Fashion"
The Maroon 5 frontman and Voice coach talks about his latest passion project, the hit show's upcoming season and Fashion Week.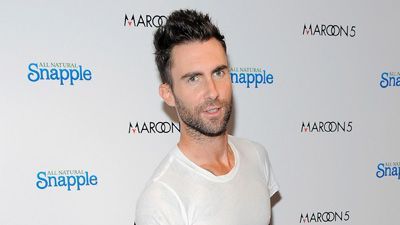 (Image credit: Archives)
My Marie Claire colleagues and I were all pretty much obsessed with this summer's The Voice. So when I got the opportunity to chat up Adam Levine, the show's winning "coach" and Maroon 5's frontman, I forgot all about my staunch support of Blake Shelton.
Currently on tour, the L.A. native was taking time out to talk about — among other things — the band's new partnership with Snapple to support Feeding America, an organization that works with food banks across the nation. The band conducted some pretty intense taste-tests to create a new flavor, "Tea Will Be Loved" (pun intended: It's based on their hit, "She Will Be Loved").
You're helping struggling artists on The Voice, and now you are helping the hungry.
It's a great thing to be in a position to help. It seems like a no-brainer to be able to offer our help in the cause. This should be mandatory. We feel as though it's our duty. And why shouldn't it be when it's such an easy thing to do.
Maroon 5's Snapple drinks include over a dozen facts about the band under the cap. Any particularly good bits?
I don't even remember what I said! They were silly little things. You'll just have to buy the drink to find out.
So, The Voice. When I first heard about the show, I was surprised to see your name attached to it. I never took you for an American Idol fan.
I've always been particularly rebellious about shows like that. I'm basically unaware of television — none of us are, especially prime-time stuff.
What changed your tune?
Once you start playing music and can make a living, if you're lucky enough, it's really important to try to do different things … and give back. Once I met with [executive producer] Mark Burnett, I was convinced. I was really skeptical at first. It sounded kind of weird. But once the Cee Los and the Christinas and the Blakes started getting involved, I realized the group was different. The tone of the show was much more sincere and honest — no one ripping people apart. It's just very sweet. But not schmaltzy. It's cut and dry and simple… People have responded to that.
Can you tell us what we should expect next season?
That's the cool thing about the show. We don't have any tricks or anything up our sleeves. The show is anti-that. We just want it to unfold naturally. People are happy with the show being the show.
Fashion Week is rapidly approaching. Do you pay much attention to designers or follow any trends?
I follow no trends! [laughing] Honestly, I dip in and out of caring about fashion. We're on the road, and so I tend to be neutral. I wear things that are comfortable. I'm basically in pajamas. I go for T-shirts, jeans, and a good pair of shoes. A leather jacket if it ever gets below 85 degrees, which rarely happens here.
I guess it makes sense you aren't as into clothes. You were almost naked in your video for "Moves Like Jagger." Was that a tough decision to go so unabashedly shirtless?
It was a … decision. I am comfortable like that. It's part of who I am. It didn't feel weird really to me. It's the exhibitionist in me. So I figured I'd give it a shot. It ended up being really liberating.