Rachel Roy: Why I Teamed Up with Deepak Chopra
The designer collaborated with the famed spiritual guru to create a truly inspired holiday jewelry line.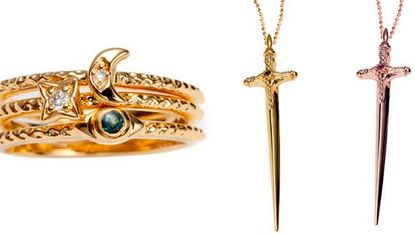 (Image credit: )
Marie Claire Newsletter
Celebrity news, beauty, fashion advice, and fascinating features, delivered straight to your inbox!
Thank you for signing up to Marie Claire. You will receive a verification email shortly.
There was a problem. Please refresh the page and try again.
If you are still trying to finish off those Christmas shopping lists, might we offer a few feel-good suggestions? Designer Rachel Roy has teamed up with an unlikely fashion collaborator to create some so-stylish-they're-spiritual pieces. She and the one and only Deepak Chopra have together created a hand-crafted jewelry capsule collection that infuses western science and eastern philosophy.
From inspiration plaque pendants and ohm hand chains to sword necklaces and evil eye rings, 100 percent of the proceeds from this holiday line benefit the Chopra Foundation, an organization dedicated to promoting health, well-being, and, of course, world peace.
Lofty goals, yes, but we can't think of a more enlightened way to accessorize. Rachel Roy took time away from her own holiday shopping to explain how she came to meet Deepak (can we call him Deepak?), how she stays sane in such a stressful industry, and what she was able to teach her partner about fashion.
How did you and Deepak meet and decide to collaborate?
Deepak and his words have been such a powerful guide to me over the years, and I'd always hoped it would be possible for us to work together. I actually tweeted at him as a way of introducing myself and was lucky that such a creative and supportive partnership emerged.
What have you learned from working with him?
Deepak and I used his words as a starting point for bringing these beautiful pieces to life. Before we began working together I was already immersed into his school of thought, but getting to work one-on-one with him like this was incredible because we were able to create something physical from that beautiful wisdom.
And you must have returned the favor. Did Deepak glean anything about the fashion world from you?
He naturally has such an amazing eye! What's so great about Deepak is that he knows what he likes and always gave great input, yet still trusted my decisions to create the most meaningful collection. He knew that the only way I could really play my part as a designer was to have the freedom to create organically. And I knew that the only way he could really play his part was by helping me absorb all of his teachings and translate that into the pieces.
When looking to collaborate, what's the most important thing you seek out in a partner?
I think it's a pretty immediate understanding right off the bat. An instinct that something is there and a collaboration needs to take place. Inspiration is key in the creative process and when two people come together and find that simpatico in each other naturally, then the steps following are fairly seamless. What's left is the fun part — getting to dig deep, cull ideas, and ultimately fuse them together. Collaborations are an opportunity for me to reach beyond the traditional edge of the fashion world and keep myself inspired. Working with Deepak was such a treat and I'm glad we got to share a little of each other's world.
Where do you see fashion and spirituality intersecting?
In fashion, we draw inspiration from so many worlds and walks of life, and references to spirituality can be seen in the work of many great designers. Like spirituality, fashion can be a tool to help us create a stronger sense of self.
The fashion world is oft criticized as being one of the more superficial of industries. Especially after this partnership, how would you respond?
Anyone who's worked in fashion knows that some of the most creative, thoughtful and generous people are part of this great industry. With all the recent interest in the inner workings of fashion, I think this notion is starting to dissolve as more and more people are able to see all the hard work — and spirit — that goes into all we do.
Do you have some tips for staying sane in the stressful world of fashion?
I find that starting the day off with yoga keeps my mind quiet, which is so important in this industry. It really teaches you to be present and focus only on what is happening in the moment. It's so easy to get caught up in stressful environments, so it's important to take a step back and just breathe. If I'm not traveling, I try to practice at least three times a week.
Now it's Deepak. But who's next? What is in store for you in 2013?
I have a very exciting collaboration with a woman whom I deeply admire coming up just around the corner. I can't give away the secret yet but I was just in India working with the artisan team who we've partnered with for this and it's going to be beautiful!
Celebrity news, beauty, fashion advice, and fascinating features, delivered straight to your inbox!