The Real Reason Charlie Hunnam Dropped Out of 'Fifty Shades'
It wasn't because he was scared of the flogger.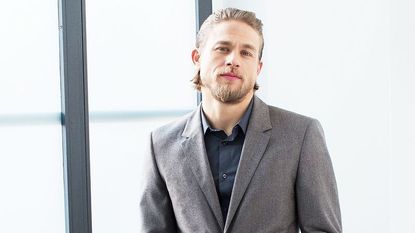 (Image credit: Getty)
Update, 9/10: Even without context, this Charlie Hunnam quote is priceless.
"The outside perception of that was that I got really cold feet and got scared of the explicit nature of the sexuality of the piece," he said about turning down the role of Christian Grey in a cover story for V Man #34. "When I was 18 I was getting f*cked in the ass, completely naked on national TV, y'know?" (If you're like, "Uh, no, I don't," it's Showtime's Queer as Folk.)
But the real real reason Charlie Hunnam had to leave Fifty Shades, breaking Sam Taylor-Johnson's heart and his own in the process, was that he is simply too honorable: He had already given director and friend (and gleeful Disneyland visitor) Guillermo del Toro his word that he would star in Crimson Peak.
Hunnam calls this move "devastating," "the worst professional experience of my life," and "the most emotionally destructive and difficult thing that I've ever had to deal with professionally," but some of us would say he dodged a bullet.
Original story, 10/17/13: In case you didn't think it was possible, the never-ending search for the perfect Christian Grey has just gotten more interesting. Despite news of the star's conflicting Sons of Anarchy schedule, sources tell the Hollywood Reporter that script drama was the real reason behind Charlie Hunnam's departure from the film.
As a writer, Hunnam reportedly shared extensive notes about the script with the film's executives. Conflict escalated when the denial of Hunnam's request for further script approval was met with the actor's threats to quit. Though the creative team later hired screenwriter Patrick Marber to polish the script and appease the star, Hunnam had already made up his mind to announce his departure the next day.
This still leaves Dakota Johnson without her leading man. Jamie Dornan, Christian Cooke, and Alexander Skarsgard are just some of the names being thrown around for the role, but word on the street is that Dornan may be the Christian for our Anastasia.
Follow Marie Claire on Instagram for the latest celeb news, pretty pics, funny stuff, and an insider POV.