The Justin Bieber Club: 15 More Celebrities Who Had Countries Ban Them
"Get off my lawn" but official.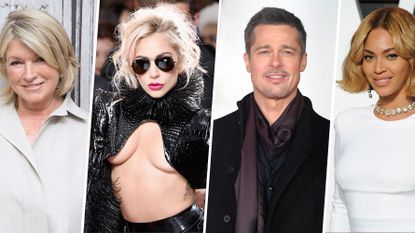 (Image credit: Getty)
Marie Claire Newsletter
Celebrity news, beauty, fashion advice, and fascinating features, delivered straight to your inbox!
Thank you for signing up to Marie Claire. You will receive a verification email shortly.
There was a problem. Please refresh the page and try again.
With a smirk-ily shady statement, China made Justin Bieber persona non grata last week—as in, an entire country just said "Never talk to me or my son ever again" to "a controversial young foreign idol." How does one get to that point? Unclear, but perhaps these 15 other famous people who've been in the same boat can tell us.
1/15
Jay Z
Probably the exact face Jay Z—or the rather more shouty JAY-Z, as he is known these days—made when he found out his 2006 Shanghai gig was canceled for "too much vulgar language." It's like they'd never heard his music before booking him...
2/15
Beyoncé
Not even the quivering stingers of the Beyhive could keep Malaysia from "Boy, bye"-ing the queen. The reason? She's too sexy for the country's conservative Muslim leadership.
3/15
Boy George
This one's really wild: In 2008, U.S. immigration officials denied the singer a visa because he was on trial in the U.K. (He was scheduled to perform at a New York Department of Sanitation event to "thank people for the kindness shown to him during his community service," which he was sentenced to for falsely reporting a burglary.) The details of the trial couldn't be discussed then, but he was later convicted of falsely imprisoning a male escort.
4/15
Akon
In Another Terrible Thing Akon Has done, his "Sexy Chick" music video with David Guetta involved lots of women in bikinis and closeup shots of their butts—and a statue of Buddha. This caused offense in Sri Lanka and made the pair officially unwelcome there.
5/15
Chris Brown
Shame that America can't "delete your account" Chris Brown like Great Britain (along with Canada and Australia) did temporarily in 2011 for abusing Rihanna.
6/15
Brad Pitt
For his role in Seven Years in Tibet—or, more precisely, the film's portrayal of harsh Chinese rule in the Himalayan region—Pitt wasn't allowed to set foot in China for almost 20 years. But in 2016, he promoted Allied in Shanghai, where reporters were not allowed to ask any questions.
7/15
Lady Gaga
Similarly, after Lady Gaga tweeted about meeting the Dalai Lama, the Communist Party of China's propaganda department reportedly issued an "important instruction" banning her and her music from mainland China. But the best part of this whole thing has to be when a China Foreign Ministry spokesman pulled an "I don't know her" during a press conference.
8/15
Lily Allen
Because she was arrested in England for assaulting a photographer in 2007, the chanteuse had her U.S. work visa revoked that year. Not something to "Smile" about (sorry, had to).
9/15
Paris Hilton
Japanese law states they can deny entry to anyone convicted of drug-related offenses, which Ms. Hilton has (possession of cocaine in Vegas). So in 2010, after she flew halfway around the world to promote her fragrance and fashion lines in Tokyo, she was forced to turn right back around.
10/15
Alec Baldwin
When jokes about sex-trafficking go wrong (even though, obviously, they're never right). Even though Baldwin later issued an apology, the Philippines forbade him from ever entering the country.
11/15
12/15
Lindsay Lohan
Chateau Marmont, "many New York clubs," and...India. The nation reportedly put the star on its "immigration blacklist" after she claimed to have saved the lives of 40 children from a sweatshop while filming a BBC documentary. Officials then discovered that she had failed to apply for a work visa, meaning she filmed the documentary illegally as a tourist.
13/15
50 Cent
Kind of a bummer when even Canada's not too nice to keep you from playing shows there. "I don't think people in Toronto or any urban center need or want to hear Mr. Jackson's message right now," Toronto MP Dan McTeague said in 2005 of the rapper's criminal record and alleged promotion of gun violence.
14/15
Snoop Dogg
He's in the clear now, but in 2012, Norway banned Snoop from entering the country for two years after marijuana was found in his luggage. Before that, he was stopped in Oslo for allegedly having too much money on his person, about which he tweeted "at the norway border right now being sweated for havin 2much money!! Norway standup 4 the biggdogg the border guys r cool but..." Same.
15/15
Martha Stewart
"Cancel my meeting with Wedgwood" —Martha Stewart, after the U.K. turned her away because she has a criminal record. Another thing she's got in common with her pal Snoop, but never forget that she is still the only one between them who's served time.
Celebrity news, beauty, fashion advice, and fascinating features, delivered straight to your inbox!
I'm the Digital Visuals Editor for Marie Claire and I help pick the most interesting, relevant and prettiest photos for our site.