What to Expect from Tonight's Project Runway All Stars Episode
A butt cheek makes itself known to the world.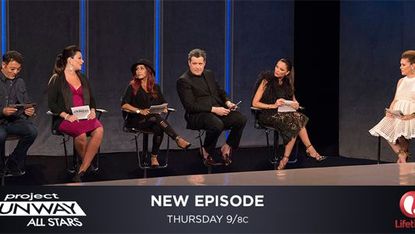 (Image credit: ARCHIVES)
Cheer up, Isaac. Even if you "can't find anything you like about it," at least the viewers are having a ball, right?
In this week's episode, the designers are charged with the task of creating a feminine look out of pointy, rough construction materials. After a burly man with a beard sounds an air horn, the contestants rush toward a table of hard hats and become territorial when others approach their wheelbarrows.
The situation further dissolves into "animalistic mayhem" on the runway, where a butt cheek makes itself known to the world and Alyssa Milano dramatically gasps.
Watch Project Runway at 9 p.m. EST on Lifetime for all of the aforementioned plus Georgiana Chapman's "you need to step up your game" face.