Project Runway's Dark Horse
Dmitry Sholokhov's Project Runway triumph came as no surprise to the designer. After giving up on everything to compete for fashion's coveted prize, winning was his only option.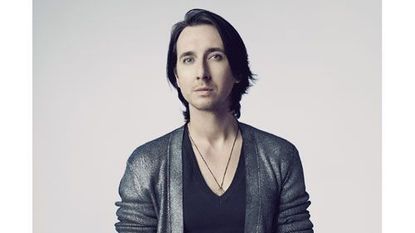 (Image credit: Marie Claire)
On the set of his victory photo shoot for Marie Claire, Dmitry Sholokhov worked the room like a veteran. The season 10 winner, a former professional ballroom dancer, is used to making major moves. "I have no idea what's going to happen," he says. "All I know is I'm not going to lose this momentum."
It's that forward-motion mentality that propelled him from the ballrooms of his native Belarus (he started the sport at age 6) to the showrooms of New York City. "Dancing was hard work," says the 33-year-old. "But that's when I started sketching costumes. By the time I was 11, I felt like I was already a fashion designer." While Sholokhov's physician mother viewed drawing as a distraction from her son's schoolwork, his father, an interior designer and architect, hailed his creativity. "He would always back me up and say, 'Let him do whatever he wants. He is an artist.'"
And like many young artists who move to New York determined to make a name for themselves, Sholokhov discovered passion and talent didn't pay the rent: "I started taking classes at the Fashion Institute of Technology and waiting tables like crazy to save money." Modeling gigs and work as an extra on Sex and the City helped a little, but when he was admitted to Parsons, friends had to cosign his student loans. (He didn't want to ask his parents.) The risk paid off when Sholokhov landed a job as a design illustrator at The Jones Group, the multibillion-dollar company that owns labels Anne Klein, Nine West, and Jones New York. After only five months, Sholokhov was promoted, but he wanted more.
"I thought, this [Project Runway audition] is my way out," he says. "This is the way to get noticed. I had done collections before, but I was always behind the scenes, never in the spotlight." That coveted spotlight, he learned, could sometimes cast a harsh glare. MC Fashion Director Nina Garcia questioned whether he was a "one-trick pony" who relied too heavily on severe silhouettes and structured dresses. Michael Kors criticized his final collection for being too matronly, sending him back to edit hours before the runway show. But did he ever think he would get auf'd? "Never."
That's the sort of unflinching confidence, Sholokhov says, that was lacking in his show nemesis, the fiery Ukrainian Elena Slivnyak — or as one of the other PR designers joked, the Natasha to Sholokhov's Boris (think Rocky and Bullwinkle). The friction between the two proved the season's most entertaining drama. "She was just so insecure," says Sholokhov of Slivnyak. "She had a problem with me from the very beginning. Maybe because we come from similar backgrounds? She would talk behind my back, and it would just get into my bones. Eventually she apologized, but I still kept my guard up."
A trash-talking adversary wasn't the only obstacle he faced: He lost 18 pounds from his already slender frame due to stress and was homeless for five months as a result of quitting his job to compete on the show. (He survived by couch-surfing.) "I had no time to focus on real-life issues like paying my bills or eating right." Despite the mental trials and physical tribulations, he came up with a final collection — all architectural lines and leather accents — that eclipsed runner-up Fabio Costa's drapey, ethereal effort. "Before Heidi [Klum] said anything, there was a very long pause — like five minutes. It's not just TV editing!" When she declared Sholokhov the winner, "All I could think was, Thank God! Then I booked a trip to Puerto Rico immediately." And upon his return? He moved into his own one-bedroom apartment in Chelsea.
Model Moment
Name: Katt Vogel Age: 26

Provenance: Monaco

Current city: New York

Discovered: When I was 15, I was in the hospital waiting room for a broken arm. A woman approached me and asked if I'd ever modeled. Her close friend was an agent and she put us in touch.

Funniest Project Runway memory: In the mad rush to get ready backstage for Dmitry's New York Fashion Week show, my dress was put on backward and we only realized seconds before the show started.

Next up: I hope to expand my company, Vogel Interiors. My dream is to be a world-renowned interior designer.