Live Blog: Project Runway, Episode 11
Get up-to-the-minute recaps of what's happening on the second episode of Season 8!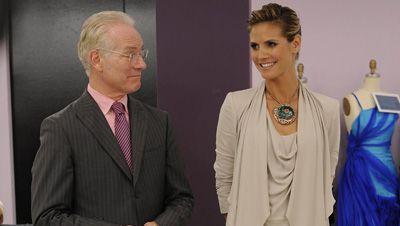 (Image credit: Barbara Nitke/Lifetime Television)
With only six designers left (and only three making it to New York Fashion Week), the pressure is on. And with tonight's challenge of designing a look for (the especially picky) Heidi Klum, the work room is bound to become unhinged. Who will win, and who will be kissing Mrs. Klum's cheek goodbye? Follow along right here as we live blog it all!
PLUS: Follow us on Twitter at @marieclaire as we live-tweet each episode!
9:00 p.m. After last weeks incredibly emotional episode, we're down to the last six designers. There are only two girls left and Mondo has got one amazing winning streak going.
9:05 p.m. Heidi announces to the group that they must change models. There's a lot of grumbling going on. Can the designers switch it up this far along in the game?
9:10 p.m. The challenge is to design for Heidi's line and the winning look will be sold on Amazon.com. These stakes are high. To top it off — it's active wear, apparely no ones forte.
9:11p.m. Gretchen calls the line "basic," this should be interesting.
9:13 p.m. Wowers!!! Did Mondo just talk back to Heidi?
9:19 p.m. Gretchen fights Heidi over fabric. Gretchen wants to make her look out of cashmere, Heidi doesn't think so. Umm, these designers know that Heidi's their boss and judge, right?
9:19 p.m. And surprise! They have to create a second look. Luckily Tim and Heidi announce that the remaining designers will be getting help. Could this be a blast from the past?
9:25 p.m. Look who it is...designers from episodes past file into the workroom. Michael C. looks nervous.
9:30 p.m. It's official, everyone hates this challenge. As Christopher says, "it's hard to distinguish good from bad at this point."
9:34 p.m. Mondo really has a bad attitude. Did Gretchen rub off on him? Or perhaps he's feeling a little too safe?
9:39 p.m. Ivy accuses Michael C. of cheating and tells him he's a bad father. Michael C. drops the f-bomb. And we learn that Ivy refers to herself in the third person. Oh my.
9:44 p.m. Tim enters the workroom and addresses the "cheating" accusation. Ivy flat out calls Michael C. a cheater. Then Tim makes it perfectly clear, that it's too late to throw out those accusations. As he says, "the cameras did see it and the judges didn't see it." And with that, all talk of cheating is over and done with.
9:52 p.m. Runway time!
9:58 p.m. The looks on this runway seem to be running the gamut from super chic to marked down h&m.
10:04 p.m. The designers must now face the judges. A few of these looks are going to be hard to defend.
10:07 p.m. April garners praise for a pair of almost invisible shorts, we're a little surprised.
10:12 p.m. Christopher, Michael C. and Gretchen are the bottom three. This is one tough judging — there seems to be no clear loser.
10:17 p.m. Note to designers: steer clear of pumpkin orange. The judges don't like it. Oh, yeah, and Gretchen, they also hate your ego.
10:29 p.m. After one tough judging Andy is declared the winner and Christopher was asked to go home. Michael C. barley made it to the next round and it looks like, that just by staying in the game, he's made a few more enemies. How will this play out? Stay tuned.
(Tune in to Project Runway on Lifetime at 9 p.m. EST every Thursday.)
Tell Marie Claire: What do you think of the ep so far? Share your thoughts in the Comments section below!
Previous Recaps:
For More: