Live Blog: Project Runway Season Finale
Get up-to-the-minute recaps of what's happening on the last episode of Season 8!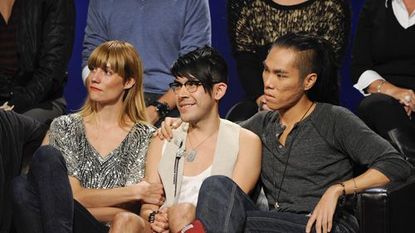 (Image credit: Barbara Nitke/Lifetime Television)
This is it, PR fans! The final episode of this crazy season is upon us. We're down to the final three. In one corner, we've got Gretchen, who started strong, got a bit too cocky, and is now the token villain of all things friendly competition. Then, we have Mondo, the houndstooth-loving risk-taker who has done a lot of growing and used a lot of color on the show. And, finally, there's the young, just-starting-out Andy, who most recently shocked Tim with his Hawaiian catfish. As they show their collections at New York City's Fashion Week, who will the judges — including guest judge Jessica Simpson — choose … and who will they auf? Follow along right here as we live blog it all!
PLUS: Follow us on Twitter at @marieclaire as we live-tweet each episode!
(Tune in to Project Runway on Lifetime at 9 p.m. EST every Thursday.)
9:01 p.m. Gretchen and Mondo talk ratios ("We have a 1 in 3 chance of winning!") while Mondo straightens his hair. Let the games begin!
9:03 p.m. Let the reunion begin! The gang gets back together. It's nice to see some of the castoffs (read: Michael Costello and Michael Drummand and Valerie, not, um, Ivy).
9:05 p.m. During this little reunion hour, we get mini-retrospectives of the three finalists. Let's get to Fashion Week already!
9:08 p.m. The cat fighting begins. Gretchen gets called out for being too-faced. Her response? "I'm not a bitch. I just play one on TV." And who's the first to come to her defense? Michael C. How interesting, eh?
9:12 p.m. It's the Michael C. show! Everyone seems to agree with Tim Gunn, that he definitely "got the last laugh."
9:24 p.m. Now that that little reunion is over, it's one day before the final runway show, and Gretchen, Andy, and Mondo make some final alterations. Plus, they've got to choose a look to remove from their collection. Time for some editing!
9:28 p.m. While Andy was messing around with his swimwear, he showed Tim one that made him think hair was growing out of her crotch. Now, that's a lot of look!
9:31 p.m. Okay, who thought that Project Runway/Fairy Job Mother commercial was oh-so random? Hello, Lifetime synergy!
9:37 p.m. During their hair consultations, Gretchen asks for high volume. She's clearly heeding the judges' recommendations.
9:38 p.m. Mondo, however, isn't. He's sticking with his polka-dot floor-length evening gown as his final look, despite Michael Kors' nervousness.
9:47 p.m. The final three get all dolled up for the big day. Mondo is even wearing a suit! And Andy put on makeup!
9:49 p.m. When they arrive, super-early to the runway, Gretchen does a snow angel.
9:50 p.m. Tim comes to the rescue when Mondo — who began to sweat over some model order discrepancies — seemed paralyzed backstage.
9:58 p.m. Gretchen's up first. Of course, she chokes back tears as she introduces her collection, intriguingly called, "Running Through Thunder."
10:07 p.m. Andy's up next with a collection inspired by his heritage and upbringing — and dedicated to his mom.
10:08 p.m. We spy Betsey Johnson in the house!
10:11 p.m. And, last but not least: Mondo! His collection, like Andy's is inspired by his heritage. And the Mexican Day of the Dead. And surely his love of mix-and-match patterns, natch!
10:15 p.m. After the show ends, everyone from Betsey to America's Next Top Model's Jay Manuel had an opinion. As did Marie Claire's own Joanna Coles — she wanted to grab one of Andy's looks right off the runway! — and senior fashion editor Zanna Roberts Rassi!
10:21 p.m. During Andy's critique, Michael Kors calls his one-shoulder looks "deceptively simple" but said the overall collection was a bit too narrow in focus. Nina's take? She was "happy to see the softness" but was disappointed that he lost a bit of his edginess.
10:25 p.m. As for Gretchen, Nina had a lot to say. Although she loved a lot of it, she thought the opening look was a bad choice and that the collection was too monotone. Guest judge Jessica Simpson, along with Michael and Heidi, loved her jewelry.
10:32 p.m. Mondo gets some mixed reviews from all the judges. But, when he makes his case for why he should win, Jessica gets choked up. "He's gonna make me cry," she says.
10:39 p.m. Wow, they straight up decided this early in the judging that Andy's out! Too bad he didn't have more of that oomph that Michael wanted.
10:40 p.m. Gretchen gets some gold stars for her styling and accessorizing, but, as Heidi wonders, what about the clothes themselves?
10:41 p.m. Heidi is Mondo's cheerleader, but Nina and Michael aren't so sure he's ready for the big leagues.
10:44 p.m. The judging has devolved into a Gretchen versus Mondo debate and a ready-to-wear, department-store ready collection versus a fun, show-stopping one. Nina's solution: "I think we should make them both the winners!" Michael's prophetic wisdom? "It's not about where fashion is now, it's about where fashion is going." And is it going in Gretchen's favor?
10:48 p.m. "I like to see you guys fight," Jessica said as she and Heidi remain on Team Mondo and Nina and Michael are sticking with Team Gretchen.
10:53 p.m. There you have it. Andy gets auf'ed. Who's next?
10:55 p.m. Heidi admits choosing between Gretchen and Mondo was "the toughest decision in Project Runway history. And the winner is ... Gretchen! Um, wow. Shocker.
10:59 p.m.How does Gretchen feel? "Like a hundred-thousand dollars!" Well, how convenient! That's how much she won!
Tell Marie Claire: What did you think of the final ep? Think Gretchen deserved to win, or do you think Mondo should be celebrating right now? Share your thoughts in the Comments section below!
Previous Recaps:
For More: