Mondo, For the Win!
Project Runway All Stars named Mondo the big winner. So what's next?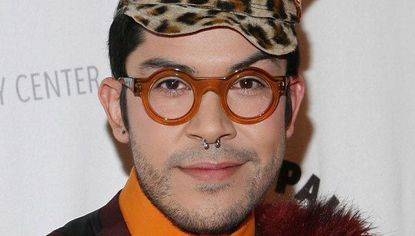 (Image credit: Archives)
Project Runway All Stars was the most fun to watch all season. And we're not just saying that because our EIC Joanna Coles was the mentor. (Though we really do appreciate her constant reminder to the designers that women indeed need to wear bras with their outfits.) But we loved seeing all of our old favorite designers, those whose aesthetics we knew so well, come back and compete with each other.
And, of course, there was a huge contingent rooting for Mondo..those who thought he was robbed in his season. It was tough to watch him struggle emotionally all season but fantastic to see his joy in winning the big prize, including a guest editorship here at Marie Claire.
We caught up with Mondo over the phone post-victory to find out what's next for his collection and when we'll be seeing him here at the Hearst Tower!
On BFF/fellow finalist Michael Costello: "Aren't you proud of him? I think he's grown leaps and bounds, not just techinically but as a person."
On Joanna: "She knew I was in a bad space emotionally. It was fun to see her every day, something to look forward to. She has these maternal instincts and was really nurturing. It was almost like a therapy session. She was a therapist."
On his collection for Neiman Marcus: "It's going to be true and honest to my point-of-view and my aesthetic. We'll revisit some of the silhouettes [from the All Stars collection] but there will be tweaking and I'll make it more accessible to their customer. I have the great pleasure of working with Ken Downing on it. And we're planning on launching for fall 2012."
On his business: "Look forward to my debut CD...just kidding! I'm focusing on investing the prize money into my own company. I want to go back to my roots on the trade show circuit. It's good to listen to and interact with the buyers and hear what their customers want. It's one thing to pick up a magazine and see what's hot, but that's not necessarily reality."
On coming to the MC offices: "I'm not coming alone. I'm bringing Michael with me. We should ask Joanna if we can have a guest of a guest editor. We can be the Tom and Lorenzo of MC, walking around taking pictures of the staff and dishing the dirt.
On working at MC: "I really love working with a team and collaborating. I love working with creative people and bouncing ideas around and then seeing it come to life. I'm excited to hang out with Joanna. And Nina. We might be able to clear the air about season 8. I look forward to telling it like it is."
On his state of mind: "I'm in a good space. I've gotten out of my funk."
Celebrity news, beauty, fashion advice, and fascinating features, delivered straight to your inbox!