An Adorable Baby Stole Kate Middleton's Handbag During an Event in Wales
The princess had a moment of levity during a visit to Aberfan to honor the 144 lives lost in the 1966 mining tragedy.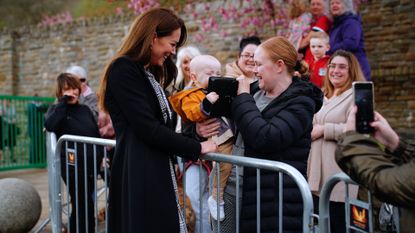 (Image credit: Getty)
Princess Kate made an unexpected friend during her Friday visit to the Aberfan Memorial Garden. The Princess of Wales honored the 144 lives lost in the coal-tip landslide in 1966. The otherwise solemn occasion was made light when a 1-year-old named Daniel reached out and grabbed her Mulberry handbag.
The child became so enthralled with Kate's bag that the royal let him play with it while she continued to greet other visitors. Daniel's mom, Lucy, spoke to ITV about the funny encounter.
"She said, 'He can have it to play with, I'll come back for it!' like it was any other person in the street," Lucy told the British news outlet. "I am just speechless."
However, she admitted to not being surprised by her son's curiosity. "It's typical him though," Lucy added. "He's a bit of a hurricane, I wouldn't expect anything less!"
During their final day of the trip to Wales, Prince William and Kate visited the site where 116 children and 28 adults lost their lives during the Aberfan coal-tip disaster. The disaster was the result of a tip that had been created on a mountain slope above the Welsh village. Heavy rain led to a build-up of water within the tip which caused it to slide downhill as a slurry, engulfing the Pantglas Junior School and a row of houses.
The late Queen Elizabeth II opened a memorial garden in 1974 where the school once was to remember the lives that were lost in the devastating event.
Marie Claire email subscribers get intel on fashion and beauty trends, hot-off-the-press celebrity news, and more. Sign up here.
Paulina is the Weekend Editor at Cosmopolitan.com. When she isn't covering celeb and pop culture news, she can be found listening to Taylor Swift, watching a teen drama (One Tree Hill is her favorite), or perfecting her skincare routine.