Camilla Will Officially Be Known as Queen Camilla—Not Queen Consort Camilla—After May 6
She'll be crowned alongside her husband King Charles at the Coronation.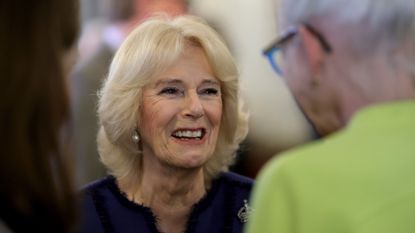 (Image credit: Getty)
Get ready for a shift in vernacular: After she is crowned alongside husband King Charles at his Coronation at Westminster Abbey on May 6, Camilla will no longer be called Queen Consort, but rather Queen Camilla.
This comes less than a year after Queen Elizabeth's passing on September 8, 2022; she was known as "the Queen" for more than 70 years. Now, it seems, when we refer to the Queen, we'll be speaking of Camilla.
*Taking a brief pause to let this sink in*
According to The Daily Mail, the first sign of the official change came when Camilla launched the "Queen's Reading Room"—formerly the "Duchess of Cornwall's Reading Room," her title prior to Her late Majesty's death—with eagle-eyed royal followers noticing, correctly, there is no "Consort" to be found. The outlet reports that the Court Circular—the official register of royal engagements—may also soon reflect the change.
"There's a view in the Palace that Queen Consort is cumbersome, and it might be simpler for Camilla to be known just as the Queen when the time is right," a source says. "The Reading Room was a sign of that. Her Majesty is the Queen, after all. Prince Philip was Prince Consort officially, but he wasn't known as Prince Consort. The Queen would, of course, still be Queen Consort, so the Palace of course wouldn't stop anyone calling Her Majesty that if they so chose."
Some news outlets, including The Times and The Telegraph, have already dropped "Consort" when referring to Camilla.
"For most of us, 'the Queen' has meant only one person for as long as we can remember," says The Times' archivist Rose Wild. "While we were still getting used to the idea of singing 'God Save the King,' there was some possibility of confusion about who 'the Queen' meant in our coverage of her death. This was largely resolved by the use of 'Queen Consort' to refer to the former Duchess of Cornwall. This wordy solution no longer seems necessary. 'Consort' is a description, not a title. While all previous wives of kings have been queens consort, none have been referred to as such."
(I promise I don't still live in the 1990s, but) This news marks a remarkable transformation and image rehabilitation for Camilla—one that cannot be ignored or overstated. (Can you imagine, had I told you in, say, 1993, that Camilla Parker-Bowles would be Queen Camilla in 30 years' time?) When she and Prince Charles married in 2005, "it was widely assumed she would never be called Queen when he acceded to the throne," The Daily Mail reports. Instead, Palace guidance dictated that she would only ever be known as Princess Consort. Last February, in a statement from Queen Elizabeth, Her late Majesty expressed her wishes for Camilla to be known as Queen Consort, and "now Buckingham Palace is set to go further, according to insiders," The Daily Mail reports.
Palace officials are harkening back to precedent, turning to the woman most of us know as the Queen Mother, but from 1936 to 1952, during the reign of her husband, King George VI, was known simply as Queen Elizabeth—and not Queen Consort Elizabeth. Similarly, when Queen Victoria died and was succeeded by her son Edward VII, his wife went from being known as the Princess of Wales to Queen Alexandra, with no use of "Consort."
"There's a feeling that the time will come when it's simpler all 'round to refer to Camilla simply as our Queen," a source says. "Until then, she will be referred to as Queen Consort."
That time, it seems, is coming quickly—just around 70 days from now.
Contributing Royal Editor
Rachel Burchfield is a writer whose primary interests are fashion and beauty, society and culture, and, most especially, the British Royal Family. In addition to serving as the royal editor at Marie Claire, she has worked with publications like Vogue, Vanity Fair, ELLE, Harper's Bazaar, and more. She cohosts Podcast Royal, a show that provides candid commentary on the biggest royal family headlines and offers segments on fashion, beauty, health and wellness, and lifestyle.