Prince George and Princess Charlotte Have Arrived at the Queen's Funeral
The young royals joined their mom and dad in the Queen's funeral procession.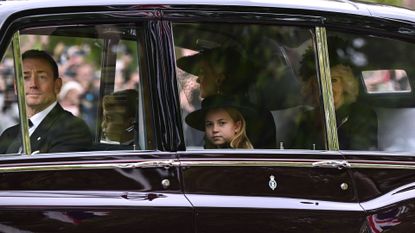 (Image credit: PAUL ELLIS/POOL/AFP via Getty Images)
On Monday morning, Prince George and Princess Charlotte arrived with their parents Prince William and Kate Middleton at Queen Elizabeth's funeral.
The young royals arrived at Westminster Abbey with Kate and the Queen Consort, Camilla. They went on to walk with other members of the royal family, including their dad, Prince William, and their uncle, Prince Harry in procession behind the Queen's coffin as it was carried by pallbearers.
The queen's funeral marks a significant moment in George and Charlotte's "royal training," royal author Tina Brown noted. "This is what they are going to remember for the rest of their lives…It's the beginning of their royal moment."
Brooke Knappenberger is the Editorial Fellow at Marie Claire, where she writes across the board from fashion and beauty to books and celebrities. As a pop culture junkie, Brooke obsessively consumes and writes about the latest movie releases, streaming TV shows, and celebrity scandals. She has over three years of experience writing on fashion, beauty, and entertainment and her work has appeared on Looper, NickiSwift, The Sun US, and Vox Magazine of Columbia, Missouri. Brooke obtained her Bachelor's Degree in Journalism from the University of Missouri's School of Journalism with an emphasis on Magazine Editing and has a minor in Textile and Apparel Management.