Susan Sarandon on the Book That Changed Her View on the Death Penalty—and Her Life
In an exclusive excerpt from the new anthology 'The World Is Just a Book Away,' Sarandon talks the inspiration behind her 1995 film 'Dead Man Walking.'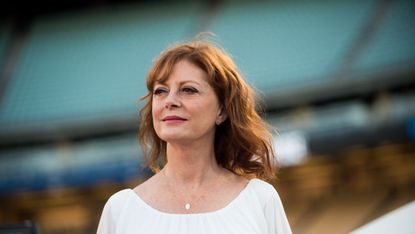 (Image credit: Getty Images)
James Owens would like to teach the world to read. And with his non-profit The World Is Just A Book Away, accompanied by an upcoming anthology of the same name, Owens is doing just that—with one library and one personal story about the life-shaping power of books at a time. Here, from a collection featuring Nobel Peace Prize laureates, actors, royalty, world leaders, scientists, humanitarians, and celebrities, we exclusively excerpt Susan Sarandon's entry, about the book that changed her view on the death penalty. The full volume is available November 9.

I have always been against the death penalty, because it struck me as arbitrary, capricious, expensive, and not an effective deterrent. However, I had no visceral connection with the issue until I read Dead Man Walking, by Sister Helen Prejean.
Dead Man Walking really got to me on two levels. The strange and horrific specifics of the death penalty interested me at the time. However, the larger issue—this strange love story between a nun and the two men she ultimately serves as spiritual advisor—is what really moved me.
The hook in the book for me was the question of unconditional love and the journey that this person, Sister Helen, went on without understanding where it was leading her. While reading the book, I fell in love with Sister Helen because of the mistakes she made. She didn't enter into her role as spiritual advisor to two death-row inmates convicted of rape and murder thinking that she had the answers. In fact, she was terrified as she entered a very dark place and she questioned herself the entire way. Her journey, starting out by writing a letter to someone and going deeper and deeper, one step at a time, is very powerful.
Somewhere deep inside of herself, Sister Helen knew what was right and she listened to that voice. Day by day, she made the difficult decision to move toward the light and not toward the darkness. Only in hindsight, looking back along the path she had traveled, did she see the answers more clearly. Reading about her ability to keep moving forward, even though she was terrified, even though it was painful, and even though it cost her so much personally and emotionally, really inspired me.
I also started to have a visceral reaction to the death penalty that I hadn't had before. This reaction resulted in part from Sister Helen's brilliant portrayal of all victims affected by this issue—not just the victims of the crimes, and not just the people the state murders, but the families, the warden, and all the people forced to be a part of a system that premeditatively kills another human being. Along the way, she raises questions. Is it possible to take into account the most despicable act of a human being and still find a way to love him? Is it possible in your heart to believe that a person is more than the worst thing he does? These are powerful, universal questions that really struck me.
I was working on The Client while reading Dead Man Walking, and we went to New Orleans for a week to film. When I learned that Sister Helen would also be there, I asked to meet her. I hadn't really thought about turning the book into a movie, because great books don't always make great movies. I simply wanted to meet her because I was so intrigued by her and I was very moved by her book.
Sister Helen didn't really know who I was, other than one of the two girls in Thelma & Louise, but I had come highly recommended by some people I'd worked with in Amnesty International over the years. I also didn't know what to expect. Although I'd had a great deal of exposure to nuns over the years, it wasn't necessarily positive. I went to a Catholic grammar school and I went to a Catholic university in the late '60s, when a lot of young priests were running off with the nuns. I didn't think the Church was particularly practical for many reasons—women's role on the bottom of the food chain, the Church's stance on reproductive rights and other issues, and its wealth, in such stark contrast to so many poor people the world over.
As a result of my past experience, I had lost any love of organized religion, and it was wonderful to meet someone who had found a way to be connected to the world and still have her faith. Many independent nuns like Sister Helen became radicalized and politicized, because it can't be helped when working in poor communities. That is certainly true of the Church all over the world, but we don't see much of it in the United States.
During that first meeting, Sister Helen and I developed an immediate bond and started talking about the possibility of turning the book into a movie. She gave me the rights then and there. We didn't even sign anything. She just asked what we should do, and my agent later spoke to her book agent.
I thought it would be a wonderful project for my then-partner. Over the course of the next year, Sister Helen came often to New York and stayed with us. Our friendship grew deeper and deeper, but Tim still hadn't really looked at the book. Finally, I told Tim that we should probably give it to someone else if he wasn't interested. He read it, and little by little it started to get into his imagination, and then he started to write it. Eventually, it won out over Cradle Will Rock, which was made after Dead Man Walking.
This type of film is obviously not a documentary, so there has to be some liberty taken in terms of how the story is told. Everything is about the director's point-of-view, how he tells the story, and what he chooses to emphasize, and Tim had some brilliant ideas. We couldn't have two executions, so he consolidated the two men into one character. He also decided to change the execution to lethal injection—the men in the book were electrocuted—but he spoke with Sister Helen about it first. She was very much involved in how the story unfolded in the film.
For me, playing a real person is an enormous responsibility, especially if that person is still alive and a close friend. Then there is the problem of dealing with an issue that is really close to your heart. I didn't realize until we were finished filming just how stressful it was, because I wanted to make sure the story was told the way it deserved to be. Consequently, I felt an enormous relief when Sister Helen liked the film and approved of it.
Initially, we had hoped that the story would at least exist on tape to help people understand the death penalty in a very specific, rather than a purely theoretical way. I think we achieved even more than that and it's always shocking to me when I meet young kids who tell me that they have seen Dead Man Walking a number of times—it's not a very easy movie to watch. I assume it's very satisfying for Sister Helen as well to know the conversation the film has encouraged.
Dead Man Walking changed my life in many ways. It brought Sister Helen into my life. I love her very much, and we've grown even closer over time. I've continued to be involved in issues concerning the death penalty and I occasionally have the opportunity to work with Sister Helen to promote understanding of the issue, or to raise funds to support abolitionist groups. It also provided a wonderful opportunity for me to work on something with Tim that turned out very well.
The book and the movie serve as tools that are used to begin a dialogue about the death penalty. Now, when Sister Helen speaks, thousands of people turn out instead of hundreds. The book, which was number one on the New York Times Best Seller List for 31 weeks, was subsequently translated into 10 different languages and even went to the Vatican.
I now understand that the question is not, "Who deserves to die?" The question is "Who deserves to kill?" Sister Helen's book helped me understand this question and I feel it with every fiber of my body.