Let's Be Clear: 'The Last Jedi' Is Fantastic and Not Just Because Women Are the Leaders
Come for the Porgs, stay for just about everything else.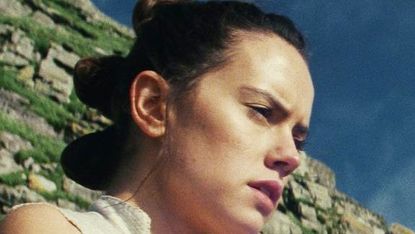 (Image credit: Lucas Film)
Marie Claire Newsletter
Celebrity news, beauty, fashion advice, and fascinating features, delivered straight to your inbox!
Thank you for signing up to Marie Claire. You will receive a verification email shortly.
There was a problem. Please refresh the page and try again.
Two years ago we met Rey. She was a scavenger on a forgotten planet, eating gross bread, and dreaming of something beyond her depressing circumstances. That something came along, and Rey learned that she possessed a power she couldn't even begin to fathom (hint: it's The Force). Watching her come into her own in The Force Awakens was a revelation—annoying naysayers be damned—and now she's back in The Last Jedi, trying to understand what this innate gift means and how it relates to her past.
Daisy Ridley's Rey was never the lone woman in the latest Star Wars trilogy, but in that movie, it still felt like she had to serve as the primary female representative among a gaggle of dude heroes. One of the copious joys of The Last Jedi is that's just not the case anymore.
Rey spends most of the movie on Ahch-To with Luke Skywalker, attempting to get the iconic Jedi to leave behind his idyllic, weird planet and help his sister Leia lead the Resistance. Skywalker's become an eccentric grump who's haunted by the past, afraid of repeating his mistakes, and spends his time chilling with these guys:
But it's Rey who's inner turmoil is important to this story. She's struggling to piece together how she fits in—all while the other rebels are being relentlessly attacked by the First Order—and is given a complete and complex arc, often removed from the action of the movie, yet implicitly tied to it.
Rey's gratifying journey aside, let's be clear: The Last Jedi is fantastic. It's a constantly churning engine of wonder and excitement that grapples with elemental questions of good and evil that have always been the driving force of this universe. Director Rian Johnson has packed the film with inventive locales and endearing creatures. Yes, there are the much discussed porgs (see: that little dude above), but I unexpectedly fell in love with the fathiers, horse-type animals with sensitive faces and big ears. I could go on and on about all the beasts, but I'll spare you.
Another magical quality The Last Jedi possesses? Here, women are the goddamn leaders. They're the people making the smart, considered, day-saving choices, while the men are often risky and foolish. The First Order's Kylo Ren and General Hux act like dictatorial toddlers, pouting when they don't get what they want.
As for the Resistance, Poe Dameron and Finn have a tendency to confuse swashbuckling bravado for strategic decision making. In fact, in one of her first moments on screen, Leia chides Poe: "Get your head out of your cockpit." Yes, that is a dick joke. And speaking of, The Last Jedi is also perhaps the funniest Star Wars films ever. Take, for instance, the opening sequence, which manages to pack in genuine belly laughs (the screening audience was in a literal state of LOL), nail-biting action, and devastation.
In doing all of that, the film neatly sets up a backstory for newcomer Kelly Marie Tran's Rose Tico—easily the most exciting addition to the franchise. While Rey and Finn became part of the Resistance almost by happenstance, Rose is a true believer in the cause to the extent that she's toiled away in the background as a mechanic while others have found glory. She's an example of how the conflict has resonance beyond what we're seeing play out on screen, and her presence adds a depth to the fight. Tran herself is also groundbreaking. Never before has an Asian-American woman been a protagonist in these films, and she breaks the spate of white brunettes who have been cast as heroines. She plays Rose with an effusiveness that doesn't surmount her resolve or her sorrow.
Another new lady who is not here for any crap is Laura Dern's purple-haired Vice Admiral Holdo. I won't reveal too much about the effortlessly glamorous military mind, but let's just say she is not to be underestimated. That's actually a good rule of thumb for all of these women, Leia, of course, included.
Carrie Fisher's untimely death is now inexorably linked with Leia, but The Last Jedi doesn't give too overt a nod to the real world tragedy that will shape the future of this saga. Seeing Carrie Fisher as the princess-turned-general one last time is inherently moving, and certain images will of course make you feel her loss particularly strongly. But, most of the time, Fisher's performance is so sparkling that's it's hard to imagine she's actually gone. As the general, she's revered and regal, but not lacking her saucy wit. (Leia knows exactly what she's doing when she delivers that "cockpit" joke. Fisher certainly did.)
At one point Finn says, "People believe in Leia." It's a line that works just as well out of context as it does during the scene. People have always believed in Leia and they always will, even with Fisher gone. And with the likes of Rey and Rose in the mix, it's clear that her legacy in the galaxy far far away will not be forgotten.
RELATED STORY
Celebrity news, beauty, fashion advice, and fascinating features, delivered straight to your inbox!