'Lady Bird' Was Influenced by 'Real Women Have Curves' and No One Outside the Latinx Community Is Acknowledging It
We can't claim to be inclusive until all women's stories are equal.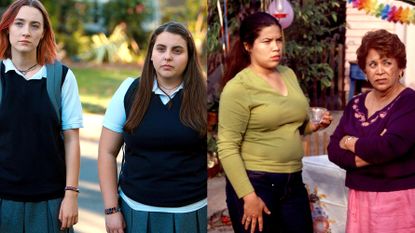 (Image credit: Universal/HBO)
I caught Lady Bird later than most, and the real reason I saw it at all was because of all the Dave Matthews Band references I'd heard were in it. (Yes, I am a fan, still. Kinda.) I thought that at the very least I could relate to being a girl on the brink of adulthood and in the thick of a DMB obsession—and yes, a sense of familiarity washed over me as I watched the film unfold. But when I walked out of the theater, a nagging little voice inside my head kept telling me that I knew this story, and I knew it very well. In fact, the voice reminded me that I'd seen this exact story about 15 years ago.
I was 24 when I discovered Real Women Have Curves. Then-newcomer America Ferrera played the lead role of confident, chubby, intelligent Ana García to perfection. There were tears in my eyes as I watched Ana argue with her mother about her weight, her worth, and being "more than what's between my legs" because I had those same arguments with my immigrant mom. To this very day, while watching scenes that take place inside Ana's home I swear that I can smell the aroma of carne asada cooking on the stovetop, mixed with a light scent of Fabuloso from the scrub-down my mom had given the kitchen earlier in the day.
Real Women Have Curves is an accurate, painfully real, and altogether fantastic portrait of what it was like to come of age as a young feminist—with a difficult (but loving) relationship between daughter and mother, wrapped within the complication of friends/boys, and dreams of going to college on the other side of the country.

Does that sound familiar to you? It should. It's almost the exact storyline, beat by beat, as Greta Gerwig's Lady Bird, with only one glaringly obvious difference: Lady Bird, its director, its writer, and most of its cast, is white.
Critics and pundits have been hailing Gerwig's solo directorial debut as masterful, and calling her "one of the most invigorating, observant, and authentic voices in movies today." Meanwhile, the Latin community has taken notice of the film's derivative plot. In a recently published blog post, writer Michelle Cruz Gonzales asks whether Lady Bird plagiarized Real Women Have Curves, while in another piece, writer Mathew Rodriguez states that "Lady Bird's parade of white woman talent is a part of its success, I'm inclined to think that Real Women Have Curves' Latinx-centric world hinders it."
As a critic myself, I am more inclined to believe the latter. Movies which are told from the perspective of a woman of color—even with today's social movements top of mind—are a rarity. Yet 15 years ago and against all odds, Real Women Have Curves made its debut with a Latina director at the helm (Patricia Cardoso), a Latina writer (Josefina López, whose stage play was the basis for the film), a black woman producer (Effie Brown), and a cast of almost entirely Latin actors (save for the boy who played Jimmy, Ana's love interest, who was white). And not one white critic or pundit could even cite the movie when discussing Lady Bird. Not a single one.
If Hollywood, and those that write about Hollywood, want to truly move away from the industry's complicated and patriarchal past, it must also reflect on the fact that when talking about women's stories, the narrative often excludes women of color. The only way to move forward is to acknowledge the past wrongs, to be inspired by women like Josefina López and Patricia Cardoso (who took chances to tell their stories with little to no acclaim), and to create a more inclusive environment in film and television. It's time for Real Women Have Curves to be revisited and celebrated for its influence rather than forgotten in the sidelines while a white version of the same film wins awards. We can't claim to be inclusive until all women's stories are equal.
RELATED STORY
Yolanda Machado is a Los Angeles based award winning blogger (SassyMamainLA), critic and freelance entertainment journalist with bylines at Broadly, Moviefone, Remezcla and more. She is a Latina mother of one daughter, and has an obsession for pop culture and Broadway musicals.