How To Make More Space In Your Apartment
How To Make More Space In Your Apartment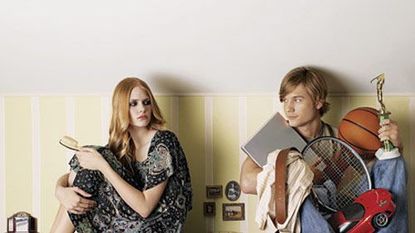 (Image credit: Geof Kern)
Marie Claire Newsletter
Celebrity news, beauty, fashion advice, and fascinating features, delivered straight to your inbox!
Thank you for signing up to Marie Claire. You will receive a verification email shortly.
There was a problem. Please refresh the page and try again.
For many people, living in an urban area often means living in a small one-bedroom or studio apartment, or having roommates to help cut down on costs. Living in a small apartment can be challenging when it comes to transforming it into a functional and practical living space. Here's a quick guide to help you maximize what little space you do have.
1. Think vertically.
You probably don't have too much floor space, so utilize your wall space. Choose tall, slim bookshelves and hang paintings high on the wall to draw the eye upward. Jamie Novak, a professional organizer and author of 1,000 Best Quick and Easy Organizing Secrets, suggests using the perimeter of the room: "Install shelves eighteen inches below the ceiling on all or some of the walls." She also suggests hanging items like pots and pans from the ceiling.
2. Choose one large piece of furniture for every room.
In the bedroom, this piece of furniture would be the bed. In the living room, it would be the sofa; in the kitchen, the table, etc. Too much furniture makes rooms look cramped. Often, a second sofa or futon can be replaced with a stylish arrangement of small, space-saving chairs. Also, be reasonable: Don't try to fit a full-size sofa or a queen-size bed into tiny rooms. Always measure the space you have before you try to fit something in.
3. Don't acquire too much stuff.
For some, this is quite a challenge. When your apartment is outfitted in all the necessities, steer clear of buying more furniture, or anything else, for that matter, without getting rid of something. Novak says that a common mistake she sees in terms of streamlining is an inability to overcome separation anxiety. "Whether it is last year's tote bag or your favorite stuffed toy from childhood, it can be hard to let go," she says. "Take a photo and let the item go or you'll run out of space."
4. Make good use of the space you do have.
When you're working with a very small amount of space, every square inch counts. Buy rolling bins for under-the-bed storage of linens, seasonal clothes, shoes, etc. Make the most out of your closet by adding hooks, shelves, and/or plastic storage bins. Your bookcases are not just for books anymore—add storage for remotes, photos and more by fitting your bookcases with baskets and tins. Novak recommends placing a baker's rack in the entranceway to serve as a catch-all for keys, hats, mail and more.
5. Adhere to simplicity of design.
The Scandinavians have the right idea: clean lines, classic colors and patterns, and practical design all contribute to a more comfortable small-space dwelling. Use minimal drapery (instead, plain Roman blinds are adequate window dressing) and simple patterns (if you have a crazy floral motif on your sofa, a pretty slipcover serves as an economical choice to alter the look). Stick with one color scheme throughout the apartment to avoid rooms looking disconnected.
6. Use small electronics and appliances.
Don't let electronics dominate your apartment! The smaller the space, the smaller the things you use need to be to fit into it. Instead of a huge stereo system, use a desk-top executive unit. Not only do they look classy, they're small and can fit on a bookshelf. Get a TV that is an appropriate size for your living room. Anything you need in the kitchen usually comes in smaller sizes, too—look for small microwaves and coffemakers instead of standard-size—they make all the difference when you have little to no counter space.
7. Use multi-purpose furniture.
Novak suggests purchasing pieces with alternate uses. Basically, an ottoman is a storage trunk is a coffee table is a foot rest. Got it?
8. Divide your space.
Whether you choose to use curtains or screens, space dividers can help split your studio apartment into different rooms. This also provides a great opportunity to show your personal style with color and texture.
9. Trick the eye with mirrors.
It's no secret that a big, well-placed mirror does wonders for a room, large or small. Mirrors give the illusion of having a bigger space, and a pretty frame can add to the décor as well.
10. And finally, be organized!
Make this your mantra: A place for everything, and everything in its place. Keep your papers filed, your clothes folded, and your cabinets clean. "You do not have to organize all of the rooms perfectly today," says Novak. "Instead, do a part of a room today and do a little more tomorrow. Small, consistent blocks of organizing is what leads to lasting success."
Celebrity news, beauty, fashion advice, and fascinating features, delivered straight to your inbox!