All the Fabulous, Over-the-Top Things I Saw at the Olympics
K-pop dance groups, space simulations, and humanoid robots, to name a few.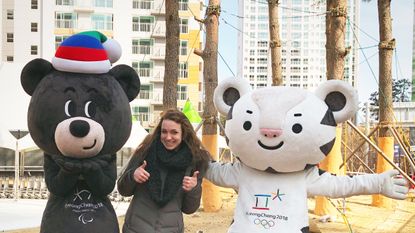 (Image credit: Rose Minutaglio)
The Olympics are a spectacle to behold—budding technology, futuristic fashion, cultural presentations—and South Korea did not disappoint. I'm in PyeongChang covering the 2018 Games as part of my job as a features editor and thus far I have been offered a drink from a robot, ordered a Coke from a vending machine taller than my childhood home, and watched men in gats (a traditional Korean hat) riding around on segways. As this year's Games wind down, here's a look at some of the best, totally outlandish pageantry of the Winter Olympics, because, let's be honest, the Games are about way more than sports.
Visually Stunning Opening Ceremonies
The opening ceremony kicked off on February 9 at 8 p.m. at the new PyeongChang Olympic Stadium, which seats 35,000 people. Some 2,900 athletes from 92 countries marched into the stadium under their country's flag during the Parade of Nations. (Team USA marched out to "Gangnam Style" and others came out to K-pop tunes!) As a media member, I sat in the open-air stadium's front row, with a blanket and hand-warmers to brave temperatures that dipped as low as 23 degrees.
The spectacle featured 1,300 performers and 700 volunteers in one scene and included more than a thousand drones that lit up the night sky in the shape of the Olympic rings. The visual effect was stunning. In another act, performers pushed light boxes around as displays on the floor glowed in celebration of South Korea's enthusiasm for innovation.
The ceremony ended with 20,000 fireworks popping 4,200 feet above us.
Impromptu Parades and K-Pop Dance Parties
Impromptu parade at the #2018WinterOlympics #Pyeonchang2018 pic.twitter.com/aH7SDEu1r6February 9, 2018
See more
After arriving in PyeongChang, my first stop was Gangneung Olympic Park to check out the figure skating and hockey arenas. While wandering around, I stumbled across a parade with men dressed in traditional South Korean robes and gats driving segways and women in hanbok, a traditional Korean dress. Boohorang the white tiger, an official Olympic mascot, was riding a float!
On another visit to the park, a crowd began to form near the sculpture of the Olympic rings (a popular Instagram-taking spot) where K-pop dancers were performing to "Like This," by Wonder Girls, a South Korean girl group.
Fabulous Figure Skating Outfits
The media seating area at Gangneung Ice Arena, where figure skating events are held, is situated next to the NBC broadcast booth, so nearly every day I was treated to a close-up of primetime analysts Tara Lipinski and Johnny Weir, known for their bedazzled headsets and sparkling, outrageous on-air outfits. The truly dynamic duo coordinated their clothing for each event they covered, prompting Twitter users to liken them to characters from the The Hunger Games.
And that's to say nothing of the actual skaters at the 2018 Games. Some of the best costumes included a Game of Thrones-inspired look from German figure skater Paul Fentz and a stunning, gold-sequined jumpsuit from French athlete Maé-Bérénice Méité, who absolutely slayed, performing to a medley of Beyoncé hits, like "Run the World (Girls)" and "Halo."
Spoke with figure skater Paul Fentz of Germany who channeled Game of Thrones' Jaime Lannister at the Olympics. My story for @ELLEmagazine: https://t.co/pBrDwxURNyFebruary 17, 2018
See more
Figure skater @MBMeite danced to @Beyonce at the #PyeongChang2018 #WinterOlympics! My story for @Cosmopolitan: https://t.co/dkkJWDNtTfFebruary 11, 2018
See more
Robot Invasion
South Korea prides itself on technological innovation, so I wasn't surprised by the 85 robots milling around the grounds of the Games. From "fish" bots to cleaning machines to humanoids helping with directions and translations, there was no shortage of fascinating tech.
Loving this bot's stripes (also v helpful for people who get lost easily, not me of course). pic.twitter.com/IzDgyxHZZ0February 21, 2018
See more
Mesmerized by these robot fish in the super store at #PyeongChang2018 pic.twitter.com/XU6P7DjCkwFebruary 21, 2018
See more
Delicious Bites

South Korea is known for its super-spicy and super-sweet cuisine. Classic dishes include kimchi, bibimbap bowls, and red bean buns—all of which (and more!) I tried while working the Games. In the spectator eating areas, especially, tasty local cuisine was easy to find. The IOC served up dishes like thick, creamy black bean noodles, special Korean festival seafood soups, and lots and lots of dumplings. I got adventurous with some unique food options (like dangling honey squid legs and tuna mayonnaise potato chips) during my stay. Of course, if you're partial to Western food or Italian, vendors sell hamburgers and pizza, too.
Sponsor Pop-ups
The corporate sponsor epicenter is in Olympic Park and it is epic. There's a McDonald's shaped like a carton of fries and a massive Coca-cola vending machine (see below) that blasts music. Plus, there's a "super store" souvenir shop filled with Olympic-themed holiday ornaments, sneakers, clothing, and the wait just to get in was 45 minutes long when I went—plus another 45 minutes to check-out.
Tb to this massive Coke vending machine in PyeongChang #cokeplay pic.twitter.com/cioYiLaXFkFebruary 22, 2018
See more
Reliving this moment when I "walked" on the moon at the #PyeongChang2018 Olympics. pic.twitter.com/ixCKwD8zyLFebruary 22, 2018
See more
Another Olympic Park highlight is the Samsung studio featuring immersive technologies described as an "exhilaration and escape into real-world thrills in winter sports through VR including snowboarding and skeleton," according to their press release. I tried some of the VR experiences and my favorite by far was the "Mission to Space VR: A Moon for All Mankind" attraction, during which I wore a space training suit and helmet and attempted to "walk" on the moon with lunar gravity.
Yes, athletic prowess is the main draw at the Olympics, and it's awe-inspiring (and serious fitspo) to watch the best of the best perform on the biggest stage in the world. But the venues, people, and tech ventures from PyeongChang are what made the 2018 Games an unforgettable experience.
Celebrity news, beauty, fashion advice, and fascinating features, delivered straight to your inbox!
Rose is a Staff Writer at ELLE covering culture, news, and women's issues. She is an accomplished and compassionate storyteller who excels in obtaining exclusive interviews and unearthing compelling features.