Suspect Arrested in String of "Random" Shootings That Left 6 Dead in Kalamazoo
The shooter was an Uber driver who may have even picked up passengers in between attacks.
Six people were killed, and two others seriously injured in a string of seemingly random shootings in Kalamazoo, Michigan on Saturday night. The suspected shooter, a 45-year-old Jason Brian Dalton, was taken into custody Sunday. Dalton reportedly has no criminal record.
"There is no connection between any of [the victims]. This all appears to be random," Kalamazoo County Undersheriff Paul Matyas said on Sunday. "In summary what it looks like is we have somebody just driving around, finding people, and shooting them dead in their tracks," he added during a broadcast on NBC's local affiliate, WOOD-TV.
The violent rampage took place at three different locations over the course of six hours. According to Michigan State Police, the first incident occurred at approximately 6 p.m. in an apartment complex parking lot where a woman had been shot multiple times. The second took place at a car dealership around 10 p.m.—the victims were a father and son, both shot and killed. The final shooting occurred about 20 minutes later outside a Cracker Barrel restaurant. Dalton approached an Oldsmobile mini-van and a Chevrolet Cruze, shooting and killing the 62-year old driver of the Oldsmobile, as well as four of the five occupants of the Chevrolet. The fifth occupant, a 14-year-old girl who was sitting in the front passenger seat, is currently in critical condition.
Reports emerged on Sunday indicating that Dalton is a driver for Uber and may have picked up passengers in between attacks.
"Several people have said that Dalton was their driver for Uber." WWMT reports. "We have also found that someone had an experience with him during an Uber ride yesterday."
The following screenshots were posted by Facebook user, Megan Knight:
Uber's chief security officer, Joe Sullivan, gave a statement in response to the tragic events:
"We are horrified and heartbroken at the senseless violence in Kalamazoo, Michigan. Our hearts and prayers are with the families of the victims of this devastating crime and those recovering from injuries. We have reached out to the police to help with their investigation in any way that we can."
According to Sullivan, Dalton passed his background check for the ride-sharing company. Police will be investigating Dalton's "connection to Uber and whether or not he was picking up fares in between the shootings," said Public Safety Chief Jeff Hadley.
Officials are unclear as to the reason behind what they see as "senseless, random violence."
"We just can't figure out the motive," said Hadley. "There's nothing that gives us any indication as to why he would do this or what would have triggered this. The victims did not know him, he did not know the victims."
Suspect James Dalton's home, accused of killing 6 in Kalamazoo County, neighbor says "I'm in complete shock," pic.twitter.com/hF0ruya69rFebruary 21, 2016
See more
Kalamazoo County prosecutor Jeff Getting says formal charges will be brought against Dalton on Monday.
"I would expect six counts of murder, two counts of assault with intent to commit murder, six counts of felony firearm, and then we'll see from there."
Celebrity news, beauty, fashion advice, and fascinating features, delivered straight to your inbox!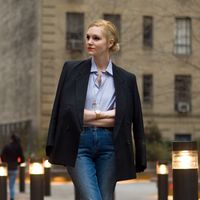 I am an experienced editor, writer, and creative strategist, specializing in fashion, beauty, and lifestyle content for digital media outlets, as well as video and social platforms. While I currently operate as a freelance contributor/consultant, with such clients as The Zoe Report, my 10+-year background in the industry was cultivated at the dot-coms of elite publications, including Harper's BAZAAR, ELLE, and Marie Claire.