The 'Scandal' Crew on Their Favorite Scenes of All Time
As we say a teary goodbye to Olivia Pope, the people behind your favorite show take us on a trip down memory lane.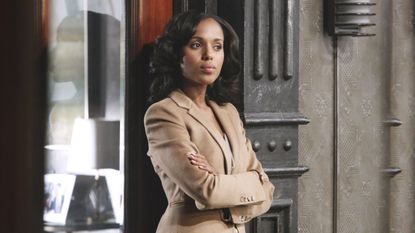 (Image credit: Getty Images)
Marie Claire Newsletter
Celebrity news, beauty, fashion advice, and fascinating features, delivered straight to your inbox!
Thank you for signing up to Marie Claire. You will receive a verification email shortly.
There was a problem. Please refresh the page and try again.
Raise your hand if you're devastated that Scandal is coming to an end tonight. 🙋For seven years, we've witnessed the dramatic evolution of nearly every character—from Olivia to Cyrus to Mellie to Abby to Quinn to Fitz—and the complex storylines that came with each of them. (Remember when Fitz killed Verna with his bare hands? Yeah, us either.)
Not only did boundary-breaker extraordinaire Shonda Rhimes—the indelible creator behind the show—push the limits with each episode's plot, she also cast Kerry Washington as the first African-American female lead of a network drama in nearly 40 years. She told Olivia's story (based off of real-life D.C. fixer Judy Smith), and she told it well. You loved her, you hated her, and you understood her through every joyous, heartbreaking, and tumultuous moment. We, too, felt like we were a part of Olivia Pope and Associates.
Those stories could not have been told without the genius Scandal crew, who've all turned into family, working 60-hour weeks behind the camera. A few weeks after they shot the series finale in Washington, D.C., MarieClaire.com caught up with some of the crew members that have been along for the ride—many since the pilot—to reminisce about their favorite scenes they've worked on and their experiences on set. Gladiators, prepare for some major nostalgia.
Oliver Bokelberg, Cinematographer and Director
"I have a few favorite episodes, but the first one is season one episode six called 'The Trail.' I love the scene in particular where Fitz and Olivia take one minute on the couch together not speaking. The guts that Shonda had to say, no we're going to sit there for a minute and we're not going to talk. To do that on network television? That episode made me immediately want to see Olivia and Fitz together. I'm definitely Team Olitz.
Then of course the one that I directed, season two episode eight titled, 'Happy Birthday, Mr. President' because I love the script. We had so many beautiful things to film besides the attempted assassination of the president, like that scene with Fitz and Olivia where they end up making out in the Oval the night of the inauguration. There's also the scene with the constitution when he puts her finger on it that I just love. Shonda always said something that was very extraordinarily meaningful that needed to be said at the time—whether it was politically or morally.
My other favorite is when we buried Harrison. It was really emotional for all of us. We truly lost a member of our family, Columbus Short, that day. We let the actors just be in the moment as they truly said goodbye to his character as the coffin went underground. I don't think there was a dry eye in the crew. My biggest, hunkiest guys were bawling because we all felt it. It's one of those moments you never forget."
Thank you all so much for watching last night. And thank you to (Oliver) @bokelberg for your loving support and brilliant eye! You are a friend and a mentor. And I am very grateful. #KerryDirectsScandal pic.twitter.com/RX6zJ58bOyFebruary 2, 2018
See more
Denise Hooper, Head of the Makeup Department
"I have this one episode I love that I got to design. It was season six, episode 10 of the alternative reality—Fitz hadn't won the presidency and he got married to Olivia; Quinn Perkins was still Lindsay Dwyer. In the episode, she was a Bachelorette contestant. Quinn (Katie Lowes) was modeled after Andi Dorfman. Katie was absolutely hysterical because she was obsessed. I don't think I ever saw her happier than when we were filming that. She was so good. We put in so much work—the girls had tans, fake nails, gowns, big hair. We went all out and it was only 10 minutes on the episode. It didn't seem like hard work because Katie and I had so much fun doing it. I'll definitely be lifelong friends with Katie.
When we first started the show there was a Clinique lipstick color we used on Abby, Quinn, and Olivia called, 'Whole Lotta Honey.' When it was time to do the final episode and we were talking about Quinn's makeup, Katie goes, 'What are we going to do?' I said, 'Oh my god, what if we do the final episode with 'Whole Lotta Honey' like we started with?' So we started and ended with it, which was beautiful."
Zahir McGhee, Writer
"One of my favorite episodes was the 'The Lawn Chair' in season four right after we went through the run of Olivia being kidnapped in a couple episodes. It was the first episode back in D.C. and it had a Black Lives Matter theme. Olivia shows up on the scene and Clarence Parker (Courtney B. Vance) was sitting on a lawn chair over the body of his dead son who was shot by police. He wasn't leaving until the police officer was brought to justice. Olivia was dealing with that, grappling with trying not to have the city explode. That's the first time we encounter Marcus Walker (Cornelius Smith Jr.), who becomes a regular on the show.
I wrote the monologue that the cop said to Olivia at the end once they found out he planted the weapon on the kid. Shonda and I talked about that scene a lot. How much of a voice do we want to give to that side on the show? He gives this long speech about respect and how he was justified in doing what he did. He talks about how he puts himself at risk everyday, that he lives out in the suburbs and comes 40 miles into the city and risks his life for a bunch of people who don't have any respect for him—they've taught their children to hate him and all he's ever tried to do is help them. He says, 'Why are we the bad guys when most of the murders happening are Black people killing other Black people?'
As a Black person who's from right outside of Philadelphia, it was crazy to write that and put myself in the head of the other side of this thinking. The most depressing part about it is it really wasn't that hard. All you had to do was turn on the news and see people in the highest rung of power with this 'Black people killing Black people' logic. You didn't have to go into the deep recesses of Southern Mississippi to find racism—it was right in front of us."
Linda Villalobos, Kerry Washington's Hair Stylist
"For me creatively, the best episode was season seven episodes nine and 10 when Olivia gets kidnapped. I got a chance to completely rebuild her appearance, breaking down her hair in different stages throughout the kidnapping. I used six different wigs. By the end you have this big curliness. Even though it was simple to the eye, it was a huge process.
Throughout the show, we were able to express how Olivia was feeling not only through her words, but also her appearance. When she wears her hair naturally curly it symbolizes a freedom she had. There's a lot of followers of the show that can relate to that. That's my job in building her character—her look and everything—knowing how important it is and how it relates to the audience."
Mark Fish, Executive Producer and Writer
"Huck's origin story, 'Seven Fifty-Two,' is my favorite Scandal episode. I love the structure of it—the way it's built around the simple question: What is seven fifty-two? I love the emotional pay-off at the end. It was difficult to break, but brought us a lot of good will as far as Huck's character was concerned. This was a killer who got off on violence, but because of his backstory—and the inherent likability of Guillermo Díaz (who gave a great performance)—we sympathized with him.
Josh Malina (David Rosen) used to flip to the end of the script at the beginning of each table read to see if his character died. So to prank him, one season we wrote a fake death scene and put it at the end of his script. And sure enough, Josh flipped to the end, saw the death scene, got all weird and sad and red in the face. We watched with delight as he turned to whoever was sitting next to him and said, 'I'm dying. I just read the end. David Rosen dies.' Needless to say he was very surprised, and grateful, to find out at the end of the table read that it was just a prank. And in case you feel bad for Josh, don't. He pulled more pranks on set than anyone else."
Lyn Paolo, Costume Designer
"I will always love 'The Trail.' It was one of the most difficult, but also one of the most rewarding episodes to put together—we had so many costume changes. I also loved looking back at how Fitz and Liv first met. We learned so much about each character. It was our first episode with Tom Verica, co-executive producer, who I adore and want to work with forever.
Every time we got a new script—what we would call the Scandal Scramble—I loved reading the words and finding out where the characters were headed. I am going to miss getting those scripts sent to me and the rush of joy in seeing what was going to happen next. I'm as absorbed as any Gladiator."
RELATED STORY
Celebrity news, beauty, fashion advice, and fascinating features, delivered straight to your inbox!
Rachel Epstein is a writer, editor, and content strategist based in New York City. Most recently, she was the Managing Editor at Coveteur, where she oversaw the site's day-to-day editorial operations. Previously, she was an editor at Marie Claire, where she wrote and edited culture, politics, and lifestyle stories ranging from op-eds to profiles to ambitious packages. She also launched and managed the site's virtual book club, #ReadWithMC. Offline, she's likely watching a Heat game or finding a new coffee shop.