Why Lesbian History Needs to Go Digital: A Look at All the Amazing Queer Women You've Never Heard Of
The founder of the popular Instagram @h_e_r_s_t_o_r_y sets the record straight.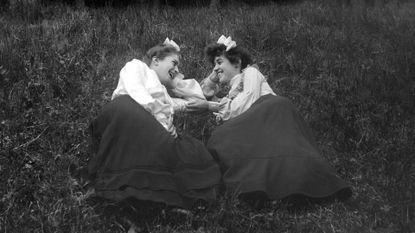 (Image credit: Jonathan Kirn/Corbis via Getty Images)
With the ascent of LGBTQ rights in some places—and not so much in others—the history behind it has never been more important to explore.
Kelly Rakowski, 35, is reclaiming that history with her Instagram account @h_e_r_s_t_o_r_y—an ever-growing digital archive of iconic queer women from the 19th century all the way through the 2000s (think Angela Davis, Jodie Foster, Fran Lebowitz, among many others). As the founder and curator, Rakowski also sources images of queer female characters across films, TV shows, and vintage magazines—bringing to life a culture that is so often marginalized. And the account is catching on.
A favorite among Lena Dunham and Chloe Sevigny, @h_e_r_s_t_o_r_y is rapidly expanding to broader audiences. Here, Rakowski, also a photo editor at Metropolis magazine, tells MarieClaire.com why it's so difficult to find lesbian images, her strategy for curation, and why you should know your history.
Marie Claire: When did you start @h_e_r_s_t_o_r_y?
Kelly Rakowski: November 2014. The day after Thanksgiving, I was scrolling through the Internet when I started digging into the Lesbian Herstory Archives digital collection—they have the largest collection of materials about lesbians in the world. I was completely awestruck by the photographs—ranging from '70s pride marches, lesbian parties, portraits, and graffiti. I wanted to show my friends the finds so I started the Instagram account right then.
I'd been an image-research-blog person prior to @h_e_r_s_t_o_r_y. My old blog was called "Nothing Is New" and consisted of images found in various archives (from textiles to cults). It's been an ongoing obsession to rummage through digital online archives and photo collections.
MC: How did you first start deciding on which images to post?
KR: I post what I find most interesting—text-based images (signs, T-shirts, logos), parties (lesbians having fun!), couples (kissing), style (hair, boots, denim, plaids, lipstick) and they need to be good quality images—easy to read in small format.
MC: Do you run the account entirely on your own?
KR: Yes. Although I am deeply thankful to my friends who drop lesbian culture knowledge on me—lesbian movies, art, books, designers, celebrities, models—which I then research and post. Shout out to @female_trouble, @cawilla, @katejinx, @katelkatel_ @beccaalbee @betatronic.
MC: One of @h_e_r_s_t_o_r_y's strengths is that it creates this narrative of queer women's history—through images—that has seldom been assembled in one place. The takeaway for followers is that queer women have always been a part of history, however hidden from mainstream view. Was that your intention?
KR: Yes, it's definitely been my intention to call out and curate a specifically lesbian history image collection.
Beyond the mainstream though, I would say even lesbian culture is hidden from "gay culture" view. I went to The Center's library and archive to do research one day and I asked the librarian to see images of lesbians. They had only one box marked "women." All the other archives were mostly gay men, with some lesbians sprinkled in.
Overall, it's definitely harder to find photos of lesbians. Even with a quick search on Google, it's so much easier to find gay men pics, which are really great and sweet and I'm so happy they exist. But you need to dig deep to find historic lesbians. History is already male dominated in general, so there's always a lack of women in history books, archives, etc.
MC: Do you consume a lot of LGBTQ history?
KR: I do, but not as much as I would like.
I took an excellent class at the Lesbian Herstory Archives last year titled "Lesbian Studies" taught by Professor Flavia Rando. It was so great and every queer woman should take it—it's an overview of lesbian history with influential readings and discussions. I'm currently reading all of these Lesbian Connection newsletters—from the mid-70s—and I'm obsessed. They are time capsules or archives in themselves. A 1976 Lesbian Connection has essays on masturbation and debates on lesbian separatism. A 1990 Lesbian Connection has more about buying a home and adoption issues.
MC: That you also encourage followers to source and send you images makes this archive all the more collaborative. Why did you decide to open up the selection of images to followers as well?
KR: I wanted to see what other people had in their personal photo albums. After posting someone's photo submission, many of their friends or people who remembered that event or time then comment and are excited to see and be part of that moment. Followers become nostalgic in the comments.
MC: How would you describe your followers? Are they all queer women? Or straight people too?
KR: I focus on the history of lesbian culture but everyone is welcome. I have straight friends who follow too.
MC: Do you think it's particularly important for young queer people to be acquainted with queer history? Specifically in an accessible way like Instagram?
KR: It's heathy for everyone to know their history. I befriended a sweet 17-year-old over Instagram who is very into learning about lesbian history. She would ask me questions over direct message and we had mini discussions. I followed her image-based Instagram first, because she mostly posted obcure photos of Joan Jett. And yes Instagram does help build a younger audience. It's quick bites of history, easy to consume.
MC: Recently, you announced that @h_e_r_s_t_o_r_y is getting an accompanying website and newsletter this spring. How will these platforms be complementary to the Instagram account?
KR: Both the newsletter and site are directly inspired by Lesbian Connection. The design for each are a nod to the printed magazine/newsletter, mimicking the colors and typography of its issues from the '70s through '90s.
One section of the newsletter I'm particularly excited about is PERSONALS—completely text-based personal ads, the anti-Tinder. This was also inspired by the magazine On Our Backs personals—which are both sexy and hilarious. (Editor's note: On Our Backs was the first women-run erotica magazine and the very first American magazine to feature lesbian erotica for a lesbian readership).
The Herstory Newsletter will also have interviews, events listings, and more. It's evolving as I work out ideas so I don't want to say much more.
The website will be a resource guide for lesbian culture, so listing lesbian movies and books to read, along with other information.
MC: Where would you eventually like to take @h_e_r_s_t_o_r_y in terms of influence and scope?
KR: I'd like to take it offline. A gallery show and a book.
MC: Are you considering any other queer multimedia projects?
KR: Think I got all I can handle right now. I'm partnering with the L.A.-based clothing brand Otherwild to produce a new collection in late spring: we're making four different apparel items inspired by pro-lesbian photographs from history. They'll be available in Otherwild's NYC shop, opening soon.
Follow Marie Claire on Facebook for the latest celeb news, beauty tips, fascinating reads, livestream video, and more.
Celebrity news, beauty, fashion advice, and fascinating features, delivered straight to your inbox!