Who Wins the Rom-Com Crush Showdown: Peter Kavinsky or Jamey?
Same actor, two different crushes.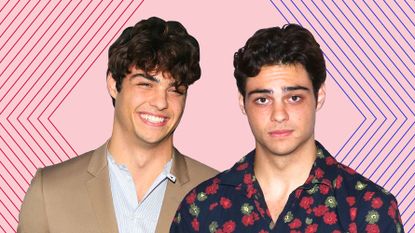 (Image credit: Getty Images/Morgan McMullen)
Warning: Spoilers for both To All The Boys I've Loved Before and Sierra Burgess Is a Loser are everywhere in this story, so you might want to watch them before reading on.
10 Things I Hate About You's Patrick Verona. She's All That's Zach Siler. Sixteen Candles' Jake Ryan. There are just some of the fictional teen boyfriends that have stood the test of time and become as iconic as the movies that created them. And now, with the return of the rom-com in full swing, To All The Boys I've Loved Before's Peter Kavinsky has become this summer's rom-com crush and Noah Centineo, the actor who plays him, the Internet's Official Boyfriend.
Centineo isn't a total newcomer (he starred on the Freeform show The Fosters for three years) but To All the Boys branded him as a certifiable beefcake. In that movie, Peter is a sensitive lacrosse player who's fake-dating Lara Jean so he can make his ex-girlfriend jealous. Lara Jean goes along with it because she's avoiding her sister's ex-boyfriend, Josh, to whom she unwittingly professed her love (it's complicated, just go watch it). But while Peter and Lara Jean's relationship started out fake, it became very real—too real, perhaps, because now viewers are looking for Peter Kavinskys of their very own.
But while the Kavinsky Love-Fest seems unshakable, the heartthrob competition is about to heat up: This Friday, Centineo debuts as another adorable rom-com boyfriend, this time as the central love interest in Netflix's latest rom-com Sierra Burgess Is a Loser. And if you liked Peter Kavinsky, just wait until you meet Jamey.
Sierra Burgess is a Loser is a 21st century tale of high school awkwardness and accidental catfishing, where the titular character starts getting texts from a guy she doesn't know (Jamey) after popular girl Veronica gives him her number as a prank. Sierra ends up connecting with Jamey on an emotional level, but there's one problem: He thinks she's Veronica. Sierra and Veronica end up working together to help Jamey fall for Sierra and finally feel comfortable revealing who she really is. Shocker: He's a great guy.
But since looks-wise, Jamey and Peter are equal (because, and I'll say it again, they are both Noah Centineo), it's time to ask the hard questions: Namely, who is a better rom-com boyfriend? There are a few criteria that we can equate with Generally Good Partner Qualities, so let's break it down scientifically:
Attentiveness
Criteria: Inside jokes, partaking in interests other than his own, anticipating a love interest's needs and referencing their past conversations.
Peter: From using her last name as a pet name to watching Sixteen Candles with her and her kid sister Kitty—and even calling out the racism of the John Hughes film—Peter proves he's an attentive and observant boyf. Even little, couldn't-possibly-be-scripted moments like when he moves the popcorn out of the way before he and Kitty have a pillow fight absolutely blew viewers' minds. He's also extremely concerned with getting Lara Jean home from a party safely, so he stays sober and drinks kombucha. While this may seem like the bare minimum of decency, he's a popular teen in the age of Uber: He could've done way worse.
Jamey: But attentiveness-wise, Jamey holds his own. On his first date with Sierra (well, actually he's out with Veronica IRL) he remembers a joke Sierra made from one of their many conversations about her voice being "fat" because it sounded deeper. He also knows when to grab a girl a coat when she's looking cold. Plus, this guy stays on the phone listening to Sierra sleep after she drunkenly passes out while professing her feelings to him.
Winner: Gotta give this one to Peter. Even as a fake-boyfriend, he puts the needs of others before his own. Plus he'll get into Lara Jean's love of a classic John Hughes flick even if he secretly wants to watch Fight Club.
Family Values
Criteria: Thinking it's cool to hang out with their own or someone else's family.
Peter: Even though their relationship is supposed to be fake, Peter invites Lara Jean over for dinner with his family. But it's even more wholesome when he spends movie nights with Lara Jean and Kitty to bond with them and drives them to school in the morning.
Jamey: On the other hand, Jamey loves spending time with his brother on Friday nights instead of going to parties. When Sierra really meets Jamey for the first time, he's playing football with his brother in the park because they're close. (We also learn that, because his brother is deaf, he knows sign language really well).
Winner: Probably Peter again, to be honest. Find you a man who cares as much about your family as he does about you.
Sense of Humor
Criteria: Pop culture references, one-liners, flirty jokes
Peter: Oh, Peter's got jokes. Calling Lara Jean's crush Josh a "Bon Iver wannabe?" Mean, but swoon. The majority of his charm actually stems from his nonchalant sense of humor.
Jamey: He's a little more serious, but sends flirty animal photos and invokes the charm when he talks about the kissing technique of goldfish. But he he does throw out a glorious one-liner IRL when he calls roses "the bitchy supermodels of flowers" as he hands Sierra a sunflower—an homage to her song about not being the typical kind of beautiful.
Winner: Peter! Seduce me with your "Bon Iver wannabe" dig when you see a dude that ghosted me hanging out in Bushwick.
Being Kind of a Jerk
Criteria: Are they ever kind of a dick?
Peter: While Peter has some serious upsides, he's not perfect. First of all, while he's fake-dating Lara Jean, he's still talking to Gen almost every night, seemingly even as he starts to develop feelings for Lara Jean. After a video of the he and Lara Jean making out at a ski-lodge goes viral on Instagram and becomes high school gossip fodder, Peter doesn't do anything to convince people that it wasn't a sex tape until Lara Jean has to tell him to. Communication, dude!
Jamey: Jamey's really a sweet, innocent puppy here, and ultimately he's the one being wronged in Sierra Burgess Is a Loser. Yes, he does initially go for Veronica because of her looks, but he shows he cares much more about who a person is. He really doesn't do anything wrong, other than being easy to catfish.
Winner: Jamey wins this one. Sweet Jamey is cerebral and not an asshole in any of the scenarios in the movie. He even ends up being cool about the switcheroo being played on him.
Romantic Gestures
Criteria: Over-the-top surprises, sentimental gifts, things that speak to the core of your being.
Peter: When it comes to romantic gestures, Peter will drive across town to get Yakult from the Korean grocery store all the way on the other side of town for Lara Jean just because he knows she likes it (plus he drives her sister to school). Peter also writes Lara Jean cute love letters every day. Hot.
Jamey: He'll show up unannounced to sweep Sierra off her feet and profess his feelings for her right before prom, with her beloved sunflowers no less. Jamey is an A+ communicator who calls, texts and FaceTimes, which is such a delightful rarity in 2018.
Winner: Jamey! Gotta love a communicative bae, especially one who pulls the "Surprise! I only want you and I'm taking you to prom!" move.
Cute One-Liners
Criteria: Makes you feel like you're the only person in the world.
Peter: Romance-wise, I collapsed when I heard Peter say to Lara Jean, "You were never second best." Throw in a "There's no one like you, Covey" and I'm officially deceased. My 16-year-old heart wanted to hear that so badly.
Jamey: But when Jamey says to Sierra, "You're my type. You're exactly my type," and explains how impressed he is with her singing voice while word-vomiting his feelings for her, I truly melted.
Winner: This one might be a tie. Both very good, even if Peter might pull ahead for sheer amount of romantic lines.
Overall Winner: Noah Centineo.
Come on, is it that easy to pick just one of these guys? For playing two of the best rom-com love interests in a long time, Noah has really broken the mold and won a place as Imaginary Boyfriend of the Year. Congrats!
Please call me to pick up your prize! (It's me.)
RELATED STORY
Celebrity news, beauty, fashion advice, and fascinating features, delivered straight to your inbox!
Ilana Kaplan is a writer and editor based in Brooklyn. She covers music, culture and entertainment and has written for Rolling Stone, The New York Times, NPR, GQ and more.