This Week in Timothée Chalamet, August 24 Edition
The internet has a lot of boyfriends right now.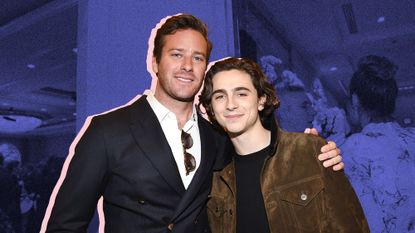 (Image credit: Getty Images)
Because being a person in the world is hard and you deserve something nice, this is MarieClaire.com's semiregular column on everything talented young man Timothée Chalamet did that week. You can catch up on last week's column here.
Hello, dear ones, and welcome back to another edition of This Week in Timothée Chalamet. If I'm following the chatter on social media correctly, ya boi Timmy Tim is continuing to film The King, that Netflix movie about, uh, a king? I haven't looked into it as much as I probably should have, to be honest, but Robert Pattinson is also in it and how much more do you really need to know?
Anyway, Timmy is still quiet on social media, but things happened to people that are tangential to him, so let's talk about them. Cool?
Oh, and speaking of tangentially related to Timothée Chalamet, I thought of you guys this week, courtesy of The Onion's Instagram:
LOL.
Ok, lét's start the column:
Armie Hammer was so giving on social media.
He loves to share! And this week, Armie (i.e. either the primary or runner-up Man Who Stole Your Heart in Call Me By Your Name, depending on which fandom you belong to) shared something that I think warrants more than a passing glance. Specifically, a #TBT on Instagram that is out of control and invokes Limp Bizkit:
Wow. It just goes to show you that the annoying guy in middle school who made too many dick jokes and had "sk8er" in his AIM handle even though he didn't skate possibly turned out to be Armie Hammer.
Hmm. I can already tell that there's not enough TimCha here. Let's add a .gif:
This fan tweet brought up an issue worth discussing.
Despite the crickets on social media this week, I did notice something that made me stop everything and think really hard about my life and my choices:
Do you agree with this list? After all, the internet is a fickle thing. While I have spent way too long in a Google Images vortex for almost everyone on this list, I tend to have one Internet Boyfriend at a time and it's usually pretty long-term. Hence, This Week in Timothée Chalamet.
But what say you? Are you internet-poly or is there only room for one in your heart? And how do you really feel about John Krasinski? Like, are you Timothée Chalamet-serious, or just Tom Holland-serious?
Maybe we look at it this way: However you slice it, there were some attractive dudes on-screen this year.
And now, a word from the internet's two new boyfriends.
Because this is tangentially related to Timothée per that last tweet and therefore counts as something I can include in this column, let's do an appreciation of the internet's newest boyfriends: Noah Centineo and Henry Golding.
As you may know, last week saw the Netflix release of To All The Boys I've Loved Before, an extremely precious romantic comedy that must be protected at all costs, and the theatrical release of the much-anticipated Crazy Rich Asians, which is not only delightful but also the number-one movie in North America with a sequel already on the way. Noah Centineo is in the former, playing Peter Kavinsky, the fake-turned-real love interest of main character Lara Jean. Henry Golding is in the latter, playing the mega-rich—nay, crazy rich—love interest of main character Rachel.
So I guess we're all in an internet relationship now and things are getting pretty serious. Let's appreciate them:
I think this is the beginning of a really beautiful chapter of horny fandom.
And that's that! Have a beautiful weekend, precious hummingbirds.
RELATED STORIES
Marie Claire email subscribers get intel on fashion and beauty trends, hot-off-the-press celebrity news, and more. Sign up here.
Cady Drell is a writer, editor, researcher and pet enthusiast from Brooklyn.