What to Watch on Netflix in October, According to Our Editors
Some spooky flicks for Halloween...and, also, the opposite of that.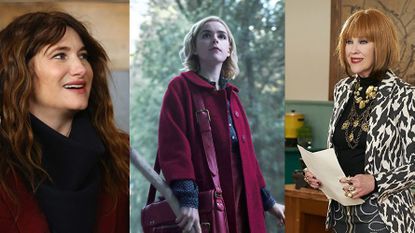 (Image credit: Netflix)
Happy Autumn! You know what the start of fall means? Falling leaves, crisp air, and some spooky movies and shows to curl up to with a bowl of candy corn. But there's plenty more streaming on Netflix in October than just the frightening: Some really funny, heartfelt, and weird offerings are on deck this month, too. Plus, stay tuned at the bottom for a couple of our Honorable Mentions (that is, the non-Netflix shows we're also obsessed with).
Without further ado, here are the Marie Claire editors' picks for what you should watch on Netflix this month:
Chilling Adventures of Sabrina (October 26)
As much as this sounds like it takes place in a fridge, I'm pumped for this. I'm hooked on Riverdale, the most delightfully absurd television show I've ever seen. It pairs beautifully with ice cream and willing suspension of disbelief, and I'm hoping for more of the same with Sabrina—but this time with more witches. —Jenny Hollander, Deputy Editor
Made In Mexico (September 28)
Two of my favorite things are reality TV and México, and they're all rolled into one in this wild-looking show. Essentially, it follows really rich people in Mexico City and all of their drama. I'm a sucker for accents and particularly love the way they speak. The closing sentence of the trailer is, "El ser Mexicano es muy chignon," which translates to "Being Mexican is badass" (or "awesome," depending on how much slang you know). Either way, I can confirm that it is badass and I'll give the show a shot. —Krystyna Chavez, Social Media Editor
The Curious Creations of Christine McConnell (October 12)
Have you ever seen Christine McConnell's Instagram? It is gorgeously bonkers and I want to live inside it. She's a baker/artist person with a super goth aesthetic. How come it didn't occur to me to go for the baker-meets-goth aesthetic? It's incredible. This baking show will show off McConnell's amazing skill as a baker through her super imaginative creations. —Cady Drell, Culture and News Editor
Terrace House (October 9)
Terrace House is the tamer version of The Real World (or at least that was the case when I watched the Hawaii episodes): Strangers move into a house together and, as they go about their lives while being filmed, commentators watch the clips and discuss the intricate relationships among the housemates. As a viewer, you get a unique glimpse into the social life and interactions of Japanese twenty-somethings. As a Chinese-American, I can relate to certain Asian behaviors and expectations that are absent from typical American reality TV. —Marina Liao, Fashion Editor
Double Feature: Blade and Blade II (October 1)
I went through an "it'd be cool to be a vampire" phase, not because of the Twilight series but because of Blade. In this world, the undead wear lots of black leather, lounge around suggestively in modern interiors, and party nonstop—there's even a vampire club where, instead of foam, folks are showered with blood. I mean c'mon! Wesley Snipes's Blade is half-mortal, half-vampire, and he kicks ass with his sword and slow-mo martial arts moves in both, but Stephen Dorff—as the elfin-but-dangerous bad guy in the first movie—stole my heart. And in my fantasy world, me and Parker Posey (the villain in Blade II) are vampire besties. —Joyce Bautista Ferrari, Managing Editor
Big Mouth 2 (October 5)
I'm so pumped for this to be back! The animated show follows two best friends, Nick and Andrew, going through puberty and it is freaking hilarious. This season also gets even better because one of my faves, Gina Rodriguez, is joining the show as the new girl driving the boys crazy (and the girls crazy-jealous). Full disclosure: The show is, like, super inappropriate. But did I mention it is amazingly funny? (But what else would you expect from Nick Kroll?) —K.C.
Private Life (October 5)
A film about a couple struggling to conceive sounds like a bummer—until you learn that couple is played by Paul Giamatti and Kathryn Hahn. I would watch anything those two are in so sign me up, heartache and all. With Giamatti and Hahn's masterful dry humor (and Molly Shannon also starring) I'm sure it will have some laughs, too. -Kayla Webley Adler, Features Editor
Truth or Dare (October 3)
I'd be lying if I said that I was going to watch this all the way through again—I love Lucy Hale, so I actually purchased it on iTunes this summer, and absolutely regretted this decision—but it does feature a sincerely terrifying facial tic ("Truth or Daaaaare?"), and I want to get better at my impression of it. —J.H.
The Kindergarten Teacher (October 12)
"[Fill In the Blank] from Hell" movies are my jam and this one stars Maggie Gyllenhaal (who also currently kills it as a smart, ambitious working girl in HBO's The Deuce). Her devotion, ambition and obsession here, as a teacher trying to foster the genius of a young five year-old, had me rooting for her in the trailer. But the hint of stalking and kidnapping left me aching to know how the craziness ends and how she got there. Can't wait to check this out on Netflix. —J.B.F.
Schitt's Creek: Season 4 (October 11)
If you're not already watching this, WHY NOT?! This is the funniest show on TV and this is the best season so far. The snarky family-out-of-water schtick of the once rich and snobby but now destitute Rose clan has evolved, as Johnny, Moira, David and Alexis become full-fledged townies of the backwater burg—albeit dressed in designer clothing. The actors are deft at striking the right balance of affectation and affection. —J.B.F.
Hip-Hop Evolution: Season 2 (October 19)
A hip-hop documentary made by a Canadian? What do Canadians know from rap? Turns out, a lot. The four-episode first season of Canadian rapper Shad's series expertly charted hip hop's birth in the South Bronx through the rise of West Coast gangsta rap, told through interviews with the people who know it best: DJ Kool Herc, Afrika Bambaataa, Grandmaster Flash, and more. I can't wait to see who Shad snagged interviews with for season two. —K.W.A.
The Haunting of Hill House (October 12)
There's nothing I love more than tacky-but-creepy movies and TV shows. Final Destination, The Ring 4—you name it, I've loved every damn second of it. In fairness, this looks more creepy than anything else, but I'm hoping that it turns out to be a little Riverdale, too. Basically, I'm just hoping every new show takes inspiration from Riverdale. —J.H.
Once Upon a Time in America (October 1)
For his final film, Sergio Leone, the Italian director who invented the spaghetti westerns (see: 1966's The Good, the Bad, and the Ugly), went in an entirely different direction. His Once Upon a Time in America is an epic, nearly four hours long crime drama that follows a group of Jewish mobsters in New York City's Lower East Side as they rise to power over the course of several decades. If you need more convincing, take a look at this stellar cast: Robert De Niro, Elizabeth McGovern, James Woods, Joe Pesci, and Jennifer Connolly. Sold. —K.W.A.
Special Mentions:
I'm sorry, are you telling me that Mad Men creator Matthew Weiner made a series of star-packed vignettes centered around very different people who all claim to be descendents of the Russian royal family? And it's the perfect mix of accessible and intimate, prestige and popular? Buddy, stop right there! You had me at "series of star-packed vignettes." —C.D.
Man in the High Castle Season 3 (October 5 on Amazon)
I am deeply obsessed with this show and binged both seasons within one week. Granted, I have a deep obsession with anything WWII-related, so I'm already biased, but I think it's universally fascinating to watch a show about an alternate reality where Japan and Nazi Germany won WWII and took over America. The show is filled with intense stakes, weird mysteries, lowkey romances, and a bunch of blurred, muddled lines that'll make you accidentally root for the bad guys and hate the good guys. So good. —Chloe Metzger, Beauty Editor
RELATED STORY
Celebrity news, beauty, fashion advice, and fascinating features, delivered straight to your inbox!
Cady Drell is a writer, editor, researcher and pet enthusiast from Brooklyn.