Everything You Need to Know About the 'Sabrina the Teenage Witch' Reboot
Move over, Riverdale.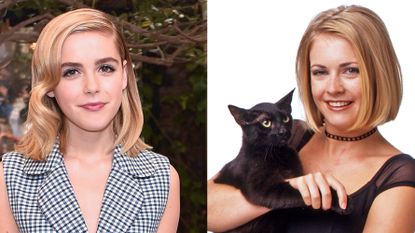 (Image credit: Getty Images)
News that Sabrina the Teenage Witch is being rebooted by the creators of Riverdale has fans of the original series extremely excited. Following the announcement that the new show has cast its main characters and will officially premiere on Netflix October 26, here's everything we know about the new Sabrina the Teenage Witch TV show so far, now known as The Chilling Adventures of Sabrina.
1. Kiernan Shipka is Sabrina Spellman.
BREAKING NEWS: @netflix has cast @kiernanshipka as Sabrina Spellman in the upcoming TV series based on THE CHILLING ADVENTURES OF SABRINA comics! READ MORE: https://t.co/0Y3cNvD9Us pic.twitter.com/3GXVrBcMajJanuary 5, 2018
See more
The Mad Men alum was announced in January 2018 as the lead character in the Sabrina reboot. Netflix released an enthusiastic press release regarding her casting, with show creator Roberto Aguirre-Sacasa revealing, "We're all such huge fans of Kiernan's work that when we started talking about who this new incarnation of Sabrina could be, her name was on everyone's wish list. This is a darker, more macabre version of Sabrina, and we're incredibly excited for people to see Kiernan make this iconic character her own."
2. Netflix has already greenlit two seasons.
The show got a straight-to-series order of two seasons, which is obviously an incredible deal for any new TV show. As The Hollywood Reporter revealed in December 2017, "Sources say the Sabrina order is for two, 10-episode seasons that would shoot back to back with the first batch filming from February to June and second from June to October." Basically, the streaming service is all in on the Sabrina reboot, and they're filming the show's first two seasons back to back, which is pretty amazing. That's commitment, right there.
3. There won't be a Riverdale crossover just yet.
Early rumors suggested that Sabrina would appear on Riverdale first. However, as the Sabrina the Teenage Witch reboot is airing on Netflix, and not The CW (where Riverdale airs), there's unlikely to be any crossover between the two shows...at first. While this could change in the future—especially since both shows have been created by comic book scribe Aguirre-Sacasa—fans are going to have to wait longer for a crossover than they first hoped.
4. The show is based on the comic book series Chilling Adventures of Sabrina.
Much like Riverdale before it, the new show will be based on creator Roberto Aguirre-Sacasa's original graphic novel Chilling Adventures of Sabrina. The comic book series takes Sabrina in a much darker direction than the light-hearted Melissa Joan Hart show. All I ask is that Hart is cast as one of Sabrina's aunts in the reboot. Please?
5. The reboot is full-on horror inspired.
First concept art for #sabrina is coming in and looks FANTASTIC & chilling. Thrilled to be working with @Malicebot. pic.twitter.com/r0wJipEmTJDecember 22, 2017
See more
As the Netflix press site reveals, "Tonally in the vein of Rosemary's Baby and The Exorcist, this adaptation finds Sabrina wrestling to reconcile her dual nature—half-witch, half-mortal—while standing against the evil forces that threaten her, her family and the daylight world humans inhabit." And if Aguirre-Sacasa's concept art is anything to go by, the series will be truly chilling.
6. Sabrina's love interest Harvey Kinkle will be back...
Creator Aguirre-Sacasa shared a page from the pilot's script on Instagram, which revealed the return of Sabrina's boyfriend, Harvey. In the original show, Harvey was portrayed by Nate Richert.
In the script, Sabrina is in the woods with Harvey, when she says:
"I... wanted you to see where I was born, Harvey. Not in Greendale General, like it says on my birth certificate. Here. In this grove of trees. Almost 16 years ago. And, uhm, where I'll be reborn this Saturday night. On my birthday. At the stroke of midnight. In the middle of a penumbral lunar eclipse. The kind that only happens once every 66 years. That's why I can't go to Rosalind's Halloween party this weekend."
7. ...And will be played by Ross Lynch.
In March, news broke that Netflix had found its Harvey Kinkle: Disney Channel alum Ross Lynch. Lynch starred in Disney's Austin & Ally and Teen Beach Musical. His next role is as infamous serial killer Jeffrey Dahmer in My Friend Dahmer.
On April 5, Lynch shared a picture of himself and costar Shipka in character as Harvey and Sabrina on Instagram.
"This is gonna be good. I can't wait too," he captioned the pic.
8. Production reportedly began in February 2018.
According to That Hashtag Show (via NME), production is set to begin "in Vancouver, Canada, in February 2018," and the site also lists several character breakdowns regarding the show's casting.
9. Melissa Joan Hart approves of the reboot.
Even though reboots are often criticized by fans of the originals and even, sometimes, the cast and crew who worked on the original film or series, OG Sabrina Melissa Joan Hart is all for Netflix's take on the comic.
"I think they're doing it in a smart way—change it up, don't make it the same," she told Entertainment Weekly in February. "If you're going to do the same show, it probably would fall on its face, but I think what they're doing is probably the smartest way to reboot something."
Time for CAOS. Oct 26. pic.twitter.com/uLgXFMLX0tJuly 29, 2018
See more
10. The official photos are here, and they're incredibly eery.
In August, Netflix released the chilling first photos of Sabrina, played by Kiernan Shipka, in a Little Red Riding Hood-esque red jacket and, uh, surrounded by a coven. This is definitely not going to be anything like the original Sabrina the Teenage Witch series, which is even more of an excuse to tune in.
11. Netflix released a creepy new promo ahead of the release.
On September 12, Netflix posted an Instagram teaser of Sabrina blowing out birthday candles with the words, "Happy Birthday, Witch" at the top. They captioned the post, "My Super(natural) Sweet 16. @sabrinanetflix." Make of it what you will.
12. The next day they revealed the trailer, which is even creepier than the promo.
Watch for yourself below.
13. The Sabrina "coven" teased a Dark Betty crossover.
For Riverdale actress Lili Reinhart's birthday, the team from Sabrina sent her flowers—and the accompanying card teased the Sabrina coven's love for Dark Betty. Could a crossover be in the future? We sure hope so.
14. New photos of the cast have been released.
A little over a month until its premiere, The Chilling Adventures of Sabrina released special photos of the cast in action including Aunt Hilda, Aunt Zelda, and Harvey Kinkle. See them below:
Plus, even more photos here.
15. There's an even creepier, longer trailer released.
Watch it below.
[editoriallinks id='f1c14e9c-30a4-4cf8-a314-cb40296bb714'][/editoriallinks]
Marie Claire email subscribers get intel on fashion and beauty trends, hot-off-the-press celebrity news, and more. Sign up here.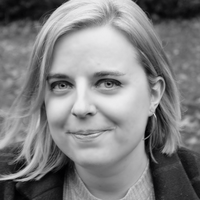 Amy Mackelden is a freelance writer, editor, and disability activist. Her bylines include Harper's BAZAAR, Nicki Swift, Cosmopolitan, Marie Claire, ELLE, The Independent, Bustle, Healthline, and HelloGiggles. She co-edited The Emma Press Anthology of Illness, and previously spent all of her money on Kylie Cosmetics.