The 25 Best Songs of 2016 (So Far)
Gems upon gems.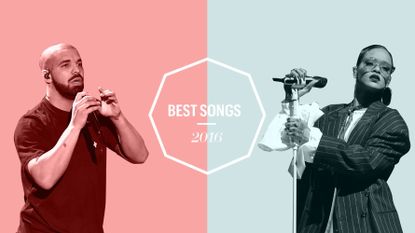 (Image credit: Design by Mia Feitel)
Maybe it's a sign of the times, but the year 2016 has proven to be one of the most exciting years for music, especially songs that tackle the cultural landscape of pre-election America (uh, what a time to be alive?) and modern romance. From musings on love, faith, and empowerment to what it means to be different in a time of great national divisiveness, music has been one of the most powerful mediums to explore what it means to exist in the current day. Below, the most challenging, inescapable, and brilliant songs of the year thus far (in no particular order).
Though it might be overshadowed by her Joanne single "Perfect Illusion"—the type of explosive pop song that we've come to expect from Gaga—this country track is where we see a new angle to the Monster Queen, a vulnerable country-rock ballad that reminds us why she's always been praised as a more malleable artist than your standard hit machine.
Pour one out for the return of the xx, who recently announced that their third album I See You will release early next year (we see *you*, guys). Their first single "On Hold" is just as wistful as you'd expect from the London threesome (a ripe new contender for your breakup playlist!), right up until the Jamie xx pitter-patter beat drops...then, you know what to do.
In the vein of haunting folk vocalists like Marissa Nadler and Vashti Bunyan, Weyes Blood is one of the most promising new artists to emerge from the woodwork this year. Singer and songwriter Natalie Mering's otherworldly voice is all too fitting for the title Front Row Seat to Earth: Weyes Blood's excellent debut album that you check out, like, STAT. Tune in and prepare to be enchanted.
"Finally, an Angel Olsen song that doesn't make me cry!" might have been your first reaction to this punchy single about a wishy-washy lover. The change of attitude is pretty in-your-face in this track from her new album MY WOMAN, transitioning her from a weepy bedroom brooder to the girl who's finally taking charge and not pulling any punches.
21. Chance the Rapper feat. Lil Wayne & 2 Chainz- "No Problem"
Kanye West bump aside (uh, did you catch that VMA Awards shoutout?), this has been Chance the Rapper's year. His excellent new record Coloring Book is a no-brainer for "Best Albums of the Year" lists and everything here from the high-pitched chorus line to the guest appearances from Weezy and 2 Chainz are 🙌.
Is it wrong to call this Azealia Banks' first real banger since "212"? We're not really testifying to anything here except that we can't stop moving our feet to this infectiously catchy tune. Will she be performing it at Trump's White House next year? Only time will tell...
It's all the more difficult to listen to this track after Bowie's death, especially after watching this video of him lying frail in bed, but at its core this song is about hope, and you finish it wishing that he's somewhere free, "just like a bluebird."
Somehow Tegan and Sara always manage to spin relationship woes into musical gold, and this '80s-tinged bubblegum pop track is no exception. It's the kind of song you want to turn up and sing into the nearest hairbrush (alone, of course) or scream-sing out a car window.
This year, writer and producer Dev Hynes (he's worked with Solange, Carly Rae Jepsen, Sky Ferreira, and Florence + the Machine) finally got his due with the impeccably arranged album Freetown Sound. "Augustine" is one perfect example of his lyrical and musical magic, exploring faith, heritage, and his identity as a black man in America.
The romantic split between Dirty Projectors members David Longstreth and Amber Coffman could have been a death sentence for any less-established band, but after her departure from the band, both artists have been exploring their healing in moving and beautiful ways. Coffman will release her first solo album next year, and here, she pens a positive breakup anthem about moving on and finding peace alone.
"If it ain't broke, don't fix it" is how I feel about Bon Iver's affinity for autotune (maybe it's why he and Kanye are such good pals), but in all truth this auto-tone crooner from Bon Iver's latest, 22, A Million, is a beautiful example of singer Justin Vernon's growth since his claim to fame For Emma, Forever Ago. There's similarly wistful songwriting, and the heart-melt-y layered vocals over pared-down horns and guitar feel simple, but contain multitudes.
14. Frank Ocean - "Ivy"
We only had to wait, oh, four years for Frank Ocean's followup to his beloved Channel Orange and when he did, he brought the goods. Even if it wasn't the golden album fans expected, it was worth the hiatus for gems like this wistful lost love song. Try not to sink into the floor when you hear him croon, "I could hate you now, it's alright to hate me now."
It's hard to choose just one favorite from Ari's Dangerous Woman, but it might be this "getting ready" song that's two parts lust, one part bass. The Bodyguard-esque music video isn't so bad either.
This haunting track is the cherry on top of James Blake's new album The Color of Anything, anchored by his unreal vocal range (see the bone-chilling chorus) and the emotional depth of the song (it was written by Frank Ocean naturally, who also inspired the distorted vocals). Please, more collaboration from these two 🙏.
Banks is a straight SAVAGE on this "boy bye" track, and it's a superb song to have lined up while you're walking away from a bad mistake.
10. The Weeknd feat. Daft Punk - "Starboy"
A collaboration between electro-band Daft Punk and the Weeknd seemed inevitable, and their moody, atmospheric production sets the perfect tone for this Drake-esque rumination on fame, money, and betrayal.
As an Asian-American, this song made me want to cry sad tears for the young Mitski that inspired it. It's a heart-breaking exploration of cultural differences and not feeling "American enough" as a minority, and it's especially poignant when viewed through the lens of Trump's White America.
8. Kanye West feat. Chance the Rapper, The Dream, Kelly Price, and Kirk Franklin - "Ultralight Beam"
A true epic from Kanye's The Life of Pablo, "Ultralight Beam" is where he pulls out all the stops. The result is a near religious experience, and it's fitting that this tribute to Kanye's relationship with God comes outfitted with a full gospel choir and a worthy discipleship that includes Chance the Rapper and The Dream.
The song that inexplicably became the source of some Calvin/Taylor shade this summer (paging Nils Sjoberg) also became one of the biggest hits of the year, and it was pretty much everywhere, whether blasting from passing cars or on constant rotation at your nearest H&M. This was another smash collaboration between Rihanna and the Scottish DJ, and we give thanks that in the video, Rihanna dances in a metallic snuggie.
Just like her sister Beyoncé, Solange used this powerful record A Seat at the Table as more than just an art project, but as an expression of being an unapologetic black woman in a time when that identity is coming under fire. "Cranes in the Sky" is the result of a collaboration with producer Raphael Saadiq, a beautiful depiction of trying to escape the pain and rejection of being a black woman in America.
5. Fifth Harmony feat. Ty Dolla $ign - "Work from Home"
One of the best contenders for Song of the Summer, Fifth Harmony's "Work From Home" is one of those inescapable "Call Me Maybe"-esque hits that wins you over even when you're not trying (the prominent use of the xylophone was a nice touch).
Rihanna fans might fight me on this one, but even though it wasn't *the* song of the summer and there wasn't any Drake grinding to be had, this track is so unbelievably good. A female empowerment anthem for the woman who turns her nose at the idea of commitment and a "white horse and a carriage," it's Rihanna at her most savage, flipping the tables on gendered power structures.
On "Good to Love," we see a much tamer FKA Twigs than the assertive lover we first saw in "Two Weeks," but there's a pain behind the gentleness. At its heart, this song becomes a beautiful ode to dealing with baggage with past relationships, while still craving love and affection.
The 6 God looked to reggae and afro-beats to influence this dance floor tribute and it paid off. "One Dance" was somehow his first #1 Billboard song, and it'll make you feel like you're vibing in some tropical country, "Hennessy in hand."
"Formation" became so much bigger than just "Beyoncé's hot new track," shifting how America viewed Beyoncé as a black artist and becoming a powerful anthem for the Black Lives Matter movement. The resulting visual album Lemonade became the cultural event of the year, and this song was the public's first taste of what was to come, reclaiming pride in derogatory terms like "Texas Bama" and historically shamed African-American physical assets like afros. Coupled with the visuals of the video which sees Beyoncé holding court in a traditional plantation house and dressed up like a member of the Black Panther Movement, there are layers on layers on layers of cultural messages to unpack here.
Follow Marie Claire on Facebook for the latest celeb news, beauty tips, fascinating reads, livestream video, and more.
Celebrity news, beauty, fashion advice, and fascinating features, delivered straight to your inbox!