Why 'A Star Is Born' Feels More Like a Documentary Than a Remake
Lady Gaga is a great actress, but she's also truly vulnerable here.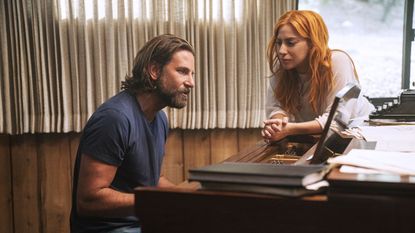 (Image credit: Clay Enos)
Marie Claire Newsletter
Celebrity news, beauty, fashion advice, and fascinating features, delivered straight to your inbox!
Thank you for signing up to Marie Claire. You will receive a verification email shortly.
There was a problem. Please refresh the page and try again.
It's hard to watch A Star Is Born without thinking about how very meta the film is. Take Lady Gaga, for instance: When you watch her as Ally—the ingénue discovered by Jackson Maine, a rough-around-the-edges rockstar—you see Ally become a star, but you're also seeing a genuine movie star performance from Gaga herself, as if this were an extended version of her Netflix documentary Five Foot Two. This could, you think, be a fictionalized account of her life.
And when you see Cooper's performance, things get uncanny. The 2018 iteration of A Star Is Born may be the film's fourth remake, but it's the first to reveal the evolution of its leading man: In Cooper's case, from a douchey "bro" in The Hangover to a possibly award-winning actor and director. His performance here gives you a fictional front-row seat to every real-life vulnerability Cooper may have encountered, from addiction to grief to losing himself in celebrity.
"All you gotta do is trust me, that's all you gotta do," Jackson whispers to Ally by way of coaxing her onstage for her star-making performance. And, because this movie is meta, they were also the words Cooper said to his leading lady to get her to lose herself in her character.
"Taking my makeup off, having my natural hair color—living in that for a few months before we shot it provides for a vulnerability that I'm not used to," Gaga explained when Marie Claire sat down with the cast for a roundtable interview at the Toronto International Film Festival last month. "I was so lucky to have such a tremendous director that would say to me, 'All you gotta do is trust me.' All I had to do, simply, was that: Trust him, and trust in the truth of the character."

In Five Foot Two, fans are shown Gaga at her most vulnerable: The film witnesses the end of Gaga's relationship with now-former fiancé Taylor Kinney, just as she received the news that she was going to be the headliner at the Super Bowl. The cameras stay trained on her as she begins her painful public battle with fibromyalgia. In A Star Is Born, Ally is also at her most vulnerable: A woman who has given up on her dreams because of the constant rejection she faced over her looks. "[Ally] gave up on herself, she did not believe in who she was, she didn't think she could make it," Gaga explained. That said, the issues Gaga and her character faced manifested quite differently: "I was running around New York City just banging down doors, singing my ass off as much as I could. Just trying to speak my truth and tell my story."
Hollywood has been churning out remakes and reboots at breakneck speed, but A Star Is Born is in a class of its own. It stays close to some of the original material, but Cooper made sure to give Jackson and Ally backstories independent of one another, showing the audience more context for their actions and adding a realism that wasn't there in previous iterations of the same film.
Cooper told the roundtable that he prefers movies "where you get to know people." That "in order to tell a true love story, it all comes about what happened before: What made you the person you are?"
Cooper, who has remained very private during this press tour, was originally approached by Clint Eastwood in 2011 to star in the project (when it was still helmed by Eastwood). At the time, Cooper felt he was too young to play the male lead the way it should be played. But since that first meeting, Cooper lost his father, met his current partner, and became a father himself. Though Cooper wouldn't say what parts of those experiences went into his performance, he did offer one explanation: "You try to do anything you can to personalize the story. You find what it is personal to you so that you don't have to act. That's the bottom line."

By the time Cooper took over the film, he was still down a leading lady. (Beyoncé was attached at one point, but scheduling conflicts got in the way.) Then Cooper saw Gaga perform a rendition of Edith Piaf's "La Vie En Rose" at a benefit, and he realized he had his Ally. In fact, the film gives a little wink to this auspicious start: The first time Jackson sees Ally, she's performing the Piaf hit in a drag bar.
Handled with less attention to detail, the love story at the center of A Star Is Born could have fallen victim to old tropes. Specifically, "broken man and the woman who fixes him," a trope previous versions of the same film used. But Cooper wanted to approach it differently:."I never saw her as being his muse," he said. "She didn't inspire him to create art. She wasn't a muse for him. It's not like a Pygmalion story."
Instead, artistic admiration is what first attracts Jackson to Ally, and Cooper wanted that to be clear. "In the parking lot when she starts writing a song—right there, that moment when he's looking up at her almost like a child and she's on the stage," says Cooper, "Even though it's a parking lot, he's just blown away. He just selfishly wants to see what she's going to produce as an artist. So I never saw it as the broken man and the muse."
Which reflects what happened in real life: Cooper saw in Gaga an actress who could turn the role of Ally into something entirely new. In that way, she wasn't a muse for the first-time director, but an artist to whom he could offer a new opportunity to create. It's no dig at Gaga's ability to say that real-life made her performance that much more raw: We see a woman on the precipice of artistic validation, unsure whether her gamble will pay off.
And without spoiling anything, let me just say: It does.
A Star Is Born opens in theaters nationwide on Friday, October 5.
Celebrity news, beauty, fashion advice, and fascinating features, delivered straight to your inbox!
Yolanda Machado is a Los Angeles based award winning blogger (SassyMamainLA), critic and freelance entertainment journalist with bylines at Broadly, Moviefone, Remezcla and more. She is a Latina mother of one daughter, and has an obsession for pop culture and Broadway musicals.