Dirty John: Everything You Need to Know About the New Bravo Show
Creepiest. Love story. Ever.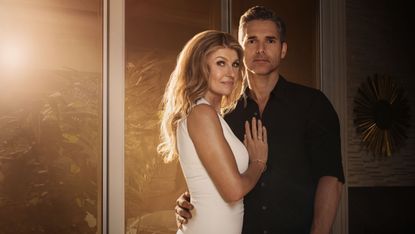 (Image credit: Getty Images)
Heads up, true crime fanatics: There's another TV show that demands your attention coming in November. Based on the hit podcast from Wondery and the Los Angeles Times, Dirty John—the story of a deceitful man and the woman who fell for him—is one of the most anticipated series of the fall.
The real-life story of "Dirty John" begins with Debra Newell, a successful interior designer who was looking for love on the internet—and found it in a handsome, self-proclaimed doctor named John Meehan. She fell into a whirlwind romance with him and they even got married, but all the while, her kids were suspicious of Meehan, noticing that parts of his story didn't add up. What started as love, eventually spiraled into a tale of lies, terror, and...well, to tell you anything more would give away the best plot twist ever. As the trailer says: "The scariest part is it really happened."

We've compiled everything you need to know about the upcoming series in anticipation of its premiere.
Here's the backstory:
Dirty John originated as a critically-acclaimed true crime podcast and an accompanying article in the Los Angeles Times, narrated (on the podcast) and written (in the Times) by journalist Christopher Goffard. Goffard originally came across the story after learning that the police in Newport Beach, California, were investigating a possible murder, and discovered a trail of abuse and deceitful behavior committed by Meehan. The podcast also does a great job of covering the sometimes hard-to-spot tactics of abusers and manipulators, as well as the behaviors of those being abused. You can listen to the first episode here:
But you don't have to listen to the podcast to get the show.
In fact, the show might even have more information than the podcast, according to lead actor Eric Bana. "Our challenge is to satisfy people who know everything and nothing about this case," Bana tells TV Insider,"We'll explore some new elements and pieces of information that weren't in the podcast."
According to executive producer Alexandra Cunningham, the show will differ from the podcast."We're going deeper on the things maybe the podcast just touched on."
It premieres soon.
The first episode of Dirty John premieres on Bravo on Sunday, November 25, at 10 p.m. It will consist of eight one-hour episodes.
The cast is pretty epic.
Queen of Hair Kingdom, Connie Britton will star as Newell, and Meehan will be portrayed by Eric Bana, in his first U.S. television role. Both also serve as executive producers of the series. Julia Garner and Juno Temple will play Terra and Veronica Newell, Debra's daughters (in real life, Newell has four children). Emmy-award winner Jean Smart plays Arlene Hart, Debra's mother, and Keiko Agena (Gilmore Girls) will star as Newell's coworker Nancy.
There are two trailers.
The first peek at the series came in the form of Bana practicing a creepy "I love you" speech.
The next is the official trailer:
It's a love story, at least in part.
The producers want to charm you like John charmed Debra. In fact, you'll totally find out why Newell got drawn in to Meehan's charm. "On the surface, John appeared normal. He was very practiced at manipulation," said Bana to TV Insider. "It's completely believable that an intelligent woman could fall for him."
Cunningham also added, "The podcast is a fantastic work of investigative journalism. What we're trying to do is cast the spell that John cast over Debra. We're trying to sweep the audience off their feet the way John swept Debra off her feet."
There's going to be a companion series.
A docuseries will air on Oxygen as a companion for the Bravo series, told through the perspectives of the people whose lives were upended by Meehan and the hit series about him.
There will be multiple perspectives and time-jumps.
While the podcast primarily focuses on journalist Goffard's perspective, the show offers perspectives from everyone involved. "It's all about, 'Who is John?'" executive producer Jeffrey Reiner said. "We go back in time [and include] things that were not necessarily in the podcast."
Sounds good! But will there be a Dirty John Season 2?
When the series was first announced, Bravo greenlit a two-season straight-to-series-order from the show, effectively making it an anthology series. Season 1 will focus on Dirty John, while season 2 will have a different, self-contained story.
We'll update as we find out more!
RELATED STORY
Celebrity news, beauty, fashion advice, and fascinating features, delivered straight to your inbox!
Amanda Mitchell is a writer and podcaster with bylines at Marie Claire, OprahMag, Allure, Byrdie, Stylecaster, Bon Appetit, and more. Her work exists at the apex of beauty, pop culture, and absurdity. A human Funfetti cake, she watches too much television, and her favorite season is awards season. You can read more of her work at amandaelizabethmitchell.com or follow her on Instagram and Twitter @lochnessmanda.