The Changing Landscape of Television in the Age of Donald Trump
Writers vow to combat the fear and racism that helped elect our future POTUS.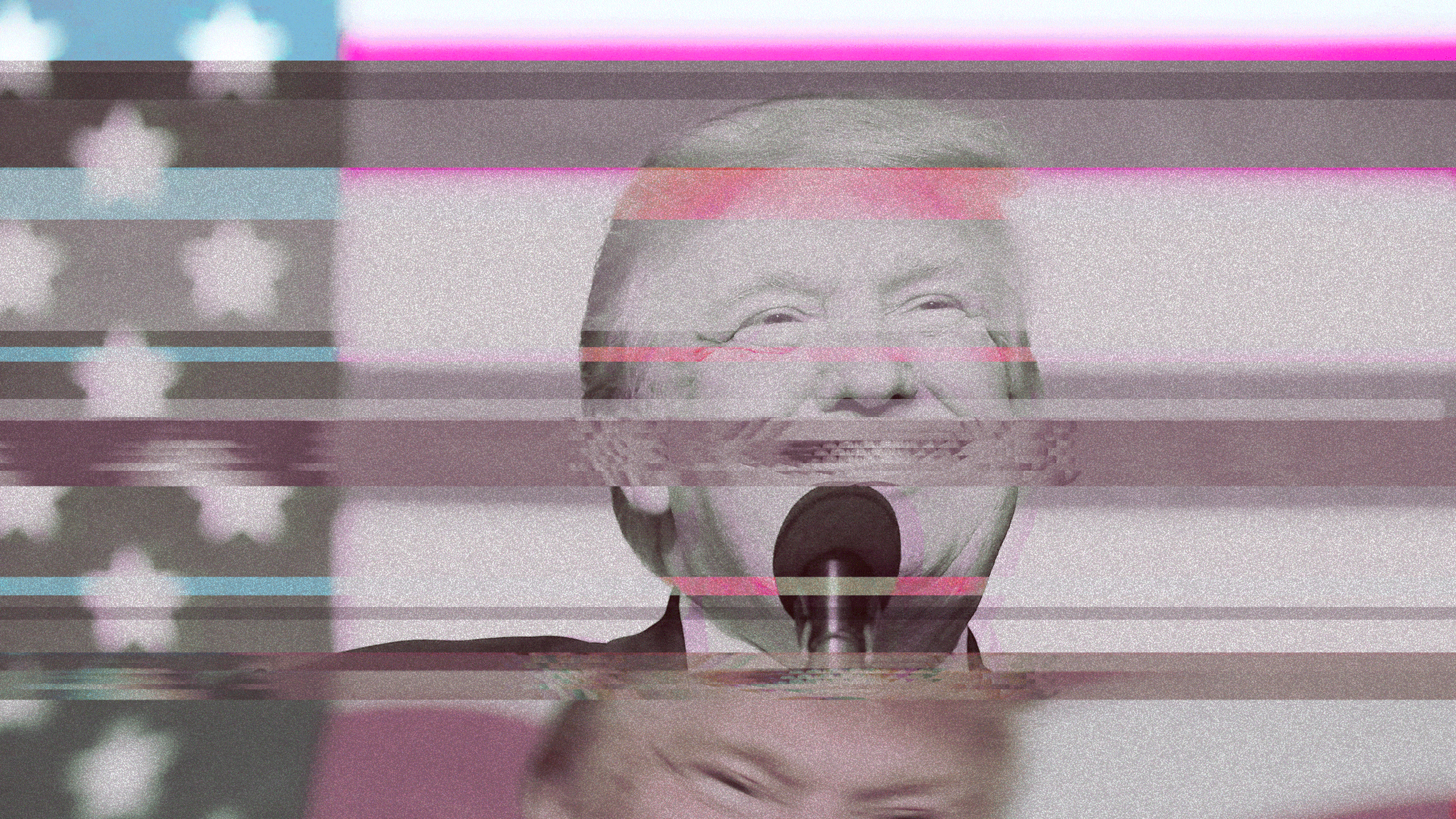 (Image credit: Design by Betsy Farrell)
Toni Morrison was at a loss for words.
In a 2015 essay for The Nation, the Pulitzer Prize-winning authordescribed how she found herself in "an extremely dark mood" after the 2004 presidential election, saying that when a fellow artist called to ask how she was, she responded: "Not well. Not only am I depressed, I can't seem to work, to write; it's as though I am paralyzed."
Before Morrison could continue, her friend interrupted with advice that remains achingly relevant twelve years later: "No! No, no, no! This is precisely the time when artists go to work—not when everything is fine, but in times of dread."
It's that advice—go to work—that got Carina MacKenzie out of her house the day after the election. A writer on The CW show The Originals, MacKenzie had the option to take a personal day. Instead, she showed up at the office. "That's part of the work, you know?" MacKenzie says. "Just trudging through it and trying to make sense of the thing that refuses to make sense."
Like MacKenzie, black-ish creator and showrunner Kenya Barris eventually came to a similar conclusion: "To be honest with you, the day after the election, I wasn't sure if I could still do this project. Our country seemed so divided that I wasn't sure anything could cross that divide."
Barris is referring to Libby & Malcolm, which has a pilot in the works at ABC. The show, as Barris describes it, revolves around "a married couple—one black and one white, one liberal, one conservative—who have a political pundit show where they don't compromise an inch."
Given the current political climate, few could fault Barris for wanting to steer as far away from that divide as possible, but the more he thought about it, the he more he realized that he "had to do this show because we're so divided."
MacKenzie and Barris aren't the only writers going to work with a renewed sense of purpose. Across different networks, genres, and time slots, the major players behind some of today's most respected, popular, and anticipated television shows are viewing Trump's victory as a call to arms. Yes, this is an uncertain time, but there's one thing we know for sure. Spoiler alert: television will change under a Trump presidency.
For Jane the Virgin's executive producer Jennie Urman, change began well before Trump's victory. Urman rewrote a scene from the show's season three premiere to send "the right message about female consent" after an audio clipemerged that documented Trump bragging about sexually assaulting women. When asked if the results of the election would inform future behind-the-scenes decisions, she said, "Absolutely. Just as we are all affected and altered by the horrifying rhetoric of this election, the horrifying policies that are being proposed, and the horrifying people being elevated to positions of authority, our characters will be as well. How could they not?"
Not only will television's most beloved characters be affected, you can expect them to take on the burden of society's most important topics going into 2017. "The election will embolden us to go further than we may have before," says Bryan Fuller, one of the showrunners of STARZ's upcoming series American Gods. "Before, we might not have felt the same responsibility or obligation to bring certain subject matters—such as racism, immigration, homophobia, misogyny—to the screen."
Nahnatchka Khan of Fresh Off the Boat feels that sense of responsibility as well—especially since this election proves that the issues she's exploring on her show (which is set 20 years in the past, by the way) are just as relevant now. "This season we're having one of our main characters deal with the immigration process and what it takes to become a citizen. So many people have no idea what that entails. That storyline is something we were planning on doing regardless of the outcome of the election, but in light of what happened, it just confirms that it's more important than ever to have this kind of a dialogue."
When asked about what she would say to people who think entertainment and politics shouldn't mix, Khan responded to the question with one of her own: "How do you even separate the two?"
Of course, one could argue that even if we wanted to separate politics from entertainment, we're well past that point. As black-ish's Kenya Barris' notes, "Now that we're going to have a reality TV star in the White House, I think entertainment and politics have pretty much mixed. There's no putting that genie back in the bottle."
But that doesn't mean stories and politics serve the same purpose. Politics are about proving you're right, whereas stories serve to increase empathy—something Dawn-Lyen Gardner (star of the Ava DuVernay-helmed Queen Sugar) says is paramount. "TV is our modern-day campfire," Gardner says. "We gather around it to tell each other stories about who we are, what we struggle with, what we love, what hurts, what we are trying to make sense of. That has transformative implications for a multicultural society in combating racism and bigotry. It's replacing fear with understanding, judgement with empathy."
The desire to use entertainment as a means of combating the fear and racism that helped elect Donald Trump is inspiring—but will TV's efforts be rewarded? If people actually pay attention to the shows they binge, absolutely. Art has the power to change hearts and minds—just look at how Will & Grace altered our social landscape. The show (while perhaps dated) educated the entire country about the experience of being a gay male, as viewers were able to attach to and invest in Will's hopes, dreams, successes, and failures. As Jane the Virgin's Urman points out, the importance of that "can't be overstated."
Will & Grace is an especially poignant example of television's ability to change minds considering thedramatic increase in messages to theCrisis Text Line from the LGBTQ community on election night. GLAAD President/CEO Sarah Kate Ellis says her organization has found that "many Americans, including LGBTQ people, are extremely nervous following the election," and that now is absolutely the time for showrunners to tell stories that "debunk stereotypes and stigma."
In other words, if the underrepresented aren't getting a political platform, the need for them to have a pop cultural one is all the more important. Jennifer Kaytin Robinson—the woman behind MTV's new show Sweet/Vicious—has already seen firsthand how important stories of the marginalized can be. "Since the show premiered I have had several survivors reach out to me to tell me it's made them feel less alone. Those messages mean everything. It is my hope that in the wake of this election, we as storytellers in entertainment will continue to make things that can empower both women and men in a time where there is so much uncertainty."
Only time will tell how much television will change in the coming months and years under a Trump presidency. But even in the short amount of time since the election, it's clear much has changed already.
"If we can open just one person's eyes to an epic gay romance or a female hero standing up against an oppressive circumstance, then I want to commit to doing that," Carina MacKenzie says. "I want to see rich, nuanced stories about heroic Muslim characters like my mom and my grandfather. I have so much work to do."
Celebrity news, beauty, fashion advice, and fascinating features, delivered straight to your inbox!