5 Biggest Takeaways From 'Outlander' Season 4's Second Episode
This week Jamie Fraser finds himself caught between two strong women.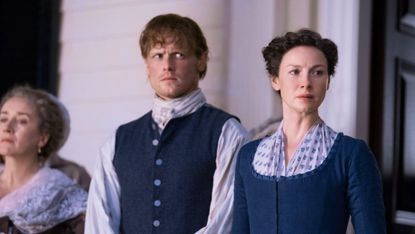 (Image credit: Amy Spinks)
Outlander, and everyone's favorite century-defying couple, is back. A lot has happened in the show's previous three seasons, and this new chapter is no different. So Marie Claire recruited a diehard Outlander fan to keep up with all the Fraser drama this season. Buckle up, Sassenach.
The second episode of Outlander season 2 aired this evening, and while it may not have included as much Jamie-Claire sizzle as the first episode, there was a lot to unpack: Lavish sets, beautiful costumes, horrors of slavery and of mob rule—and an illustration of why a successful marriage is a partnership fortified by give and take from each spouse.
Here, the five big takeaways from episode two of Outlander season four:
TWO STRONG WOMEN
This week Jamie Fraser finds himself caught between two strong women. We meet his Aunt Jocasta Cameron, his mother's sister, played by Maria Doyle Kennedy (an alumna of Downton Abbey and a wonderful addition to the cast). Jocasta is the owner of a vast plantation called River Run in North Carolina, made wealthy by the sale of tobacco, lumber, and turpentine and based on the work of slaves. Jamie is drawn to Jocasta because she looks and sounds like his mother who died when he was a child. Jocasta may be blind but she misses nothing. She immediately senses Jamie's yearning to make something of his life. Tough and devious, aware that "women's unsolicited views are not always welcome," Jocasta schemes to make Jamie her heir and the nominal master of the plantation. But she finds an unexpected adversary in Claire who she discovers is a pretty tough cookie herself. When Jocasta senses that Claire is not thrilled with River Run, she asks why. Claire tells her that she doesn't agree with keeping people as property. A surprised Jocasta responds, "you're a lively one, are you no? No wonder my nephew is drawn to you."
RIVER RUN
A gorgeous estate with lavishly decorated rooms straight out of an 18th century Architectural Digest, River Run is one big temptation to the Frasers, now penniless after being robbed by pirates on their journey. Jamie IS tempted, believing he can find a way to have it all—River Run without slavery. Jocasta assures him that the slaves are happy there, she thinks of them as friends. "Do they feel the same way?" Claire challenges her. "What a curious mind you have dear," Jocasta replies sweetly. Jamie, ever the perfect husband, jumps in to say "one of the many qualities I cherish in my wife." It turns out freeing the slaves will be nearly impossible: it's prohibitively expensive and threatening to the other slave owners. There is another path open to them, Jamie points out: Accept Governor Tryon's offer of a vast land grant in the mountains with all its promise and risk.
SLAVERY
The house slaves are Jocasta's eyes, especially the savvy and devoted butler, Ulysses (Colin McFarlane, another great addition) who makes it possible for a blind widow to run an estate on her own. But the true horror of slavery is brought home to Claire, Jamie, and young Ian when a slave, Rufus, who has attacked a cruel white overseer is punished by being spiked with a hook in his stomach. Claire tries to save his life by operating on him. But the law says that any slave who sheds a white man's blood must be killed. Jamie breaks this to Claire and asks her to find a way to give Rufus a better death. Together they stay with him till he's gone before delivering his body to the bloodthirsty mob. It's clear they cannot stay at River Run.
BLINDNESS
Jocasta is sightless but she is also willfully blind to the injustice of slavery and to the desires of her nephew and his wife. Claire is blind in her own way. She tries to bring 20th century sensibilities to life at River Run. When she first meets two women slaves she asks them to call her Claire, which makes them very uncomfortable. Her attempt to save Rufus, bringing him back to River Run, operating on him on Jocasta's dining room table nearly brings disaster to the plantation and threatens to land Jamie and Claire in jail. Jamie is able to see the brutality of slavery, not just because of Claire's views, but because he was himself forced to become an indentured servant after the Rising in Scotland.
TIME
Time is always a theme in Outlander. Here the episode opens with a ticking clock, which we discover is counting down the time to handing Rufus over to the mob. But it's also a signal that in less than a century, slavery will be abolished. Two centuries later, women's views will begin to be heard. And every minute is bringing the colonies closer to the American Revolution. It's also a reminder that life happens in the small moments–when Claire takes the time to reassure Jamie that the robbery was not his fault. When Jamie kneels to say a prayer for Rufus's soul even as the clock is ticking toward the midnight deadline.
Celebrity news, beauty, fashion advice, and fascinating features, delivered straight to your inbox!