8 TV Shows Like 'Killing Eve' to Binge If You Can't Wait for Season 2
Those who like dark and twisty vibes, look no further.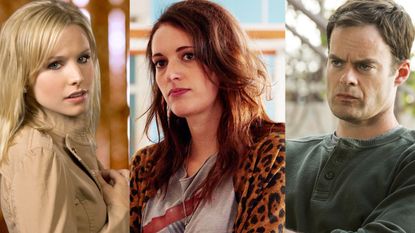 (Image credit: Getty Images / Everett / HBO)
Killing Eve was the critical darling of 2018, a dark psychological drama that is somehow also a feminist crime procedural and a workplace comedy, and which plays with storytelling and television form. No wonder people can't stop talking about it. The British series stars Sandra Oh and Jodie Comer as Eve Polastri (Oh), a British intelligence agent tracking Villanelle (Comer), an assassin with a penchant for castration. Once Polastri finds herself as Villanelle's target, their relationship becomes an obsessive game of cat-and-mouse. The rollercoaster ride of a show was an instant hit, with viewers unable to get over the unnerving and thrilling plot and praising the acting (Oh won the Golden Globe for Best Actress in a Drama Series, nbd). Can't get enough? Here are a few shows to hold you over while you wait for season 2—the spy thriller returns to BBC America on April 7, 2019.
If you like the writing style...
Get ready to hear the name Phoebe Waller-Bridge a whole lot more. Waller-Bridge developed Killing Eve for the screen from Luke Jennings's Codename Villanelle novella series, and—lucky for you—two other shows she's behind are available to stream in the United States. And they're both pretty freakin' fantastic. There's Crashing, which follows the lives of six people living together as property guardians of a hospital that's out of use, exchanging cheap rent and an absurd set of strict rules for keeping the building safe. Waller-Bridge created, wrote, and stars in the laugh-out-loud series.
Fleabag is based on Waller-Bridge's award-winning one-woman show, which debuted at the Edinburgh Fringe Festival back in 2013. She wrote and created the show, and stars as the titular character, Fleabag—we never learn her name—who's dealing with work at a novelty guinea pig café that, unshockingly, never has any customers, as well as her rather horrific sexual encounters, all while coping with the loss of her best friend. It's a truly amazing look at the female psyche, and it's so funny it'll make you ache a little. There's no reason not to watch it—it's six half-hour episodes. Get on it!
If you want a female lead performance you won't be able to stop talking about...
Killing Eve feels like it naturally fills the void that Orphan Black left when it ended in 2017. Both series involve crazy twists and turns, an insane premise, and a masterclass in acting. Tatiana Maslany won an Emmy for portraying Sarah, who, after witnessing the suicide of a stranger who looks eerily similar, comes to discover she is one member of a 'family' of clones... all played by Tatiana Maslany. Each of the clones has a different backstory and personality, which makes it all the more jarring when you realize Maslany is often acting and interacting with different versions of herself within the same scene. It's a morality tale of how we treat women, a story about conspiracies, and a dissection of the ethics of experimenting with biology. Plus, Killing Eve's Villanelle is basically just a scarier and more fashionable version of Helena.
If you're into the noir vibe of Killing Eve, then you'll probably also dig Veronica Mars. Mars is a grungier Nancy Drew, your private detective next door. Back when it premiered in 2004, the series become a cult hit, launching Kristen Bell to stardom and drawing in audiences with its sunny noir setting and its refusal to make the teenage lead a stereotype. Mars seems like a natural inspiration for the character of Eve Polastri. And even better: If you time it correctly, you'll be able to finish Veronica Mars, watch Killing Eve's second season, and then jump immediately into the upcoming Veronica Mars reboot for Hulu. Wouldn't that be great?
If you're into the cat-and-mouse element...
Luther shares the same dynamic of intelligence agent and notorious serial killer who are fascinated with one another. But Luther's villain, Alice Morgan (Ruth Wilson), and Villanelle are two very, very different characters—Morgan's composure is in stark contrast to how unhinged Villanelle can be. Idris Elba has scored four Emmy nominations for Outstanding Lead Actor in a Miniseries or Movie for his role as John Luther, an obsessive, dedicated, and sometimes violent police officer investigating Morgan, a brilliant psychopath and murderer. Over time, the investigation turns to obsession, and... well, this all sounds rather familiar, doesn't it?
It feels like everyone is in The Night Manager: Tom Hiddleston, Hugh Laurie, Tom Hollander, Elizabeth Debicki, and Olivia Colman are all part of the completely stacked cast. Inspired by the John le Carré novel of the same name, it follows a former British soldier-turned-uh, night manager of a hotel who develops an obsession with dismantling an international arms dealer. If you like obsessive chases, you'll love this limited series.
If you like comedies as black as your coffee...
At first, it can be hard to get a handle on the tone that Barry is going for, because it's a comedy with very, very dramatic turns. I'd argue Killing Eve is a drama with comedic moments. Both shows subvert the concept of genre. Due to a strong performance from Bill Hader and the always-incredible Henry Winkler, this story of a hitman who jumps into the life of an actor is not only cant-miss but impossible to miss, particularly if you're into twists, turns, and...a lot of blood.
Patriot is constantly making the lists of "shows you're not watching but should," and for good reason; the show isn't afraid to take risks that may or may not pay off. The premise is simple: In order to keep Iran from going nuclear, intelligence officer John Tavner must assume a "non-official" cover as a mid-level employee at a Midwestern industrial piping firm. The acting is superb, and you'll be able to say You Knew It When.
If you love a nail-biter...
Bodyguard was 2018's (other) breakout British hit, telling the story of a morally conflicted war veteran/bodyguard and the hawkish home secretary he's sworn to protect. Richard Madden won a Golden Globe for his nuanced portrayal of a veteran suffering from PTSD. This show will leave you at the edge of your seat, and you'll find yourself questioning your own moral center as you root for people without one. It's one of the most tense shows on TV today.
Sharp Objects resonated with people week-after-week in the summer of 2018, and it's easy to understand why. Amy Adams and Patricia Clarkson leave you on edge for the show's entire run. They star as a mother-and-daughter pair reunited when Camille Preaker (Adams) returns to her small hometown to investigate mysterious, unsolved murders involving two teenage girls. Preaker's return reignites childhood traumas and she puts together pieces of a past she thought she'd left behind. The show never demands the viewer's comfort, and the viewer spends the run with a sort of welcome dread (trust us, it's worthwhile). Don't miss out on the post-credits scene in the series finale.
For more stories like this, including celebrity news, beauty and fashion advice, savvy political commentary, and fascinating features, sign up for the Marie Claire newsletter.
Amanda Mitchell is a writer and podcaster with bylines at Marie Claire, OprahMag, Allure, Byrdie, Stylecaster, Bon Appetit, and more. Her work exists at the apex of beauty, pop culture, and absurdity. A human Funfetti cake, she watches too much television, and her favorite season is awards season. You can read more of her work at amandaelizabethmitchell.com or follow her on Instagram and Twitter @lochnessmanda.