When Will the New 'Veronica Mars' Stream on Hulu? We've Got All the Details
Hold onto your hats, Marshmallows.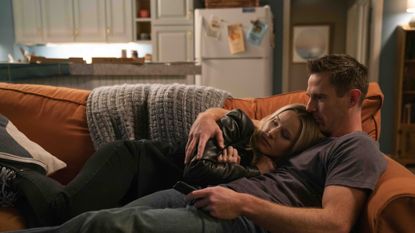 (Image credit: Hulu + Michael Desmond)
Three seasons, a movie, two books, and here we are: Veronica Mars is set to return to Hulu in 2019, and Marshmallows (the nickname for fans of the cult series) are shivering in their combat boots. The former UPN/CW series, which ran from 2004 to 2007, starred Kristen Bell as the title character, a formerly popular high schooler who, after a series of truly horrific traumas, finds herself to be an outcast helping her private investigator father delve deep into the lives of the wealthiest members of her hometown of Neptune, California.
Here's everything we know about the upcoming series reboot.
How long is it?
Hulu picked up the series for a direct-to-series order of eight, one-hour episodes.
When will it air?
According to Kristen Bell, production on the series began in November. In April, Hulu released the first teaser trailer for the reboot and announced its premiere: July 26, 2019.
Your OG cast favorites will be back.
Series creator Rob Thomas revealed who of the original cast will be returning to Neptune on Twitter, with more announcements to come in the future. Enrico Colantoni is set to return as Veronica's dad Keith Mars, as well as Jason Dohring (Logan), Percy Daggs III (Wallace), David Starzyk (Dick Casablancas' dad) and Francis Capra (Weevil). Max Greenfield (Leo D'Amato) is also set to return. No word on Tina Majorino (Mac), Ryan Hansen (Dick Casablancas), or Chris Lowell (Piz) just yet.
We've got some new faces.
Patton Oswalt (Happy!) is set to recur on the series as Penn Epner, a pizza-delivery man who's a chatty Cathy with a passion for true crime series. Dawnn Lewis (A Different World, iZombie) has also joined the cast in the pivotal recurring role as Marcia Langdon, the new Neptune Police chief, now that the city of Neptune has incorporated. Langdon first appeared as a character in the second of theVeronica Mars book series, Mr. Kiss and Tell.
Clifton Collins, Jr. (Westworld) and Izabela Vidovic (Wonder) are both joining the series in full-time roles. Collins will star as Alonzo, a "mid-level hitman for a Mexican cartel. Because of his facility with English, he's chosen by his boss to travel to Neptune to take out whoever killed his wife's nephew. The more time Alonzo spends in the U.S. the more doubts creep in about his chosen career field, particularly when he falls hard for a local girl." Vidovic will play Marty Ross, a teenager who has lost the most important person in her world in an act of violence, and whose ways of approaching justice remind Veronica of the girl she once was.
Finally, Kirby Howell-Baptiste (Barry, Killing Eve) will also recur on the series as Nicole, a n Neptune nightclub owner who's club is a favorite of the spring breakers. When the club becomes the location for multiple deaths, Veronica is convinced the killer is seeking their victims at the club.
What's the reboot going to be about?
A description of the reboot, per Hulu: "Spring breakers are getting murdered in Neptune, thereby decimating the seaside town's lifeblood tourist industry. After Mars Investigations is hired by the parents of one of the victims to find their son's killer, Veronica is drawn into an epic eight-episode mystery that pits the enclave's wealthy elites, who would rather put an end to the month-long bacchanalia, against a working class that relies on the cash influx that comes with being the West Coast's answer to Daytona Beach."
What if I've never seen the show before?
Get on it! Hulu's going to make it a little easier for new fans to catch up. All past episodes from seasons 1-3 of the original Veronica Mars will be available to stream (as well as the 2014 Kickstarter-funded feature film) starting in summer 2019.
But don't worry: the old series is a thing of the past and the show won't be a nostalgia trip. Rob Thomas told E! News, "If we get to do it again…I think the way to make it survive is to—If the movie was kind of a love letter to the fans, anything that comes from now on, I think, is going to be about the kickass mystery…If we get to do it again, that's what I want to deliver. I want to make Veronica the first name in female detectives. I have no designs on supplanting Sherlock Holmes, but I would really love Veronica Mars to be—when I think female detectives, that's who I think of." Move aside, Nancy Drew!
The episodes will be serialized, instead of a case-of-the-week.
The original series was both an overarching serial narrative as well as featured cases of the week, but that won't be the case in the reboot. Here's what Thomas had to say on Twitter about the new series.
I will say this: the movie was nostalgic. The Hulu limited series isn't going to be. Hardcore So-Cal noir. One big case. Eight episodes to tell the story. This is a detective show.September 20, 2018
See more
The Veronica Mars universe will be expanded.
Kristen Bell told Entertainment Tonight, "Well, marshmallows can expect the same characters but also a lot of new characters, and a much more adult show. The show will have grown with Veronica. It will also have grown with the fan base because, you know, it was on 15 years ago. I can't even remember."
"It will be a much bigger world cinematically," she continued. "Television is able to do unbelievably cinematic things now and we are planning on letting Veronica's world follow."
The book series will be incorporated into the new series.
Thomas published two books in the Veronica Mars universe, Veronica Mars: The Thousand Dollar Tan Line (2014) and Veronica Mars: Mr. Kiss and Tell (2015) to satisfy fans who needed a little more of the Neptune, California goodness. While the reboot won't be an adaptation of either book, according to Thomas, the book series is "canon", or incorporated as if it occurred, in the new series. From Thomas's Twitter account:
Like THE THOUSAND DOLLAR TAN LINE, the mini-series will be set against a Spring Break backdrop, but TDTL is NOT the story we're telling. We're five years after the movie. Books are 98% canon. Pony is included. Marcia Langdon is police chief. Spoiler: Neptune finally incorporated.September 20, 2018
See more
There is one especially tall member of the writer's staff.
The NBA's leading all time scorer, Kareem Abdul-Jabbar, is joining the reboot's writing staff, alongside poetry author Raymond Obstfeld, Sleepy Hollow's Heather V. Regnier, House of Lies' David Walpert, and iZombie creator/Veronica Mars executive producer Diane Ruggiero. The basketball legend (who stands tall at 7′ 2″, nearly 20 inches taller than star Kristen Bell) is an actor, producer, and prolific writer of mystery novels, so this is a territory he knows well.
We've got our first image of the cast on set!
Series creator and writer Rob Thomas's Twitter account is the go-to spot for Veronica Mars behind the scenes info, and he hasn't disappointed yet:
From the #VeronicaMars table read. This is some indication of who is in episode 1. It doesn't mean your fave doesn't come in later. @IMKristenBell @PD3Official @golfstoomuch @jason_dohring @dawnn_lewis @pattonoswalt @ricocolantoni @IzabelaVidovic @ccollinsjr @dstarzyk pic.twitter.com/3dlrVlykqKNovember 14, 2018
See more
Veronica might be chasing down a serial killer this time around.
The stakes are higher than ever in the new season of Veronica Mars. In an extended trailer released on June 14, details about the plot of the season were revealed and it looks like Veronica and co. will be hunting down a bad guy who is at very least a mass murderer (they bomb a beach party in Neptune) and possibly a serial killer. Yikes. Watch the newest trailer below:
This post will be updated with more information when we have it.
RELATED STORIES
Amanda Mitchell is a writer and podcaster with bylines at Marie Claire, OprahMag, Allure, Byrdie, Stylecaster, Bon Appetit, and more. Her work exists at the apex of beauty, pop culture, and absurdity. A human Funfetti cake, she watches too much television, and her favorite season is awards season. You can read more of her work at amandaelizabethmitchell.com or follow her on Instagram and Twitter @lochnessmanda.