The 17 Best Movies on HBO Go to Watch Right Now
Never Been Kissed! Crazy Rich Asians! Mean Girls!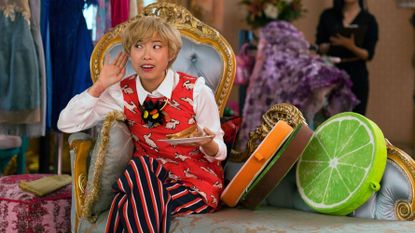 (Image credit: Warner Bros)
With the sheer range of streaming options available, it's not really surprising that a lot of people are foregoing the cable box and heading into pure streaming service territory. HBO Go marries the two concepts, giving fresh original content and a whole slew of movies to subscribers, whether or not they actually get the channel HBO. But while Netflix gets a lot of credit for its movie selection, HBO Go's selection of movies is low-key slaying it, with a bunch of genres that span decades.
Because there's simply too much on the site to list everything you could watch, here's a list of 16 of the best movies streaming on HBO Go right now. They'll make you glad you splurged for the subscription.
Amélie
What Is It?
The quirky, beautiful story about a strange, imaginative young French woman who decides to do what she can to help the various, weirdo characters in her life. Also she falls in love!
Why Should You Watch It?
This movie has received a little criticism for being, to some, the epitome of the Manic Pixie Dream Girl aesthetic, but that is missing the mark: Amelie is her own woman, not just a trope to advance a male character. Just because she's weird and is absolutely fashion inspo doesn't mean she's not also a badass.
The American President
What Is It?
A 1995 dramedy directed by rom-com god Rob Reiner, and stars Annette Bening as an environmental crusader who starts going out with the President of the United States (Michael Douglas). It's a big deal because he's a single dad and his advisors are worried that voters won't support a guy who dates around in the upcoming election. LOL, imagine?
Why Should You Watch It?
It's a great, very romantic movie, but watch it for no other reason than to remind yourself of a time when the job of the President of the United States was something Americans took even a little seriously.
An Affair to Remember
What Is It?
Cary Grant! Deborah Kerr! Despite their engagement to two other people, a man and a woman who fall in love on a cruise decide to meet at the Empire State Building in six months if they still feel the same way. But she doesn't show—and the rest will make you cry.
Why Should You Watch It?
If you love Sleepless in Seattle, this is the O.G. It's a cinema classic, as full of romance and melodrama as anything ever made. Ugh! It's so sad!
Big Business

What Is It?
A 1988 slapstick comedy starring queens Bette Midler and Lily Tomlin as a pair of sisters...well, two pairs of sisters. Two sets of twins, really, separated at birth and raised in completely different circumstances (two of them are country gals, the other are city gals, naturally) and who convene in New York City for a really weird weekend.
Why Should You Watch It?
Because don't you want to be a Lily Tomlin completist?
Calendar Girls
What Is It?
A 2003 movie inspired by the true story (!) of a group of over-50 women who agree to pose naked in a calendar for charity. Plus, Helen Mirren and Julie Walters are there!
Why Should You Watch It?
A funny, sweet, very British comedy that's as absurd as it is empowering.
Couples Retreat
What Is It?
A very silly, star-packed (Kristen Bell, Malin Ackerman, Vince Vaughn, Jason Bateman, Kristin Davis *catches breath*) comedy about a group of friends who are all struggling in various ways within their relationships until they decide that the best course of action is a woo-woo tropical couples retreat where they'll learn to reconnect. Things, of course, do not go as well as the brochure led them to believe.
Why Should You Watch It?
It's the perfect escape movie and it's literally ABOUT an escape, so sit back, laugh at the hijinks, and imagine you're in Tahiti, too.
Crazy Rich Asians
What Is It?
The box office record-breaking rom-com about a woman (Constance Wu) and her boyfriend who, it turns out, is the favorite son of one of the richest families in Singapore. But despite the luxury, getting accepted by his family and his society friends is not all it's cracked up to be.
Why Should You Watch It?
Because it's the best! Lush scenery, Awkwafina being hilarious, and a genuinely swoon-worthy plot. Catch up before the sequel.
Date Night
What Is It?
Tina Fey and Steve Carrell (dream team!) star as a married couple looking to spice things up on a date, but who get a little bit more than they bargained for when they accidentally stumble into a wide-ranging conspiracy with a team of international criminals. Don't you hate when that happens?
Why Should You Watch It?
It's a goofy, slapstick romp that would be significantly less fun to watch if its stars weren't two of the funniest people on the entire planet.
Don't Tell Mom the Babysitter's Dead
What Is It?
This somewhat dark teen comedy from the '80s tells the tale of a group of siblings whose mom goes out of town for the summer, leaving an elderly and mean babysitter in charge. Fortunately for the kids, she dies pretty early on (of natural causes! It's not that dark a movie…), leaving the eldest daughter (Christina Applegate) in charge. From there, it turns into a completely different type of movie, but I won't spoil it for you.
Why Should You Watch It?
It's a little twisted, but the incredible '80s fashion will inspire you.
Freaky Friday
What Is It?
A 2003 remake of the 1976 movie about a mom and daughter who can't understand each other and then mysteriously switch bodies. But this one is better than the older one because this one has Peak Lindsay Lohan and Jamie Lee Curtis.
Why Should You Watch It?
What? You need a reason beyond the words "Peak LiLo"?! Okay, fine. It's charming in a teen movie way, and has a better soundtrack than it has any right to.
Mama Mia: Here We Go Again
What Is It?
Oh just the incredibly fun sequel to the movie based on the jukebox musical set to ABBA.
Why Should You Watch It?
Did you not read that description? Where the original Mama Mia didn't really exploit its true camp potential, the sequel makes sure we know it's in on the joke. Also, Cher sings "Fernando" in it!
Mean Girls
What Is It?
The 2004 teen comedy starring Lindsay Lohan as Cady Herron, a new girl whose researcher parents moved her back to the States after an idyllic childhood in Africa. But being a suburban high schooler is not really what she expected—especially when she gets involved with the school's queen bees, nicknamed the Plastics and headed up by the casually cruel Regina George (Rachel McAdams).
Why Should You Watch It?
It's one of the funniest, most quoted, most relatable high school movies ever made.
My Big Fat Greek Wedding
What Is It?
The modern classic romantic comedy in which a Greek woman (Nia Vardalos) starts dating a handsome non-Greek guy (John Corbett), much to her gigantic, loud, and quirky family's chagrin.
Why Should You Watch It?
Corbett and Vardalos have fiery chemistry, and if you have ever been embarrassed of your family, this movie might help you appreciate them a little more. (And who among us, really?)
Never Been Kissed
What Is It?
A sweet tale of catfishing, in which Josie Gellar (née Grossie, played by Drew Barrymore) is a newspaper copy editor and aspiring reporter who's tasked with going undercover at her old high school. She views it as a way to get ahead in her job and also maybe do high school right this time. But then, a hot-ass English teacher (Michael Vartan) complicates matters.
Why Should You Watch It?
Because it really is sweetly romantic and genuinely hilarious, despite its qustionable romance dynamic (is everyone...of age here?)
Plus, baby James Franco and Jessica Alba are both there! Oh, and the fashion is deliriously, delightfully '90s. ("Like, 10 chickens had to die just so you could look that stupid.")
Ocean's 8
What Is It?
The female-led remake of Ocean's 11 that stars basically every woman in Hollywood you love (Sandra Bullock, Cate Blanchett, Sarah Paulson, Awkwafina, Rihanna, Anne Hathaway—wowza!) as they heist some jewels at the Met Gala.
Why Should You Watch It?
Did you see that cast list? Come on, even if the plot is a little confusing, I would watch that crew read a phonebook and it would still be worth the price of admission.
Tully
What Is It?
A dark, sometimes sad film about a mom who recently gave birth to baby number three, and who feels increasingly exhausted and isolated—until a young woman named Tully comes to work as her night nurse.
Why Should You Watch It?
This movie was a little controversial when it came out, largely for the implications it makes around mental illness. But others lauded it for how frankly it handled the less-pretty parts of motherhood. Now you can stream it and decide for yourself.
Veronica Mars
What Is It?
When the show Veronica Mars was tragically cancelled after three seasons, marshmallows (that's the show's fandom) everywhere couldn't take it. But years later, their dedication paid off in the form of a movie, which caught up on where teenage P.I. Veronica went after college—and finally drags her back to her California hometown of Neptune to solve a new mystery.
Why Should You Watch It?
With a much-anticipated fourth season about to arrive on Hulu in July, watch up with the most last entry into the Veronica Mars canon so you know where everything left off.

For more stories like this, including celebrity news, beauty and fashion advice, savvy political commentary, and fascinating features, sign up for the Marie Claire newsletter.
RELATED STORIES
Celebrity news, beauty, fashion advice, and fascinating features, delivered straight to your inbox!