The 10 Best Moisturizers With SPF to Amp Up Your Sun Protection
It's all about the layering.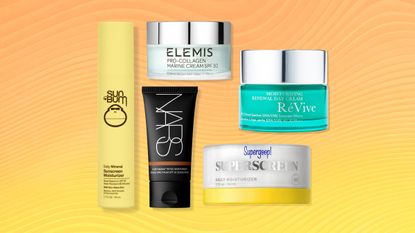 (Image credit: Brittany Holloway-Brown/Future)
Marie Claire Newsletter
Celebrity news, beauty, fashion advice, and fascinating features, delivered straight to your inbox!
Thank you for signing up to Marie Claire. You will receive a verification email shortly.
There was a problem. Please refresh the page and try again.
I have waxed poetic about the best sunscreen products time and again. I suppose an undying love for UVA and UVB protection comes with the beauty editor territory. While using a dedicated SPF is always going to be the gold standard, I can't help but emphasize that incorporating one of the best SPF moisturizers into your morning routine is only going to up the ante on your protection. While you likely won't use enough product to get the full SPF protection (reminder: you need to apply roughly three fingers-worth of SPF to your face), a sunscreen-infused lotion or cream is like the icing on the cake of a solid sun care regimen.
"Moisturizers with SPF are a great option because at the end of the day, they do contain a level of SPF protection," explains board-certified dermatologist Dr. Doris Day. "I recommend layering on your regular sunscreen with your SPF moisturizer. It's really the best and only way to maximize the level of SPF in your products."
If you were to ~exclusively~ use an SPF-packed moisturizer, just be aware that you would need to use a lot of product on the daily to get the prescribed dose of protection. A pea-size drop isn't going to cut it. "You're only going to get a fraction of the SPF level. I liken it to taking a piece of fabric and stretching it thin to get full coverage," adds Dr. Day.
So grab your favorite SPF (be it a powder sunscreen, spray sunscreen, or mineral sunscreen) and scroll ahead. Because I've taken the liberty of rounding up the best spf moisturizers to pair with your go-to product. From luxe creams that deliver anti-aging benefits to tinted formulas that have an extra layer of blue light protection, these sunscreen-packed moisturizers are the best skincare has to offer.
The Best SPF-Packed Moisturizers
When it comes to the products Marie Claire recommends, we take your faith in us seriously. Every product that we feature comes recommended by a MC writer or editor, or by an expert we've spoken to. Learn more about how we review products.
The Best Lightweight Moisturizer With SPF
Sun Bum Daily Sunscreen Moisturizer SPF
If layering products is your MO, Sun Bum is going to be your holy grail. Kick off your routine with this ultra lightweight moisturizer, which contains SPF 30. The texture on this baby is silky smooth—there's no white cast, no goopiness, no grease. It's fortified with niacinamide, an ingredient that protects against environmental stressors (read: pollution) and has been shown to help with acne. Once you let this moisturizer soak in, follow up with one of Sun Bum's amazing SPFs (they have chemical, mineral, spray, body—anything you could possibly need) and toss their Face Mist in your bag for reapplication throughout the day.
The Best Tinted Moisturizer With SPF
Nars Pure Radiant Tinted Moisturizer SPF 30
On a mission to simplify your routine? Allow us to direct your attention to this three-in-one NARS product. It goes above and beyond to take the place of your foundation, vitamin C serum, and moisturizer. A little definitely goes a long way with this guy (seriously, you only need a dot for a tinted glow), so make sure you layer this with a full-blown SPF.
The Best Moisturizer With SPF for Mature Skin
Elemis Pro-Collagen Marine Cream SPF 30
While we love that this moisturizer has sun protection, it's not the cream's biggest selling point. We're obsessed with this formula's wild ability to firm—fine lines look so much smoother after a few weeks of use. It's all thanks to an algae extract called Padina Pavonica that firms the skin. Add hydration, and the accompanying plumpness, to the mix, and skin looks entirely refreshed. Don't believe us? Try this cream for yourself. We promise, you won't be disappointed.
The Best Moisturizer With SPF for Dry Skin
Supergoop! Superscreen SPF 40 Daily Moisturizer
While some people may find that their skin gets oilier in the summer, others, including yours truly, experience extra dryness after a day sitting out in the sun. That's where this intensely hydrating formula comes into play. The chemical SPF is packed with hydrating ingredients like glycerin to keep skin feeling moisturized. While it's always best to layer an SPF moisturizer with a regular SPF, consider tossing this in your beach bag for midday reapplication. It'll give you an extra boost of UVA and UVB protection, as well as added hydration.
The Best Sunscreen Moisturizer With Antioxidants
ReVive Moisturizing Renewal Cream SPF 30
Don't sleep on this multitasker—trust me. With antioxidants like vitamins C and E, this moisturizer helps protect against environmental stressors, which is a fancy way of saying it's going to help keep the gunk of pollution out of your pores. It also features the brand's proprietary Rapid Renewal Complex. Essentially, it uses epidermal growth factor to speed up skin resurfacing and restore a little glow to the skin. If you want to hear me rattle off about how obsessed I am with this specific product, check out its feature in Marie Claire's "Worth It" column.
The Best Moisturizer With SPF for Sensitive Skin
Blue Lizard Sheer Face SPF 50
A decent number of moisturizers on this list contain chemical sunscreen. While there's nothing wrong with that, it is going to be best to opt for a mineral formula if you have sensitive skin or melasma. This lotion, which is Dr. Day's personal favorite, features a zinc formula that still manages to feel lightweight. An added bonus? It includes plant extracts that protect against blue light, which has been proven to worsen hyperpigmentation.
The Best Moisturizer With SPF for Oily Skin
Paula's Choice Resist Youth Extending Daily Hydrating Cream
Moisturizer, let alone sunscreen, can be intimidating for anyone with extra oily or acne-prone skin. That said, it's still non-negotiable to hydrate and protect. Enter Paula's Choice Resist Youth Extending Daily Hydrating Cream. The oil-free moisturizer-sunscreen duo won't clog your pores or cause breakouts. Plus, it has a matte finish that will keep your skin shine-free for longer. As an added bonus, the formula includes green tea and oatmeal extracts, both of which help to calm down redness and soothe the skin.
The Best Moisturizer With SPF for Acne-Prone Skin
If you're dealing with active acne or are prone to breakouts, finding non-comedogenic products that aren't going to clog up your pores is a no-brainer. This lightweight lotion is one of the best out there. It has all the goods: hyaluronic acid, ceramides, and niacinamide. On the sunscreen front, you're going to get SPF 30 protection via a non-irritating zinc formula. It feels weightless and doesn't pill when layered with an additional sunscreen.
The Best Moisturizer With SPF for a Dewy Finish
Shiseido Hydrating Day Cream SPF 20
As someone who is always on the hunt for the most glow-giving products in the beauty-verse, I can confirm that this moisturizer is what dewy dreams are made of. The hyaluronic acid-packed formula leaves the prettiest, mirror-like sheen on the skin. It gives a glow that shines through makeup. That said, you only need about two pearl-sized dollops, so make sure to layer on an SPF. My fave? The Shiseido Ultimate Sun Protector Lotion.
The Best Moisturizer With SPF for Compromised Skin
La Roche-Posay Double Repair Face Moisturizer SPF 30
La Roche-Posay makes some of the best sunscreens ever (the Melt-in-Milk is sooooo good), so it only makes sense that their SPF-packed moisturizer is a winner too. This lotion is ideal for anyone who has a compromised skin barrier, flakiness, or irritation—honestly you can't go wrong. The texture feels rich at first, but once it's rubbed in, the oil-free formula feels insanely lightweight.
Celebrity news, beauty, fashion advice, and fascinating features, delivered straight to your inbox!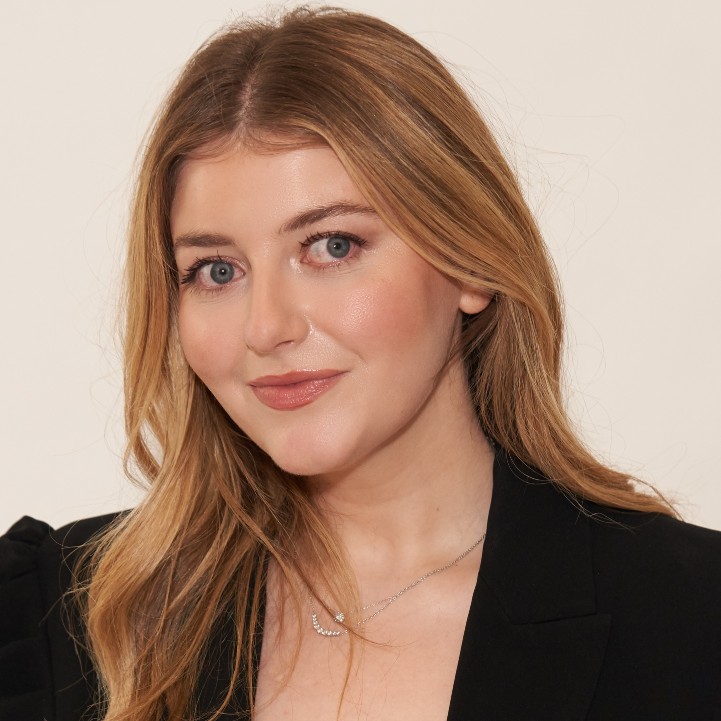 Samantha Holender is the Beauty Editor at Marie Claire, where she reports on the best new launches, dives into the science behind skincare, and keeps up with the latest trends in the beauty space. She has previously written for Us Weekly, Popsugar, Makeup.com, Skincare.com, and Philadelphia Wedding. Follow her on Instagram @samholender.