The 38 Best Sexy Romantic Movies With Steamy Love Scenes
These love (read: sex) scenes from romantic films are equal parts steamy and swoon-worthy.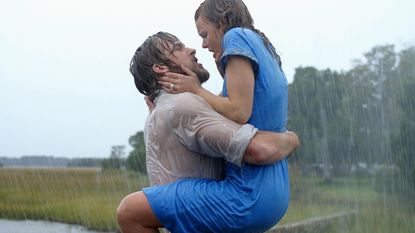 (Image credit: Alamy)
You know how some people like to say "love scene" as a euphemism when they're talking about a hot, steamy, sex scene? If the phrase "love scene" makes you roll your eyes or cringe a little, hear us out, because sometimes it's actually the most appropriate pair of words in the world to describe what plays out on our screens. Yes, sometimes sex scenes are porn movie-worthy pure, carnal expressions of lust, but some of the hottest sex scenes in movies are actually tender, sensual, and—dare we even say it—romantic. If you're in the mood for a hot romance movie that showcases the art of making love in the all-caps, L-O-V-E sense of the word, then your Google sleuthing has led you to precisely the right place: this list.
We've dug deep into the annals of pop culture for examples of movies that truly illustrate the difference between "having sex" and "making love." You know, the kinds of movies that will make your heart flutter and your stomach fill with those middle school crush, first love butterflies. From obvious old school love stories like Dirty Dancing and From Here to Eternity to modern classics like Titanic and The Notebook with even a few under-the-radar (but still eternally worthy) indie picks thrown into the mix, we've compiled a definitive guide to movies with romantic AF (no pun intended), but still insanely hot sex scenes. Here of the most romantic, not cheesy, totally sensual, quote-unquote "love scenes" in movie history.
Hot, Steamy Sex Scenes
Y Tu Mama Tambien
Diego Luna? Gael Garcia Bernal? Lots of road trip sex scenes and beautiful Mexican vistas? Yes please. Of course, this movie is more than just a coming-of-age film about two boys and the slightly older woman who teaches them about sex. It's also poignantly thoughtful, about the way even things that seem like they'll last forever inevitably change. But, you know, the sex scenes.
9 1/2 Weeks
Though it was considered too sexy for American audiences when it was released in 1986 and got a heavy edit before hitting theaters, this film starring Mickey Rourke and Kim Bassinger follows a finance bro and an art gallerist whose love affair starts out pretty straight-laced, but who soon start delving into their kinks in the bedroom. It flopped when it first came out, but has become a cult classic in the years since.
Damage
A member of the English Parliament played by Jeremy Irons (as a sexy silver fox, btw) starts an affair with his son's gorgeous French fiancee (Juliette Binoche). Because as we all know, forbidden sex is the hottest sex.
Below Her Mouth
Set over the course of three days, this sexy, sexy movie follows two women, Jasmine and Dallas, as they fall in love with each other. The love scenes are passionate and steamy AF.
Blue Valentine
Blue Valentine is not a movie for the faint of heart. The movie goes to some pretty dark places, but the scenes of Dean (Ryan Gosling) and Cindy's (Michelle Williams) early, happy days are pure romance (and lust).
Secretary
And speaking of cult classics (though this one was just a beloved indie film from the jump, Secretary is a weird little movie about a boss and his secretary—shocking, I know—who realize they share a love of BDSM. Because what's more romantic than hopelessly unfulfilled people happening upon the only other person they know who's into the same stuff they are? And Maggie Gyllenhaal is brilliant in it, of course.
Fifty Shades Freed
The final installment in the Fifty Shades trilogy saw Ana become Mrs. Grey and take a lot more agency in her sexual relationship with Christian. The romance is in the fact that both parties are fully into what's going on in the bed and satisfied with the partnership.
Do the Right Thing
Two words: Ice. Cubes.
Blue Is the Warmest Colour
The love scenes between Adèle and Emma in Blue Is the Warmest Colour exude love and romance (and sexiness. Also lots of sexiness).
Thrilling and Romantic Sex Scenes
Unfaithful
Mostly a drama (so if you don't want things to get way too real, feel free to skip the ending), this movie about a wife who strikes out on an affair is also extremely steamy. Seriously, the sex scenes between Diane Lane and Olivier Martinez are next-level.
Skyfall
James Bond has always been known as a ladies' man and a sex symbol and the steamy shower love scene between Daniel Craig's take on the iconic super spy and Sévérine in Skyfall shows how 007 keeps earning his rep, over and over.
Eyes Wide Shut
Tom Cruise and Nicole Kidman were a real-life couple when they starred in this film. Honestly, it's a weird Stanley Kubrick movie that involves a now-infamous surrealist sex party scene, but the chemistry is palpable between the leads.
Gangster Squad
Ryan Gosling and Emma Stone have sizzling onscreen chemistry (a fact they've proven multiple times now), but their sly flirtation (and steamy post-coital makeout) in Gangster Squad was, well, the highlight of the movie Gangster Squad.
Troy
Helen might have been the cause of the Trojan War, but in the 2004 film Troy, it's the love scene between Archilles and Briseis (played by Brad Pitt and Rose Byrne) that will really get you hot and bothered.
Atonement
Is there anything hotter than forbidden love? If you think there is, you clearly haven't watched the library love scene between Keira Knightley and James McAvoy in Atonement recently
Mr. and Mrs. Smith
Sometimes there's a fine line between love and hate—and no movie has ever captured that fact better that Mr. and Mrs. Smith, particularly in the scene in which married rival spies Brad Pitt and Angelina Jolie literally destroy their damn house fighting and making love.
Super-Romantic Love Scenes
Top Gun
The slow, silhouetted love scene in Top Gun will actually take your breath away.
The Photograph
A woman (Issa Rae) falls in love with the journalist investigating her mother's storied photography career, and despite her own estrangement with her mom, she rediscovers their relationship while creating a totally different one. This film is as romantic as it is super steamy.
The Notebook
As adults, most of us know that things that look like fantastic, romantic ideas in the movies are kind of a disaster in real life. No matter how wise you are in the ways of romance, however, the kissing-in-the-rain scene from The Notebook will make you lust for a thunderstorm and a Gosling of your very own.
Romeo + Juliet
There's a lot to love about Baz Luhrmann's 1996 adaptation of Romeo and Juliet, but the pool scene tops the list—even if it's not the moment the characters actually consummate their forbidden love.
Legends of the Fall
Legends of the Fall will make you feel lots of feels, but the sexy love scene between Tristan and Susannah is one of the movie's most romantic (and steamiest) moments.
Jerry Maguire
You had me at hello...and also at this oh-so-sensual sequence.
Love Jones
Love Jones explores the age-old question: When you hook up on the first date and want to keep things casual but end up falling in love, what do you do?
Wet Hot American Summer
Yes, Wet Hot American Summer is a sex comedy spoof, but there's some real heart (and sexiness) in the tender moments Ben (Bradley Cooper) and McKinley (Michael Ian Black) share in the tool shed.
The Lucky One
Shower sex is impractical and outdoor shower sex is even more so, but it's swoon-worthy in this Zac Efron romance.
Love & Other Drugs
In Love & Other Drugs, Anne Hathaway and Jake Gyllenhaal deliver perfect performances as a couple whose no strings attached situationship evolves into something much deeper.
Jason's Lyric
Jada Pinkett Smith and Allen Payne star in this 1994 romantic drama about a young couple dealing trying to balance love and maturity. Their love scene in the woods is slow, passionate and HOT.
Boys Don't Cry
In 1999's Boys Don't Cry, Hilary Swank plays a young trans man (true representation was definitely still a rarity when the film was made) who enjoys a tender night with the girl of his dreams (played by Chloë Sevigny) that includes some very steamy, very romantic oral expressions of affection by a lake.
From Here to Eternity
By modern standards, the love scene in From Here to Eternity is tamer than tame. By 1953 standards, though, the beachside passion of Deborah Kerr and Burt Lancaster is hot, hot, hot (and romantic, to boot).
Coming Home
Sex scenes featuring characters living with disabilities are, well, rare to say the least. That's just part of what makes the love scene between Jane Fonda and Jon Voight in Coming Home so special. The other part? Jon's character brings Jane's to climax via cunnilingus—making this a very rare display of female pleasure in film for the 1970s.
Out of Sight
Does it get sexier than J.Lo and George Clooney getting it on? The 1998 movie Out of Sight proved that no, it does not.
Love & Basketball
Love & Basketball tells a decades-spanning love story and the scene when the movie's leads, Monica (Sanaa Lathan) and Quincy (Omar Epps), make love for the first time is romantic, real, and iconic.
Moonlight
Romantic love scenes don't have to be about penetrative sex or even oral sex. They don't even have to involve nudity. The scene in which Chiron sits on the beach with his male classmate, who touches him for the first time, proves all of the above.
Pretty Woman
Speaking of impractical places to have sex, Pretty Woman's piano scene (in a public hotel restaurant, no less) will make you want a baby grand.
Cruel Intentions
Who knew that a love scene between a girl and the guy who bet that he could take her virginity could turn out to be so romantic? The key, of course, is that Sebastian really fell for Annette (and the real-life love between Ryan Phillippe and Reese Witherspoon didn't hurt either).
Ghost
The famous pottery-making scene between Demi Moore and Patrick Swayze is probably also less sexy and romantic (and more messy) in real life, but man does it look dreamy on film.
The Twilight Saga: Breaking Dawn Pt. 2
It took four movies, but Bella and Edward finally tied the knot and consummated their relationship in a night of sweet-turned-intense honeymoon sex.
Titanic
The illicit love scene between Jack and Kate in Titanic made foggy window handprints a symbol of eroticism and romance for an entire generation.
Brokeback Mountain
The tender tent scene in Brokeback Mountain will go down in history as one of the most romantic movie love scenes of all time. Bonus points for showing that true love knows no barriers when it comes to identity or sexuality.
Before Sunrise
Everything about Before Sunrise is romantic in that early-20s kind of way, but the love scene in the park epitomizes the romance (and romanticization) of the characters' brief encounter.
Dirty Dancing
Baby and Johnny's love story is one of the great movie romances of our (or any other) time, and their love scene is as sensual as we ever could have hoped for.
Kayleigh Roberts is a freelance writer and editor with more than 10 years of professional experience. Her byline has appeared in Marie Claire, Cosmopolitan, ELLE, Harper's Bazaar, The Atlantic, Allure, Entertainment Weekly, MTV, Bustle, Refinery29, Girls' Life Magazine, Just Jared, and Tiger Beat, among other publications. She's a graduate of the Medill School of Journalism at Northwestern University.