Lashana Lynch Is Changing the Face of Superhero Movies
The Captain Marvel star wants to pave the way for more women of color in major franchises.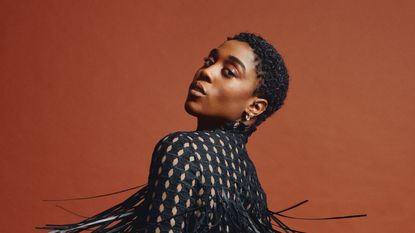 (Image credit: Ryan Pfluger)
Lashana Lynch has been a Marvel fan for the last decade. In 2008, the first Iron Man movie came out, launching an entire cinematic universe that routinely boasts some of the best-selling, most-talked-about movies in recent memory. But the England-born, London-based Lynch's interest went further than just franchise fandom: She actually wanted in on the action. And this month, the actress can finally cross that goal off her list when she appears as Maria Rambeau alongside Brie Larson in the highly anticipated Captain Marvel.
It wasn't always obvious that Lynch, 31, would get to this point. A few years ago, she happened to be in Los Angeles when Black Panther was in the casting process and she tried to snag an audition. "I was literally begging my manager to get me on," she says. "I thought, I'm here now, and I could just do a tape! But nope. Didn't happen." Fortunately, her chance would come again: A year later, the actress originally slated to play Rambeau, the tough Air Force buddy of Larson's Carol Danvers (a.k.a. Captain Marvel), had to drop out due to a scheduling conflict, so Lynch got a call to audition. Within days, the part was hers. She was so thrilled about the news that she had to buy face wipes before going out to celebrate; she'd happy-cried mascara down her face.
A classically trained actor who attended the prestigious Sylvia Young Theatre School in London (alumni include Amy Winehouse, Daniel Kaluuya, and Rita Ora), Lynch isn't exactly a stranger to set life. She starred in the short-lived Shonda Rhimes period drama Still Star-Crossed on ABC (2017) and has a slew of other TV shows on her résumé. But stepping into the shoes of Rambeau represents her highest-profile role yet.
And it's a big role—yes, in this film but potentially beyond it: In addition to being a badass Air Force pilot and sidekick to Captain Marvel, Maria Rambeau holds a special place in Marvel lore. In the comics, she's the mother of Monica Rambeau, who goes by Captain Marvel for a short time (Carol Danvers initially goes by Miss Marvel) before eventually adopting the code-name Photon. In Captain Marvel, which is set in the 1990s, Monica is just 11 years old and being raised by single mom Maria. But because this is the notoriously secretive Marvel, there's no telling how Maria and Monica's storyline could play out on-screen.
It's not just Lynch's lie that's about to change thanks to Captain Marvel: The movie signals a new era for Marvel, where, for years, Scarlett Johansson's Black Widow and Elizabeth Olsen's Scarlet Witch were the only female superheroes to get much screen time (for the uninitiated, they're Avengers). Zoe Saldana was the only actress of color in the mix as Gamora in the Guardians of the Galaxy movies (where she is, for the record, painted green).
Lynch is keenly aware of what her major role in the movie means for other women of color, but says she's relieved that race never felt like a determining factor in her casting. "I've worked my whole career to just tell a story," she says. "If I can walk into a room and have the casting director not care about race—or even mention it—and still give me the job, I feel like I've won."
Lynch sees the movie's very existence as a powerful sign to women that there's room for everyone in the Marvel universe. "My character and Carol Danvers are fighter pilots, [and] it's nice to see how women can really burst through in that environment and hold their own," she says. "You catch a lot of us being strong, driven, bold, females in the workplace, in what's typically a male-oriented environment...just being a complete badass going to work. And that's all we want to do as females: We just want to rule the world and feel fly doing it."
Captain Marvel hits theaters March 8.

Lead photo: Longchamp dress, Bulgari earrings
A version of this story first appeared in the March 2019 issue of Marie Claire.
RELATED STORY
Celebrity news, beauty, fashion advice, and fascinating features, delivered straight to your inbox!
Yolanda Machado is a Los Angeles based award winning blogger (SassyMamainLA), critic and freelance entertainment journalist with bylines at Broadly, Moviefone, Remezcla and more. She is a Latina mother of one daughter, and has an obsession for pop culture and Broadway musicals.