How a Spanish Town Brought a Game of Thrones Battle to Life
Dragons not included.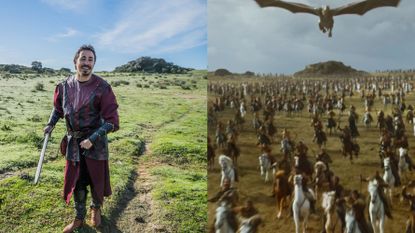 (Image credit: Courtesy of HBO)
Marie Claire Newsletter
Celebrity news, beauty, fashion advice, and fascinating features, delivered straight to your inbox!
Thank you for signing up to Marie Claire. You will receive a verification email shortly.
There was a problem. Please refresh the page and try again.
It's a chilly Saturday morning, and I'm standing in the fields of Malpartida de Cáceres, Spain, next to the Los Barruecos monument, to watch a reenactment of Daenerys Targaryen's greatest flex, The Battle of Dragons. It's only after a man wearing a Lannister soldier uniform marches up, rolls his eyes, and declares his new recruits (about ten of us in total) "adequate," that I start to understand I've gotten myself into something a bit more ridiculous than just a simple reenactment.

Game of Thrones has tens of millions of viewers worldwide, and I consider myself among the hoards of die-hards. Being part of the club isn't exactly elite, but it does come with perks: For example, no matter what country I'm in, I can usually find someone willing to discuss why Arya Stark is the only character worthy of the Iron Throne. (I am willing to fight about this.)
Different storylines have leaned on different locations, but the seventh season found multiple story arcs coalescing around IRL Spain, filming scenes in the country's many gorgeous historic and natural locations. Among them are Seville's Alcázar, which has doubled for Dorne, the jaw-dropping Gaztelugatxe (a.k.a. Dragonstone), and John Snow's birthplace, Tower of Joy, filmed at the startlingly isolated Castle of Zafra.
But nowhere in Spain has benefited quite like the seldom-visited area of Extremadura. The largely agricultural district is riddled with wineries, picturesque villages packed with ancient ruins, and Roman bridges so sturdy people are still driving over them. But it took Game of Thrones using locations like the Castle of Trujillo (Casterly Rock), Arco de la Estrella, and the Plaza de Santa María (where the Sand Snakes are caught and paraded through the streets), to create an 80 percent increase in tourism to the region. Obviously, the next step was to create a value-added experience in the form of a clownish role-playing activity?

Considering that Game of Thrones is basically a medieval soap opera, the whole institution is ripe for parody: British charity Red Nose Day once aired a comedic video suggesting a Coldplay/Game of Thrones crossover musical; Key & Peele unpacked that messed-up moon door; and the show has made almost as many appearances on Saturday Night Live as Alec Baldwin.
But the team of Spanish comedians behind the reenactment at Los Barruecos—with an assist from the local tourism board—has created more than a send-up. Lead by Jose Palacios, our soldier/event tour guide (who was an extra during the months-long filming), the hour-long interactive performance was equal parts tribute to the source material and revisit of the excitement that comes with having a large television production in a small town. As someone from Los Angeles who regularly rages at filming-induced traffic jams, I found their enthusiasm hard to identify with but nevertheless contagious.
Palacios led us through cow pastures, teasing us for not holding proper formation—hands on our hips, long soldier-like steps. It was pretty clear that much of the lands that appeared on screen were heavily altered post-production, with additional mountains and gorges. However, excitement around the subject was very real, as Palacios recounted his grueling tour of duty as a Westeros soldier. There were the early mornings when the cast would sit for hours waiting to film. There was the moment he learned, on the final day of shooting, that their trainer, Vladimír Furdík, also played the Night King.


And then there was meeting Nikolaj Coster-Waldau, who had a very good reason for refusing to perform the stunt during which his character, Jaime Lannister, narrowly avoids being burned to death by dragon fire, only to fall feet-first into a lake where he's dragged down by the weight of his own armor. "One guy from the production said, 'Why don't you go pee in the lake, just to be more real?'" Palacios told us, recalling some of the strange directions the extras received. "And then the actors peed for real! They were asked to do that. And Nikolaj saw and said, 'I'm not going in there!' So, they filmed him in a swimming pool."
As Palacios told these tales to his marching soldiers (that would be us), we were interrupted by—what else?—a dragon, played by Antonio Palma, who appeared at the top of a hill clad in a green-screen suit and carrying a large green ball on a stick. It makes sense: If we were seeing Los Barruecos without its CGI adornment, we'd also likely see a CG-free "dragon" as well. Relying on his clown training (I was told later he's a bit of a local legend), Palma preened and danced for the crowd, finishing his performance with his version of a roar.
On the next portion of the path, we discover Raquel Bejarano—or, as she quickly informed us, "The real Daenerys Targaryen"—complete with a long, blonde wig and an elaborate ceremonial dress. "I am the real Khaleesi!" she told us, "Not Emilia Clarke! My dress is real. My skin is real, my hair is real, my shoes are real!" (Naturally, her "dragon" reappeared halfway through the speech, underscoring her claim with shouts of, "Mommy!") Like the others in our group, I attempted to bow with reverence. Unlike the others, I was singled out for the lack of sincerity, and sentenced to "die by dragon fire" for refusing to bend the knee to my queen.
I'm generally an observer, not a participant. But I'm also not a quitter and, when forced, you better believe I will make an ass of myself. And so, as I would when they lined us up to recreate the apex of the Battle of Dragons (the event in which Daenerys, riding her dragon into war, destroyed vast numbers of Lannister soldiers), I gave in, threw my hands in the air and screamed "No!" surrendering to my fate.
If there's one thing I learned: In the game of thrones, you either win or you die…and, if you're lucky, you can get some great Instagram pics in the process.
For more stories like this, including celebrity news, beauty and fashion advice, savvy political commentary, and fascinating features, sign up for the Marie Claire newsletter.
RELATED STORY
Celebrity news, beauty, fashion advice, and fascinating features, delivered straight to your inbox!