Ashley Tisdale's New Album 'Symptoms' Is a Love Letter to Herself
The album marks her official return to the music scene after 10 years.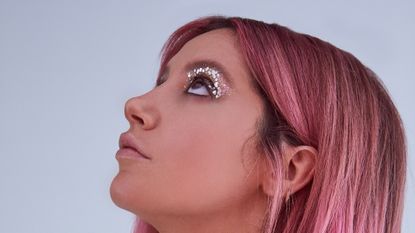 (Image credit: Courtesy of Andres Norwood)
On where she found inspiration for Symptoms:On how she uses music to heal:On what influences her sound:On what she does for self-care:On how she manages to do everything (in a healthy way):

Even though it's been 10 years since Ashley Tisdale last released an album, she's been busy doing pretty much everything else. After spending three years starring in three High School Musical movies (plus one underrated spinoff!) as Sharpay Evans, a queen bee with a voracious appetite for fame, Tisdale went on to appear in a bunch of TV and film roles, including Hellcats and Scary Movie 5. On top of that, she acquired and rebranded Illuminate Cosmetics as the go-to destination for clean, modern makeup must-haves. So it's understandable that she might take a step away from music for awhile.
Fortunately, the 33-year-old is once again channeling her creative energy back into recording with Symptoms (out May 3), her most thoughtful, mature release yet. The emotionally-charged, nine-track record follows the ups and downs of Tisdale's personal battle with anxiety and depression, which she says she hopes will cut through the dark, often-stigmatized nature of mental illness to help others feel less isolated. From the haunting orchestral melodies of "Insomnia," to the triumphant finale, "Feeling So Good," Symptoms is a candid and vulnerable account of what it feels like to go through it—and a passionate reminder that you're never alone.
Tisdale spoke to MarieClaire.com about her new album, the crucial role of music in her own healing process, and how she stays on top of her busy schedule.
On where she found inspiration for Symptoms:
"I was in and out of the studio just trying to get inspired and see what my sound would be, but this record wasn't something that I sat down to do. It was so organic and happened naturally. The first day of sitting in the writing session, I wasn't even thinking about it like it would be a record.
My co-writer, Rachel West, and I are really close, and our connection to each other happened right away—we would have songs written and recorded in sometimes half a day. The first session was with Rachel, and when we wrote "Symptoms," I realized how great we were together. Because I was so inspired by the first song that we wrote, I knew exactly what the album was going to be; every single song was going to be a symptom of what I was experiencing."
On how she uses music to heal:
"The studio became a safe space for me to really have fun and be creative and laugh…I needed to communicate what I was going through, and it really helped me get through that time. In the past, I was really trying to figure out who I was as an artist, but now I just feel like music is the best way to express everything that I'm going through.
I think I've had anxiety for my entire life, but I definitely became aware of it in the last two years. It was all coming to a head, to be honest, and it just all happened and started getting worse. I'd also lost someone to depression about two years ago, and I just felt like it was time to share my story and who I am as a person with my fans. I really want to make people feel like they're not alone."
On what influences her sound:
"I would say that, musically, this is very different from stuff I've done in the past. When I started writing and recording this album, I really wanted the production to be more stripped down. Because it's about anxiety and depression, I didn't want it to be overproduced.
I was really inspired by David Bowie and the Electric Light Orchestra—I listen to a lot of '70s music! I was also inspired by Julia Michaels, because I love how her lyrics are very conversational, and that inspired me to write like that as well."
On what she does for self-care:
"For me, reading really helped calm my anxiety...I think that the more that you can learn about it, you realize that other people are going through the same things as you and that there's a community of people you can turn to. It's also important to communicate it. Every single one of us is struggling with something, and no one's perfect.
Another thing that helps is starting my day with meditation. It really centers me and focuses me. I feel like it's good to have some anxious feelings—it could mean that you're excited about something—but meditation is such a huge help, especially for high stress."
On how she manages to do everything (in a healthy way):
"I used to be a yes-person, and I would try to do everything. I realized that I can't get to 500 things in a day, and that it's okay to slow down and take time for yourself. I have so much going on and I kind of have to compartmentalize everything...I'm still learning, and I'm still going to mess up, and there are going to be times that I fail. But it is a journey."
Symptoms will be available for streaming on all platforms on May 3.
For more stories like this, including celebrity news, beauty and fashion advice, savvy political commentary, and fascinating features, sign up for the Marie Claire newsletter.
RELATED STORY
Marie Claire email subscribers get intel on fashion and beauty trends, hot-off-the-press celebrity news, and more. Sign up here.